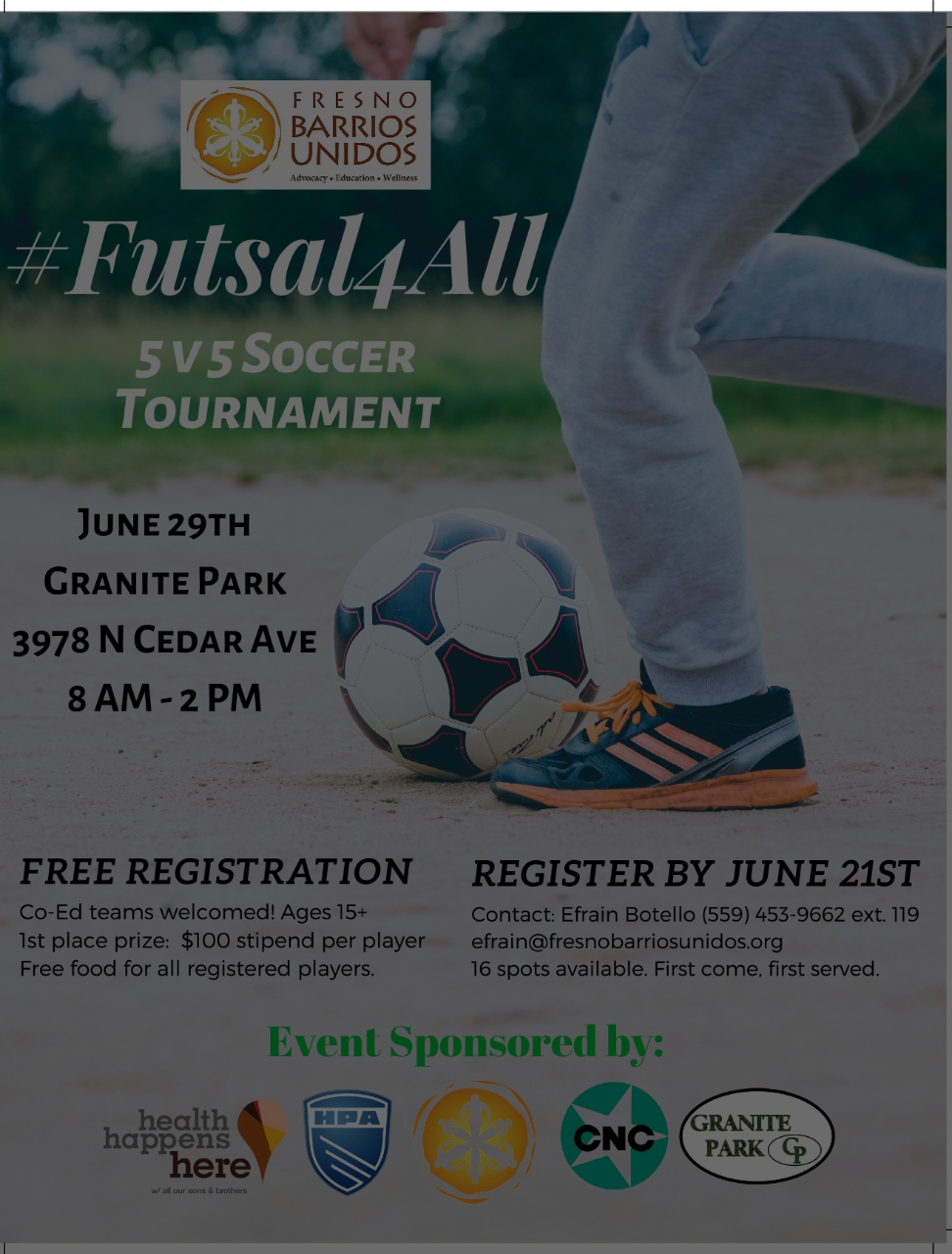 Growing up in Fresno, Efrain Botello struggled to find places to play soccer.
Today, working with a community benefits organization known as Fresno Barrios Unidos, Botello is part of an effort to bring more green spaces in Fresno.

That effort includes the Futsal4All tournament, which will be held on June 29 at Granite Park in Fresno.

Botello is leading the way in organizing the event, with the goal of hosting a fun-filled afternoon that will include a resource fair, raffle opportunities and a chance to raise awareness about the need for Futsal spaces.

Botello describes Futsal as much like soccer, except with smaller goals and much easier to play as a pick-up game because it's usually played 7-on-7.

"We want to start bringing in more spaces for Futsal, so that's why we call this tournament Futsal4All," Botello said. "It's really awareness like 'hay Futsal, it's a movement that should be picked up in Fresno because it's a lot more easier you know, a lot more more easier to access for pickup games."

Fresno Barrios Unidos has been taking part in similar projects for more than 23 years, mainly focusing on helping young people develop skills and find opportunities.

FBU's Futsal4All event will bring together several other organizations to benefit the youth, including development programs, teen parent support programs and immigration resources.

"We're having fun, but at the same time you can get connected with things you can benefit from," Botello said.

For the young employees at FBU, organizing the event gives them another chance to thrive in a leadership role.

"We have a group of young people who are organizing the tournament, so this is an opportunity for young people to say 'hay, come out to our event," Botello said.

While soccer players are expected to be a big part of the tournament, Botello says the event is open to anybody.

"We're not only inviting soccer players to come, but for them to invite their families, their friends," Botello said. "It's fun for everyone, not just soccer players. You can watch the games, enjoy the resources."

Botello hopes to see more places like Granite Park, which was built with the goal of providing a safe space to play sports and now hosting events such as the Futsal4All tournament.

"It's a beautiful facility there," Botello said. "We're aiming for the best."