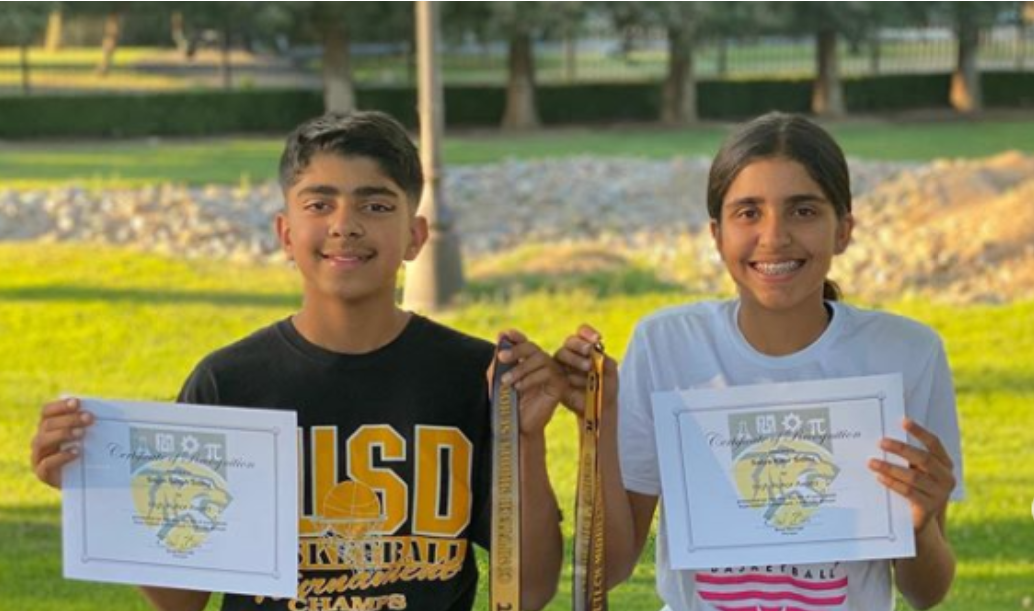 "You have to work your way up and show you really are that good and earn your respect."
Saiya and Sajjin Sidhu are only in the eighth grade at Computech Middle School, but they have already acquired a lifetime worth of memories from playing basketball and gained a vast amount of wisdom from competing in sports. The twins are determined to be the best hoopers in Fresno as they advance to high school. But they also have their priorities in check, making sure their school work is complete before they take part in any extracurricular activities.
Their discipline in the class has helped them maintain a 4.0 GPA, while their dedication on the court has set them up for a bright future.
In the following interview with Fresno Sports Mag, Saiya and Sajjin detail their favorite memories on and off the court, their goals for the future and the time they met Kobe Bryant.
The Beginning
Saiya's first sport wasn't basketball. It was actually soccer. But she soon gravitated to the court after seeing her dad and brother always hooping.
"We started different ways," Saiya said. "He was always into basketball, but I was more into soccer until I was kind of led to the basketball path."
For Sajjin, basketball has always been the favorite. He fell in love with the game as a toddler while watching his father play with other family members.
"My dad used to have family come over and they used to play on our court and we used to just watch them play," Sajjin said.
The twins' father, who taught the basics of the game to his children at an early age, continues to coach them to this day.
Movin' On Up
After starting in youth basketball camps as little children, Saiya and Sajjin are now busy playing for their school and travel teams.
"I play for a team out in [Los Angeles] called The Truth," Sajjin said. "It's Paul Pierce's program."
Saiya plays for Fresno's travel team, Lady Heat.
"When they're not playing, I will sometimes play with other teams," Saiya said. "We travel a lot. I just got back from Indiana."
Goals
The twins are eager to play in high school next year. And they're determined to make a quick splash when they get there.
"I'd like to play varsity as a freshman," Sajjin said.
"I want to be one of the best, if not the best high school girl player in Fresno at the time and play varsity and dominate in high school even as a freshman," Saiya added.
And they have their eyes set on eventually transforming into a standout college hooper.
Memories
The twins have collected dozens of unforgettable memories in their young basketball journey. One of the memories came during a basketball camp where they were able to wear shoes which were not yet released.
"They had the Nike Adapt shoes which are the self-tightening shoes and I got to try them on before they came out," Sajjin said.
The twins remember another unforgettable experience with the Los Angeles Lakers.
"I went to this one Lakers camp," Saiya said. "We were Lakers for a day and we got to experience what life as a Laker would be. We trained, we went to their workout room, we saw the whole facility, ate like them."
The camp allowed the young hoopers to sign a contract for a day as a Laker.
"We got to go to their training facility, they showed us around the whole place," Sajjin said. "They had like an underwater treadmill and just like advanced tech."
With the Lakers being the family's favorite team, the experience became even more special.
"We even got to go to their lockers and they had all their shoes and shirts all over there," Saiya said. "You can see their real shoe sizes, where they actually sit and had their name under everything. You saw how they really go through their lives."
More Than Hoopers
When they're not kicking butt on the court, the twins can show off their karate kicks.
"My sister trained eight years and we got our junior black belt twice," Sajjin said.
The twins also possess a vast array of music skills, which includes playing the trumpet, french horn, piano and trombone.
"We did band, we are doing piano right now and we have always been participating in different activities for school and outside of basketball," Saiya said.
These young basketball standouts also happen to be avid readers.
Whether it's reading or sports, competition always drives the twins.
"We just love sports, anything competitive, anything we do or competing — even seeing who reads the most books," Saiya said. "And I love hanging out with my friends, my teammates, my family."
Saiya is especially proud of what she accomplished when she joined a school club and competed in a history day tournament, going up against some of the top schools in the state.
"We were in state, almost made it to the finals, lost in the semifinals," Saiya said. "But it was a really good experience and being able to try different things, not just for basketball, but go and experience things for school and try to figure out what you like and what you want to be when you're older."
Perks Of Having A Twin
With the twins sharing many of the same interests, they are able to push each other and get better in whatever they do.
"When one person gets better, the other person wants to also get better," Sajjin said.
Particularly on the days where one of them may be feeling lazy, the other sibling serves as the motivator.
"Maybe I'm not feeling like I want to train today and he's like 'come on, you gotta go work out today,'" Saiya said. "So it's always someone there to push you. All the work we put in is normally done together, so we really see how hard each other works."
Life Lessons
For the twins, basketball has been the reason for many of the lessons they learned in life.
"You learn how to work with others, how to teach others, how to become a leader or how to gain respect from others around you when you come to the new team," Saiya said.
The twins have especially learned from the losses they experienced.
"When you come off a basketball game after a loss, instead of breaking down, it motivates me to come back and work harder," Saiya said.
As team leaders, the young hoopers are also learning how to understand different types of people.
"When I'm talking to someone and I need to explain something, I've learned different ways to teach people," Saiya said. "Everybody has different ways they learn. Not one method will work on everybody and I've learned how to become a team leader and explain different ways and how to deal with different attitudes."
Some of the painful lessons are learned during the most critical stages of the game.
"It's the fourth quarter and you're tired. It's a close game. It's easy to say 'I give up, let them win', but you gotta push through," Saiya said. "Your legs aching, you're not being able to breathe, you're really tired, your shot is off."
Those moments of sacrifice pay dividends off the court as the twins have learned.
"Pushing through and all these life lessons, they help off the court. As in during school, when you have an assignment and you're really not understanding it, it's easy to say 'Forget about it,'" Saiya said. "Or in the future when I'm going for a job, when you first join a team there's no respect, you're not the top player. You just joined, nobody knows how good you are. You have to work your way up and show you really are that good and earn your respect."
With dreams of playing professional basketball, the twins plan to always apply the lessons they learned and make their goals a reality.
Star Students, Star Athletes
In the early days of their teenage years, the twins have already mastered what many people struggle to achieve in their lifetime: prioritizing their responsibilities and following a schedule with discipline.
"Priority is our school," Saiya said. "You can't get nowhere in sports or basketball without school. If I want to go to a D1 college, school has to come first. One of my main things is my schedule. I know some people find different ways to schedule. They may not like writing it down, but you gotta find a way that works for you to organize your life. Because otherwise, I'll forget about that one assignment I have due tonight or tomorrow."
With the twins being occupied with basketball and school, their down time is sometimes sacrificed.
"I know many kids don't like doing anything at lunch, but if I know I'm going to have no time later because I have an assignment to do, guess what I'm doing during lunch?" Saiya said. "There's sacrifices you have to make for getting to do the sport you love."
Holding themselves accountable, the young ballers have decided that there is no excuse for falling behind in school.
All the other fun stuff simply waits while the teens focus on their priorities.
"TV and video games is the last priority," Sajjin said. "You have to get your work done as soon as you get home and then if you have time after your practices and things like that, then you can watch TV, maybe. But you also have to go to bed on time, so you can recover and be ready for school."
Discipline doesn't come easy. But the twins are usually able to overcome any thoughts of carelessness, focusing on the consequences of their actions.
"How much you love the game is how much you have to love the school work. There's times where I'm just like 'Why do I have to do this math homework?'" Saiya said. "But I know that in the end, that's gonna get me far. What happens if basketball doesn't work out, but you started ignoring school? What are you gonna do now?"
Learning From The Mamba
Saiya and Sajjin experienced another life-changing moment when they met Kobe Bryant at his camp. The twins soaked in the wisdom of the Lakers legend and saw his brand new signature shoes.
"It was like the high tops. The one that go past your ankle," Sajjin said. "We got to see those before they even came out."
Having already read Bryant's books, the twins went to the camp with an understanding of the Mamba mentality.
"Different games he would listen to different music depending on how he wanted to play," Sajjin said. "If he wanted to be calm that game, he'd listen to softer music. If he wanted to go harder, he'd listen to more hardcore upbeat music just to get him pumped."
Saiya said she admires how Bryant was mentally strong enough to make adjustments when facing adversity.
"If he was missing shots, he'd come back and hit them in the second half," the Lady Heat player said.
Follow Fresno Sports Mag on social media to see upcoming videos on the Sidhu twins.
This error message is only visible to WordPress admins
Error: Access Token for fresnosportsmag is not valid or has expired. Feed will not update.
There's an issue with the Instagram Access Token that you are using. Please obtain a new Access Token on the plugin's Settings page.
Error: No posts found.
Make sure this account has posts available on instagram.com.