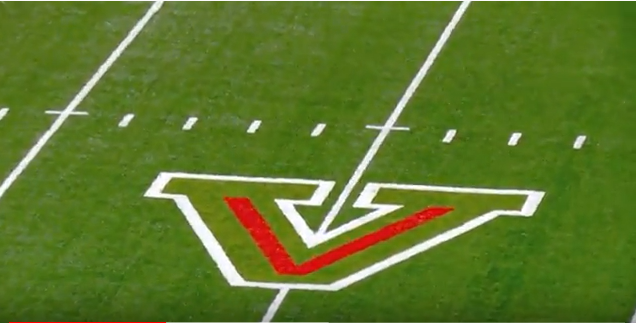 The Fresno State Bulldogs came in as the heavy underdogs against USC in week 1 and fell just short. The Bulldogs are getting more love from the critics this week, but still have to prove some doubters as they host the Minnesota Gophers.
Here are this week's notable notes . . .
"Combined with a shaky running game and a potentially erratic quarterback, it strikes me as the kind of game Fresno State might let slip away with one too many mistakes… again." https://mwwire.com/2019/09/05/minnesota-vs-fresno-state-game-preview-kick-time-tv-radio-schedule-livestream-prediction/

"I see this as a slug it out type of game on offense, where both defenses are winning their sides of the ball going into the fourth quarter, but then Minnesota's running attack gets one final drive to seal the game for the Gophers." —
https://247sports.com/college/minnesota/LongFormArticle/Minnesota-Gophers-Football-Fresno-State-Preview-PJ-Fleck-Gophers-Fresno-135055747/#135055747_3
"With first-year starter QB Jorge Reyna gaining confidence from his 344-yard (this includes his 88 rushing yards), two-TD performance, Fresno State might have the momentum here against a Minnesota team that narrowly beat FCS team South Dakota State," —
https://www.si.com/college-football/2019/09/05/week-2-picks-expert-predictions-schedule-tv-times
"Minnesota out there in Fresno, I gave the Gophers a look there. A little lean, but we didn't take them,"— Scott Van Pelt, Sports Center.
Reads to consider . . .
Fresno State has seen its share of struggles with attendance in recent years, but this article from the Star Tribune explains how other schools around the country are facing the same problem. http://www.startribune.com/dropping-college-football-attendance-is-not-just-a-gophers-thing/558388532/
And if you'd like to know how the Gophers' size can make an impact, here's an article that will give you an idea
https://www.twincities.com/2019/08/09/size-of-some-gophers-football-players-turns-heads-in-preseason-camp/
Gamdeday Festivities

💥 RUN TO VICTORY today! 💥 FREE tacos, t-shirts AND football game tickets for new @Fresno_State freshmen, transfer and graduate students! 🙌

Bring your student IDs to the student entrance at 5:30 p.m. to run across the #BulldogStadium field! 😎@FSGetInvolved @FresnoStateASI pic.twitter.com/GDtaZGUgq5

— FSHomecoming (@FSHomecoming) September 7, 2019
https://gobulldogs.com/news/2019/9/4/football-what-to-know-on-game-day-dogs-vs-minnesota.aspx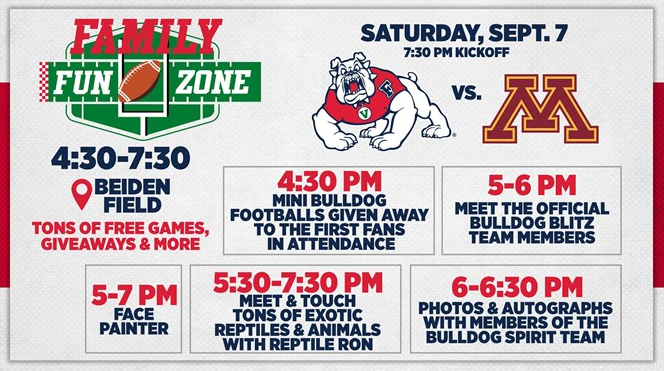 Point After
Minnesota (1-0, 0-0 Big Ten) at Fresno State (0-1, 0-0 MW)
Sept. 7, 2019 • Bulldog Stadium (40,727) – Fresno, Calif. / 7:30 p.m. PT
Watch: CBS Sports Network (channel guide)
Radio: 940 AM ESPN Radio
• Gameday Live (4:30 p.m. PT); Pregame Show (6:30 p.m. PT)
Live Stats:http://www.sidearmstats.com/fresnostate/football/