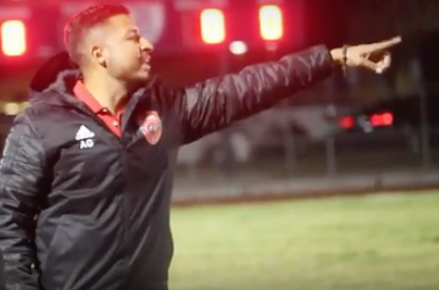 As told by Alex Gutierrez
After 10 years of coaching in various places around the Valley, Sanger's Alex Gutierrez came back to his hometown as head coach of the Sanger boys soccer team. Gutierrez talked about his goals for the program.
Growing up in Sanger, you see how much everybody gets excited for soccer. When you're a kid, you hear the parents yelling and cheering and rooting and you see the kids loving the game.
What we've been trying to do is, kind of bring that whole soccer experience from the ground up. We really want to see more kids getting involved in the game, so that they see themselves as future Apaches and wanting to play for the varsity team at some point and just having that mindset and kind of building Sanger soccer from the ground up as a community for sure.
We're seeing that they are growing as soccer players, seeing that they're understanding the game every day a little bit more.
We have about five sophomores and three or four freshmen who play a lot of minutes in our games. We're looking at, not this one year particularly, but we're looking at a three, four-year program where we're competing at the highest levels against every team to succeed beyond the field, set high goals for themselves– 'I want to go to college, I want a good a good job, I want to have a successful relationship, I want to be a good person in life.'
What we're doing is a representation of what we hope they do in life for themselves.
That value of learning is a value that I hope that every one of our players has. That's how we're doing this.
I want to recognize the coaching staff for all the work that they do. I'm one person. Every one of them is taking it serious and pushing their teams. It pushes me to wanna work harder because they're working as hard as they are. I've been very happy with the work they are putting in.
Soccer in the Valley has never been respected as well as it should be. We have the Fuego who have been doing some exciting stuff, we have the colleges– Fresno City the state champions–, UC Merced has a great program, Clovis Community.
I'm very much enjoying myself right now, even competing against great teams. It has been a great ride.
*edited for clarity