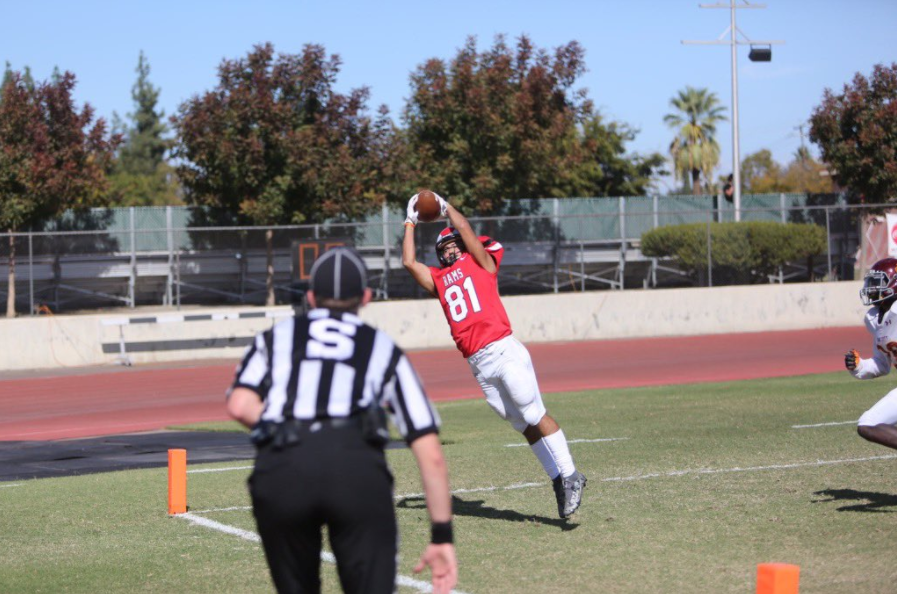 "I have to grind and show what I can do on the field."
In a season where the Fresno City College Rams have climbed to the top of the conference standings, freshman wide receiver Aaron Blancas has played a key role in his team's success.
The Selma High graduate came up big on Oct. 16 in one of the biggest moments of the season. With the Rams facing a 2nd-and-25 late in the fourth quarter against College of the Sequoias, Blancas caught a 50-yard pass from Justin Holaday to score the game-winning touchdown.
"The moment was fulfilling, just hearing my teammates hyped, and the crowd cheering, also knowing that it would give our team a chance to win and it resulted with a win," Blancas said. 
The freshman said it's the team's strong chemistry that has made a big difference so far.
"We have ups and downs, but at the end of the day we keep each other accountable and make each other better," he said. "So our chemistry with each other has really been our success on the field."
Blancas said he came into the season knowing that he would have to earn every minute on the field.
"My expectations coming in was knowing that the competition was gonna be much better and knowing that I'm not guaranteed to start in every practice and game," he said. "I have to grind and show what I can do on the field. I feel things are going as expected, just competing with competition and just trying my best all the time on the field and wanting to improve."