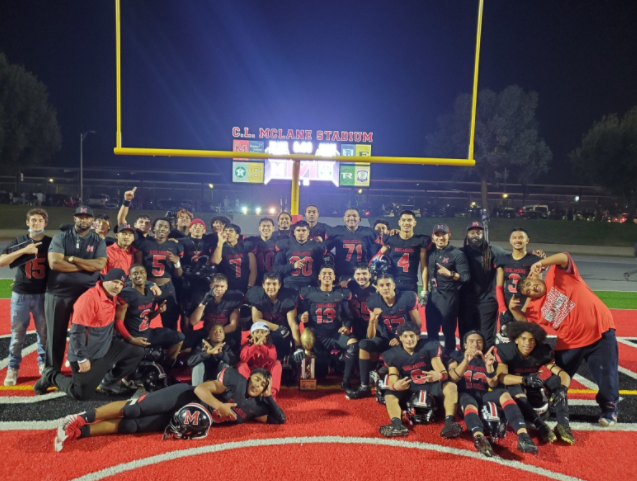 When Andrew Pancotti took over as head coach of McLane's football team in July, the season was only weeks away. The first-year head coach, however, managed to prepare his team for the season despite the late start. 

The preparation started with Pancotti outlining the expectations for the program, particularly putting an emphasis on the importance of punctuality. For many of the players, however, it would take some extra effort to meet the coach's expectation of attendance. 

"Getting kids here at 7:15 at McLane High School isn't easy," Pancotti said. "A lot of our kids take the city bus, they walk. It's cold, it's dark."

But the players aren't making excuses. 

"Today, we had 40 kids show up on time and ready to work," Pancotti said. "It has taken me 10 weeks to build that culture. It has taken me 10 weeks for them to understand the importance of being here in the morning." 
The players' attitude brings a sigh of relief for the new coach.

"They had an hour of great practice before school even started. Their attitude tells me that they're committed and they're all in,"  the former Clovis East strength and conditioning coach said. "That in itself is a win because that hasn't been a thing here at Mclane in the last 15, 20 years." 

The Highlanders dedication paid dividends early in the season as they started 4-0. Now, they look to continue the momentum into the playoffs, which will start on Friday with a matchup against Coalinga.
Pancotti understood the challenge when he took over the job. But he was eager to take on the task of turning around a program that has been struggling for many years.
"I knew McLane's history," he said. "It has been a losing culture. When I came in, the No.1 thing I wanted to do was bring consistency, love and energy. Bring that everyday, have my kids attend with a great attitude and start from there."

Along the way, McLane has picked up key wins against some of their rivals, including a victory against Hoover. As they now head into the playoffs, the rising Highlanders are dealing with some minor injuries. But they remain determined to bring the program's first playoff win in more than 20 years.

The team is also counting on the supporters who have shown up in full force all season long.

"My principal Brian Wulf and my athletic director Felix Juarez brought me here from Clovis East to bring a championship program, to bring that energy here. They have supported me," Pancotti said. "Our students, staff have come together and supported. Our attendance is the best it has been in a long time. And it's because they feel the energy." 

As Pancotti leads the Highlanders into the future, he will continue to emphasize the value of attendance.
"I'm a firm believer of teaching the importance of being here everyday and how it benefits us," he said. "When you miss days, whether it's in school or in practice, we fall behind. It's a lot harder to work from behind."