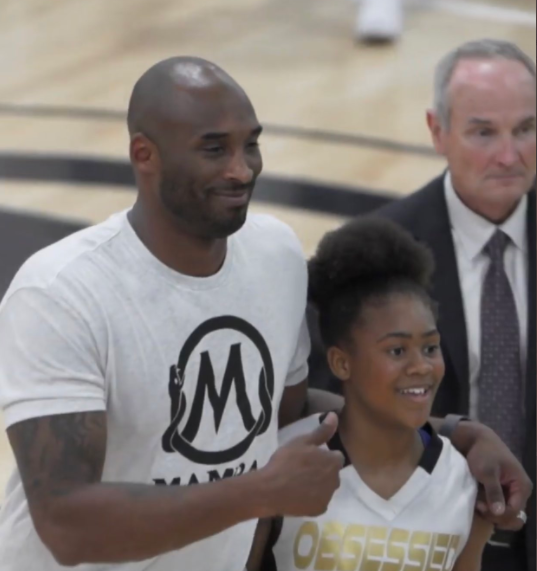 "We played his team and beat them again. Kobe was happy. Not because they lost, but because they got better."
I started "playing" basketball at about age five. I always wanted to be just like my older brother, so when he started playing, I took an interest in the sport as well. My dad has been training me for as long as I remember. I can recall vivid memories dribbling through cones down the hallway and making my first layups.
One of my favorite moments was in Reno as a fourth grader. My team made it to the championship game. I made a buzzer- beater three point shot (my first one in a game) to tie the game, leading to a win in overtime.
Another one of my favorite memories was at the Mamba sports center with the late great Kobe Bryant.
We were about to play Gigi and Team Mamba, so I approached Coach Bryant. We had already met a few times and had become acquainted with each other. I noticed one of my favorite high school basketball players, Azzi Fudd, stretching on one of the side courts, so I asked [Kobe] if she was there to train with him. He confirmed and introduced me to her.
They were both legends to me, so to have one of my favorite players introducing me to another was awe inspiring. I was speechless. After a great performance, Kobe took me around the court to meet different media photographers and talked with me about sharing his killer "Mamba" mentality.
I always look back on that day as one of the best days to be a female athlete.
The first time I met Kobe Byant was as a competitor in a basketball tournament. We beat his team by quite a few points in our first encounter. After the game he took a liking to me and gave me my nickname, Shifty Lefty. I am a quick left-handed guard, so the name just stuck with me.
Following that game, he came back to watch a couple more of my games in the tournament. About a week later, his associate called my dad and explained that Kobe wanted a rematch. I thought to myself, "Wow. Your girls just got blown out… and you want to play us again?!"
His perseverance was one of the things that made him different from anybody else. Even as a Coach he always stayed true to his mamba mentality. We played his team and beat them again. Kobe was happy. Not because they lost, but because they got better.
I was astonished at how much they improved since the two weeks we last saw them. Two weeks! From that point on I had many other interactions with him at the Mamba Sports Academy, and I realize now how blessed I was to be able to get to know him. The main lesson I learned from him was to be yourself and really, truly love the game. When you do that, the many hours and hard work needed to achieve your goals won't really feel like work.
In my journey as a student athlete I am recognized as a scholar just as much as I am an athlete. In middle school, I was awarded with one of the most prestigious academic awards: Student of the Year.
I think my academics and basketball are very very close in terms of proficiency. I have also been awarded every year for maintaining a 4.0 GPA. I am most proud of myself for working to balance sports and academics.
Basketball is a unique sport in the way that it combines athletics and skill; individuality and teamwork. Because of this I feel like there are so many skills and life lessons that can be applied to life. Leadership is one thing for me that I had to learn because of basketball. Specifically, putting people in places to succeed is a great skill I have acquired.
Although my time as an athlete will be a "small" portion of my life looking back, the experiences I have now will affect me for my entire life. Learning to trust, knowing your strengths, giving your full effort at all times as some more things I have learned from playing basketball.
At this point I am playing for Clovis West and I am hoping I can make a strong impact during my time there. I am not tied to a specific college I would like to attend in the future, but I know I want to play for a Division I school.
My long term goal in basketball is to be the best I can be and make a legacy for myself. I want people to hear my name and say, "Oh that Tomlinson girl? She works hard!"
In my long term future I would love to play professionally. After college I feel like I would be at the peak of my career and I don't know if I would be ready to let the game go. I also would like to study at medical school and become a physician. I love biology, and it has always been a dream of mine to make a huge difference in people's lives. Medicine would be the perfect avenue to fulfill that dream.