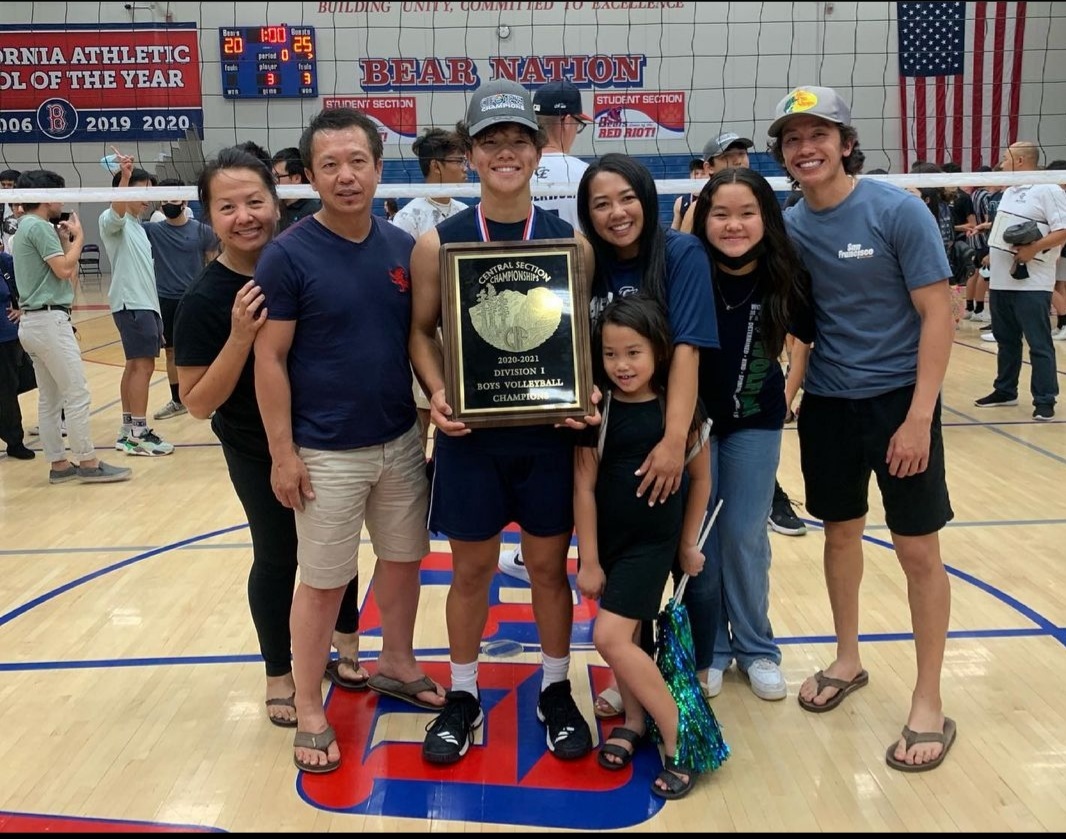 "Just because you are Asian, doesn't mean you cannot compete with the rest."
In his legendary four-year journey at Clovis East High School, Bryant Thao established himself as an elite field goal kicker and a star volleyball athlete. But Thao smiles even brighter when he talks about the impact he made on his community in the past four years.
The Cal Poly San Luis Obispo-bound student, who is especially proud to represent his beloved Hmong community as a student-athlete, felt the same energy when he received the Clovis East Male Athlete of the Year award this past season.
"It has been a dream of mine to become the athlete of the year at Clovis East and become the first Hmong American student athlete to receive this honor," he said. "I really wanted to show the upcoming generations coming in to Clovis East that just because you are Asian, doesn't mean you cannot compete with the rest. I believe that you can achieve anything you want if you put the hard work in. Along with that, I really hope that I can inspire more kids to get into the kicking game and possibly try something new."
Shortly before being named the male athlete of the year at Clovis East, Thao earned the B'nai B'rith student athlete of the year award, an honor given to high school seniors who excel in athletics, academics and community involvement.
"Along with receiving the Clovis East Male Athlete of the Year, receiving the B'nai B'rith student athlete of the year was also another huge honor," Thao said. "Receiving this honor was an amazing experience and definitely a memorable one. Both these honors were definitely something that was an amazing cap to end off my senior year. My name will forever be on the wall at Clovis East, and be part of the honorees of the B'nai B'rith name and that itself is an unforgettable honor that I will truly remember for the rest of my life."
The multi-sport athlete has already inspired dozens of young people who want to follow in his footsteps. But there is one young man in particular who has expressed his appreciation more than others.
"Yes, I do have a young fan of mine, and it is absolutely amazing to see," Thao said.
The young fan, a middle school student named Joe, watched the Clovis athlete on the football field and asked his father to message Thao on Twitter. Joe's father gladly made his son's wish come true, sending a message to the star field goal kicker and telling him how much the young fan looks up to him.
"People say that young kids really do look up to high school players and I never really thought it could happen to me," Thao said. "Having a young kid look up to me is something really cool to have. It shows that us high school athletes really are role models to the younger generations that are coming up through the program."
Joe and his idol stayed in touch through Twitter for weeks.
"After every game, the father would message me through Twitter and tell me how breathtaking it was to see me live in action and how much they loved watching me," Thao said.
After the last football game of his senior season, the Clovis East student-athlete finally met the family in person.
"Joe found me after the game and asked for an autograph, and a picture," the standout field goal kicker said. "This was really heartwarming and was an amazing honor to receive. It made me realize that everything I do is worth it, and this is what's it's all about. Inspiring the youth to become something great, and achieve their dreams. The responsibility of having someone look up to you is something new to me and something that I'm still trying to figure out as well."
As he strives to live up to his responsibility, Thao has been drawing from the ups and downs of his own experience to share some wisdom with the young fan.
"What I've been doing to help him in his journey of wanting to become a kicker like me is telling him the things that I did not know during the process. Not only that, but also helping him with whatever he may need," the Timberwolves star said. "This responsibility is a tough one to have, but it's a challenge that I enjoy handling. Not only am I trying to be a good role model for Joe, but I am also trying to grow and take on new challenges in life that can help me grow as an individual."
Like the rest of the Central Valley, Joe was treated to many of Thao's memorable moments during the past season. One of those moments? A 49-yard field goal to send the game into double overtime against Clovis West.
"It was a huge moment for me, but also a huge time to show that I am built for these situations and to show all the hard work I've been putting in during the off-season," the clutch kicker said about the unforgettable performance.
After closing the chapter on his epic football journey at Clovis East this past season, Thao proceeded to the volleyball court, where he helped his team snag a Central Section title.
"What I enjoyed most was being able to play with such a special group and make memories that'll last a lifetime," the section champ said. "Being part of the volleyball program throughout my entire high school career has truly been an amazing journey. The program was brought up from the bottom and we came up to the top with a lot of hard work as a team."
The Timberwolves didn't see many people outside of their circle who believed that the program would win a title. But the team always believed in itself.
"The group this year that did the unthinkable was truly special and we did what nobody thought we could do. This was something that I enjoyed the most and an opportunity that I can never get again as I grow older and time passes," Thao said.
Clovis East's volleyball team also faced numerous challenges while striving to earn a championship. But again, nothing would deter the group's confidence.
"This past year has been a pretty tough year for us as a team. We did not have a preseason to help us build our chemistry as a team, and did not have the time to work on our skills as a team due to COVID. But, our team stuck it through and continued to put in the work everyday and collectively wanted to do something special this year," Thao said. "Although we had a rough start in the beginning, it's a matter of how you finish, and our team fought hard until the end and that's what helped us accomplish the unthinkable."
The incoming San Luis Obispo kicker has seen his share of personal challenges in the past four years, including mental health struggles. Despite the challenges, however, the young man continued to grow in various aspects.
"Throughout my years of high school, I noticed a lot of growth both as a student, and an athlete," he said. "The growth that I saw included my maturity throughout my high school years, and my leadership skills in both the classroom, and field/court."
At the same time, Thao developed skills he never thought he would master.
"Some of those skills include coping mechanisms, public speaking, opening up about my mental health, and many other skills," he said. "Learning these was not an easy task to do, but I'm certainly glad I was able to learn these as they will help me with whatever life has in store for me. Overall, high school taught me many lessons and skills in life that I will continue to use and keep forever."
On the field, the student-athlete learned how to ignore doubters and continue to focus on his craft.
"People did not think a small kicker like me could kick the ball out of the endzone," Thao said.
But the young kicker apparently proved himself with the power of his legs.
"When I would finish the kickoff, and the ball would go over the returner's head, hearing the crowd in 'aww' was such a great moment and amazing feeling to have," he said.
Still, Thao's greatest satisfaction comes from knowing that he has inspired others who want to pursue a similar path.
"Here in the TRAC, there usually aren't that many true kickers that want to take it to the next level. In the near future, I hope to have inspired others to become a kicker and play at the next level," the Clovis East standout said. "With all this said, I truly am proud of the legacy that I left behind at Clovis East, and hope to inspire many other student athletes to leave their legacy at Clovis East, and truly make it a memorable journey."