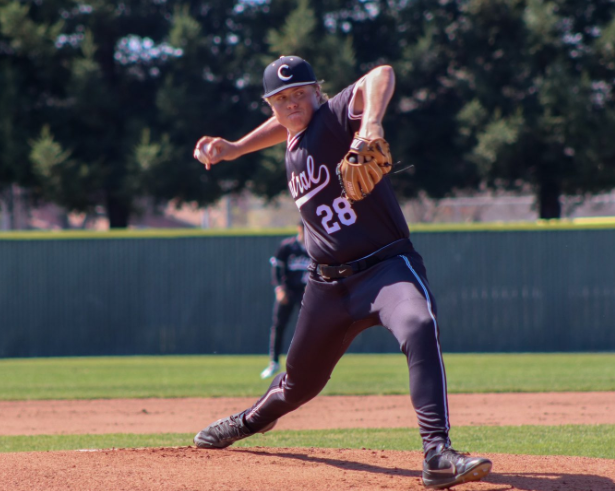 "I wanted nothing more than to be back out on the field with my team getting after it everyday."
Central High School senior Aaron McCurley is making a strong comeback on the diamond after missing time due to a fractured vertebrae. Since his return, McCurley has put together some impressive performances for the Grizzlies, showing off his skills with stellar pitching and hitting. One of his best moments came at the Fresno Easter Classic when he recorded 4 RBIs in an 8-1 win against Frontier. McCurley spoke with FSM to reflect on the Easter Classic and more.
———–
1. Looks like you had a strong performance in the Fresno Easter Classic. How were you feeling going into that tournament and how do you feel about how you did?
Going into the tournament I felt confident in my team, as when we are healthy and on-point we are well-rounded and incredibly competitive. I felt as a team that we did extremely well in pool play as we went 3-0 which allowed us to secure a spot in the championships. The championship game against San Joaquin Memorial was very competitive from start to finish. In that game while pitching, I was able to keep the score low and my outfielders and my catcher both did a tremendous job supporting on the defensive side during the game. We had some really tough plays, but we kept our heads in the game and we played our best all the way to the end. We fell short, but nonetheless it was a great game. Lots of really good athletes on the field during that time.
2. Do you have any other favorite moments from the season so far?
One of my favorite moments this year so far was my pinch hit 2 RBI single against Buchanan that secured our win by upsetting the Bears. The Grizzlies came up on top in that game.
3. You're helping your team with pitching, as well as hitting. What's the key to becoming a versatile player such as yourself?
Being a versatile player is hard and takes a lot of work. When pitching is my primary focus, it is important for me to put in work in all the aspects of the game I am needed in, whether that be taking extensive rounds of BP or cage work or taking mass ground balls to be reliable defensively when I am not pitching is key. The attention to detail and the same level of focus and intensity is important for player development.
4. You're making a comeback this season after facing an injury. What was the injury and how long were you out?
I had a fractured vertebrae, and I was out for approximately 2 months.
5. How were you able to come back strong mentally and physically after facing injury?
When I was first told about how long the healing process would be, I wanted nothing more than to be back out on the field with my team getting after it everyday. For me the physical side came first and the mental side soon followed. I gained physical confidence through diligently completing my physical therapy sessions and soon completing my throwing program. The mental side came when I pushed aside any doubt of reinjuring the vertebrae, and I trusted myself as well as the work I put in to get me back on the field. It also helped to be backed by my coaches who were there for every step, in regards to my return to playing on the field.
6. How do you feel about where you guys stand as a team and where you're going?
As of right now I feel that we are a better team than what our record is showing. We have a lot of strong players on our team, and we are a competitive team when all of us are playing together as one unit. After proving to ourselves that we can compete against some of the top teams, our next goal is to show off what we are capable of in playoffs.