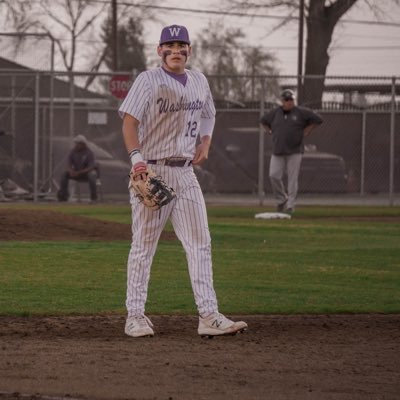 "This is something I have expected for myself."
—————-
Washington Union pitcher Trey Morris is playing a like a seasoned-vet in his freshman year. Morris put together one of his best performances earlier in the season, recording 19 strikeouts in a game against Edison.
"I wasn't really focused on getting that many strikeouts I was just going out there and doing my job," Morris said. "My goal was to attack the strike zone that night things just worked out really well. I was just in the zone and was mentally ready for that game!"
The rising star continued his strong performance in the Fowler Easter Classic, where he received the Most Valuable Pitcher Award. Morris had one of his best games of the tournament when he faced Lemoore. That's when he pitched a complete game and recorded eight strikeouts to go along with an RBI and a run scored, helping the Panthers get a 2-1 win.
"It was an honor to receive that award, there are a lot of good pitchers out there," Morris said. "I didn't feel like I had my best stuff, but was glad I could help my team win some games."
While he's only a freshman, Morris said he hasn't surprised himself with his performance this year.
"This is something I have expected for myself," he said. "I know my abilities and I know what I can do. I work hard to prepare myself and with the help of the team, it makes my job on the mound easy."
The young pitcher was already gaining valuable experience before high school, showing off his skills in events such as the 14U National Showcase.
"I've had some opportunities to play on some big stages the last couple summers that have prepared me for this," Morris said. "I think the key to having success is to make sure you work hard every day to get better. I spend a lot of time on the field and in the weight room training. Being mentally prepared goes a long way as well."
Mostly recently, the Fresno teen received an invitation to the 2022 Area Code Baseball Oakland Athletics Underclass Team Tryout, which is described as "amateur baseball's premier summer showcase."
According to Perfect Game, Morris is noted for his "large, athletic frame with broad shoulders and present physical strength proportioned well throughout frame."
"Primary left-handed pitcher, very smooth and easy operation on the mound, works across body and generates real angle at release while working to an extended three-quarters release point," scouts say about Morris. "Pounds the strike zone and can work to either corner with intent, topped out at 86 mph with the fastball and able to miss plenty of bats, mostly true in life, recorded all 9 outs via strikeout, gets to glove side very easily."
The Panthers, who hold a 5-6 league record in early May, feel optimistic about the road ahead.
"We haven't had the success we had hoped for at this point," Morris said. "However, we are confident we can put it together and finish strong, make a run finishing the season and going into playoffs."