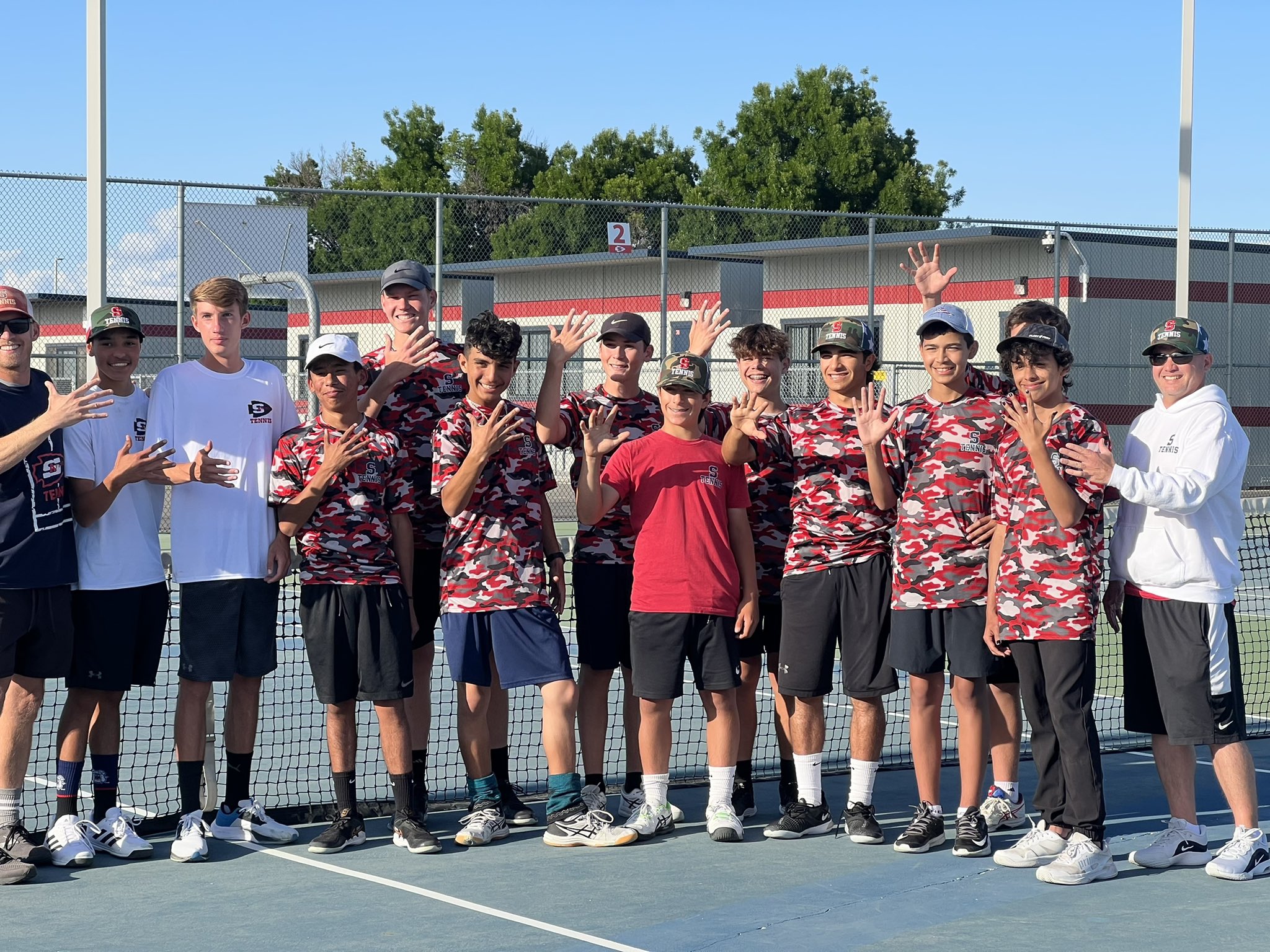 After clinching its fifth straight league title, the Sanger High boys tennis team is looking to make a playoff run. The No. 8 Apaches will be looking to pull off an upset when they face No.1-ranked Clovis East in the first round of the D-1 playoffs on Wednesday. 
"We played them a couple months ago. We lost to them 6-3. We feel like we can compete with them," Sanger coach Jeremy Warkentin said. "Being the 8th seed, going against the 1, We don't have a lot to lose. We're gonna go in and compete and play to win."
Last season, the Apaches' playoff run ended in the first round with a loss against Clovis West. That disappointment is now fueling the team's motivation.
"Anytime you get a disappointment, it fuels the fire a little bit," Warkentin said.
After featuring a younger team last year, the Apaches came into the current season with more experience.
"We have a lot of returners this year. We had a couple of really nice freshmen coming in and contributing right away. We knew we had a really good team," Warkentin said, adding that it was still hard to predict how the season would play out.
The Apaches clinched the league title with a win against rival Bullard on senior night. That was Sanger's second win against the Knights this season.
"To be able to do it on our senior night and to clinch the league out-right against them, that was probably the highlight for me," Warkentin said.
The Sanger coach, who is now in his 15th year with the team, remembers a time where the Apaches struggled to get past Bullard for the league title. But that all changed five years ago.
"It took us a while to get past Bullard," Warkentin said. "We finally beat them and we have been able to keep it going from there."
Coming into the 2022 season, Warkentin expected another tough road in the CMAC, facing rivals such as Bullard and San Joaquin Memorial.
"Memorial is very tough. They beat us once this year. We finished 9-1," he said. "Bullard is always tough, so we didn't take anything for granted. But I was confident in our guys and knew the caliber of team we had."
Brothers Michael and Matthew Bedrosian emerged as two of Sanger's key players this year.
"They're a junior and a freshman and they went undefeated in league in singles as well as doubles," Warkentin said. "They also won the league doubles championship."
The Apaches have also enjoyed memorable moments off the court, including a sweet memory during a recent trip to San Luis Obispo.
"One of the kids went to the beach for the very first time," Warkentin said. "That was pretty cool."
Warkentin raves about his student-athletes' character.
"They're good students, they're committed, dedicated. They do things the right way. There's no shortcuts. They're out here grinding, day-in, day-out to get better. They compete every single day," he said. "They play with honor and integrity. In a sport like tennis, where the kids are calling their own line, keeping their own score, it's really important to have that."