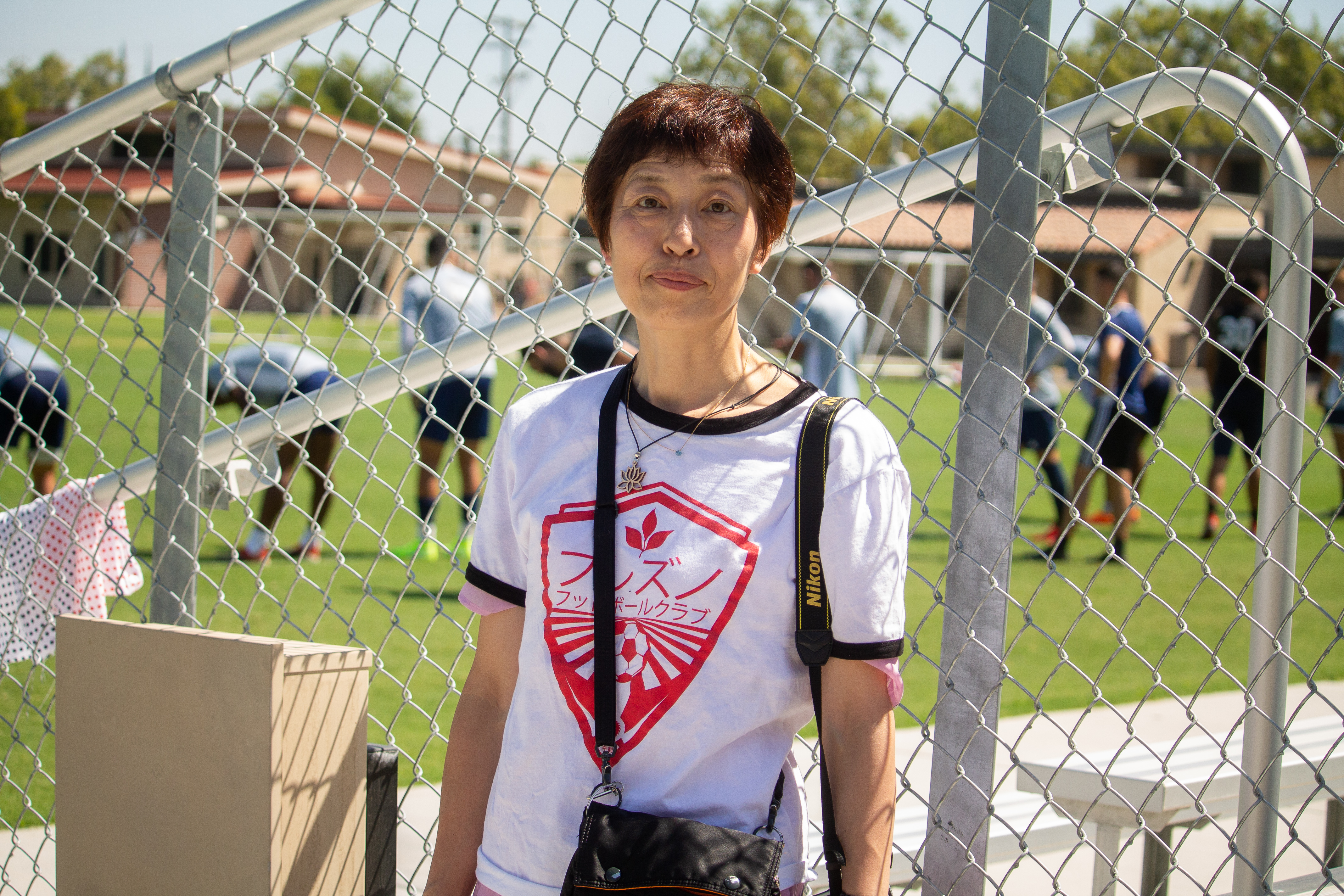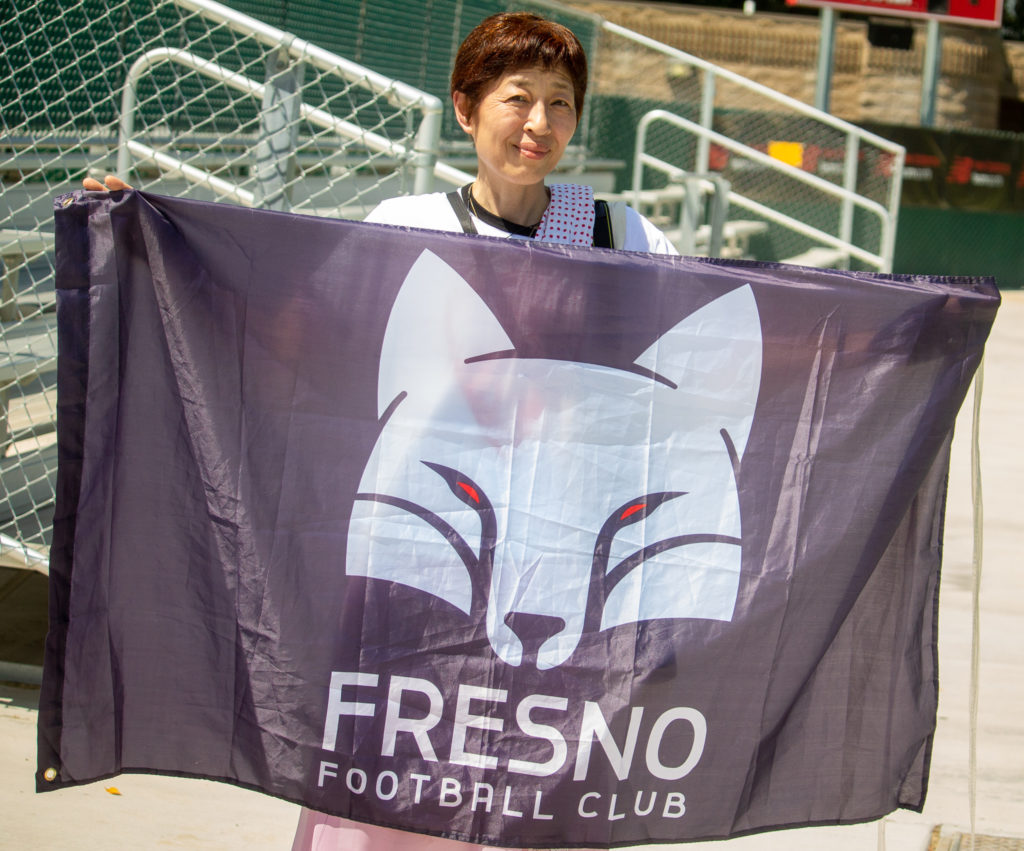 Masako Honda has traveled from Japan to Fresno twice in one year to see the Foxes.
Driving toward Taft Stadium in Oklahoma City, Fresno FC players and staff look through the window of their team bus and notice a woman who is apparently ecstatic about the team's arrival.
The woman, boasting her Fresno FC gear, waves at the team from the streets and welcomes them with a beaming smile.

The Foxes, already familiar with the woman, are just as excited to see their fan.
That familiar Fresno faithful is of course Masako Honda, a woman who traveled more than 5,000 miles from her home in Japan to support Fresno FC as they face Energy FC in Oklahoma City.
We found @ms_akko 💙💙💙

📸 @daveATC11 pic.twitter.com/fMpENqT6mv

— Fresno FC (@FFCFoxes) August 10, 2019
The team first met Masako when she made another long trip earlier this year, going from Japan to the Central Valley to support the Foxes in Fresno.

During her time in the Valley, Masako became a popular figure among players, staff, fans and the community.

"Fresno FC supporters and players and staff accepted me," Masako said, trying her best to communicate in English. "I like their spirit of 'let's enjoy.'"

Masako first learned about Fresno FC when Japanese league MVP Hiroki Kurimoto signed with the Foxes this past spring.

Having followed Kurimoto's career when he played for Honda FC in Japan, Masako was determined to stay close to him in his next chapter.

So she took advantage of a holiday break in Japan and came to see Kurimoto in Fresno.

"I decided to visit Fresno to watch him and the town in my 10 days off," Masako said in an article she wrote about her experience in Fresno.

Masako felt the Foxes' hospitality from the moment she arrived at the airport, where she was greeted by Fresno FC mascot Fuego the Fox.

She then had a chance to see the game day experience in downtown Fresno, joining the supporters at Tioga-Sequoia and marching to Chukchansi Park.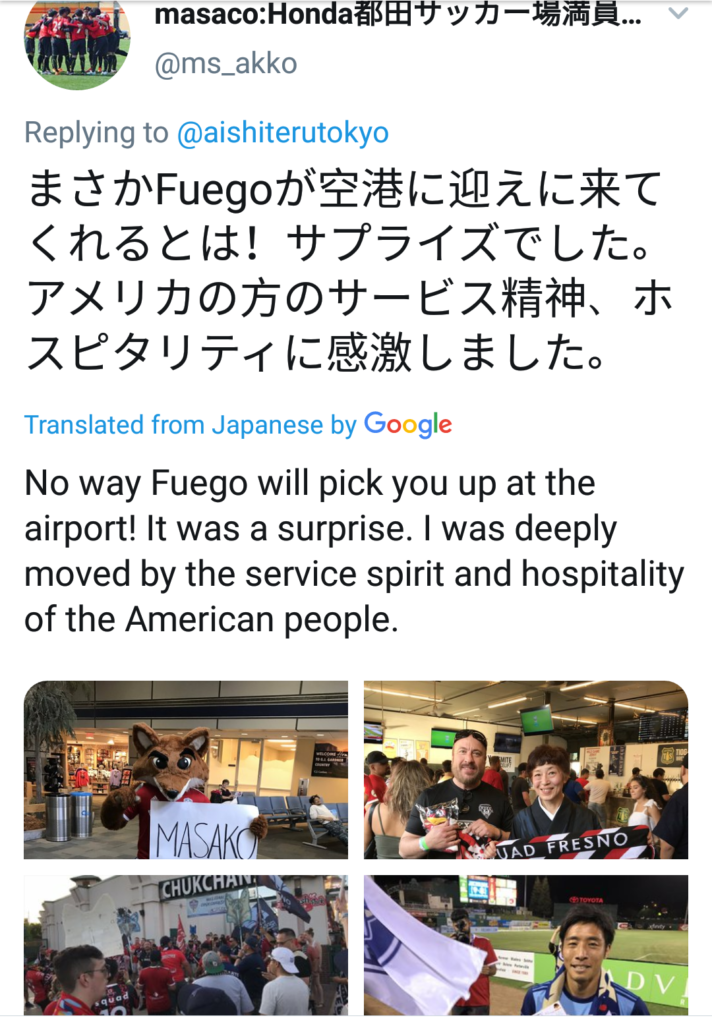 Masako was as loud and passionate as any fan in the stadium on that April evening as the Foxes hosted Orange County.
She proudly donned her Fresno FC scarf, waved the giant poster she made for Kurimoto, mingled with the supporters and experienced the emotional roller coaster of a match which ended in a 2-2 tie. 
Masako's highlight of the night came after the final whistle. That's when Kurimoto came to the sideline and exchanged a warm greeting with his country woman.

The two Japanese natives struck up a conversation, then took pictures together while holding Masako's poster for Kurimoto.

Masako's experience at Chukchansi gave her an even bigger appetite for soccer.

So she followed the Foxes to Salt Lake City for the next match.

"She's a true fan," Kurimoto said. "She gave us a big energy. She made us happy."
I am waiting for the team bus of FresnoFC at the official entarance. And my task was succeeded. #HondaFC #SomosZorros #FresnoFC 選手バス待ちは、successでした😘💙 pic.twitter.com/JNyy02kHH4

— masaco:Honda都田サッカー場満員化計画 (@ms_akko) May 5, 2019
Masako's tour of American soccer also included a visit to Los Angeles, where she watched the LA Galaxy host Real Salt Lake in an MLS matchup.

"When we arrived at the stadium, fans were barbecuing in the parking lot," Masako wrote in her article. "So American football was fun."

There was yet another stop for Masako as she continued her visit to American stadiums— a matchup between the Chicago Red Stars and Utah Royals in the National Women's Soccer League.

Masako took advantage of the opportunity because the game was near Salt Lake City, where Fresno FC would play the next day.

It was also a chance for Masako to see Yuki Nagasato, a Japanese striker who plays for the Red Stars.

"I was impressed by the power and beauty of NWSL's players," Masako wrote. "I was so much proud of #12 Yuki, who played well in the 16,000 crowd."

As Masako wrapped up her first tour in America and headed back home, Fresno FC honored her with a short clip which captures the highlights of the trip.

"This 52 second video shows their hospitality, passion, promotion skill and so on," Masako said.

Early in August, Masako received devastating news from Fresno.

It was an injury to midfielder Arun Basuljevic— a broken left fibula which would force him to sit out for the rest of the season.

Masako quickly showed her support, sending a postcard with a handwritten message to the midfielder.
@ms_akko Hi Masaco ! Thank you so much for your generous gift it means a lot to me 💙 pic.twitter.com/o8TONYNIGZ

— Arun Basuljevic (@ArunBasuljevic) August 12, 2019
Meanwhile, Fresno FC's team store managed to put another smile on Masako's face, selling tshirts which became known as Hiroki Ringers.

Masako said she was overwhelmed when she saw fans wearing the shirts, which featured the Foxes' logo in Japanese letters.

"I am happy that Hiroki Kurimoto is appreciated and loved," Masako said.
we got this T-shirts‼︎@FFCFoxes pic.twitter.com/8EFxMKE9gA

— Hiroki Kurimoto (@kkkurimoto) August 2, 2019
Masako returned to the U.S. in August, planning to watch an MLS game between Atlanta United and New York City, as well as the Foxes' road game against Oklahoma City and home against Real Monarchs.
Stil, it wasn't enough for her to attend the games.

So she would hop on the Fresno bus and travel from her hotel to Fresno City College, where she would watch the Foxes practice for almost two hours under the scorching Valley sun.

When practice comes to an end, Masako isn't ready to leave. Instead, she gets to catch up with Kurimoto.

Masako then waits until every player and coach drives away— saying goodbye to all, handing out gifts and wishing them the best for the next game.

Finally, Masako folds the Fresno FC flag she carried to practice, picks up her bag and heads for the bus to go back to her hotel.

The following day she would attend one more match at Chukchansi. On the morning after, it's time for Masako to fly back home.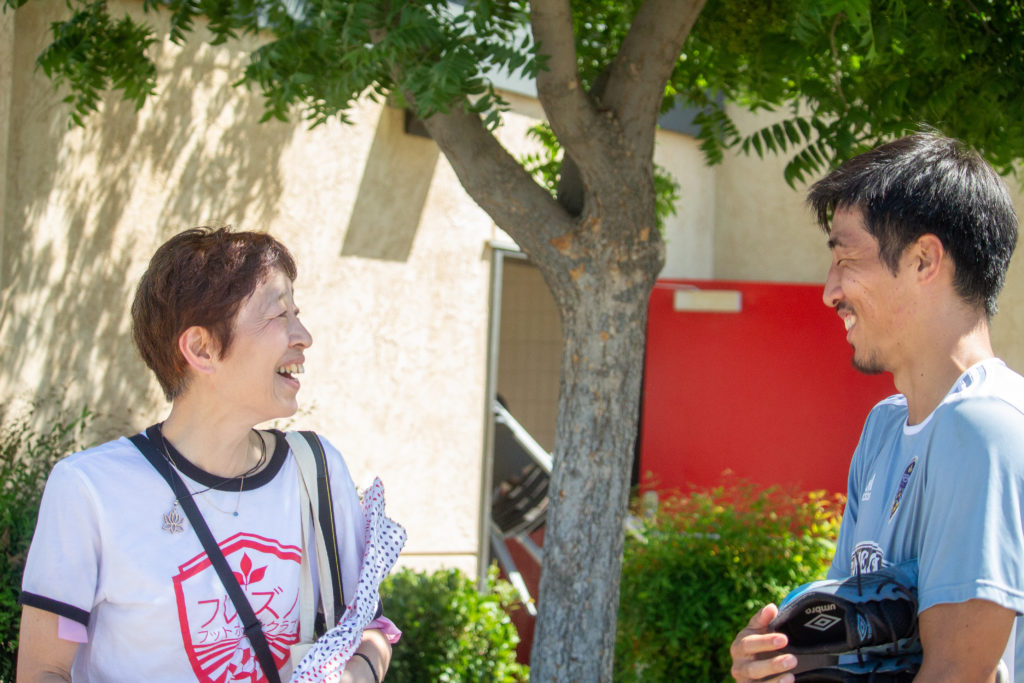 With her love for Fresno having grown exponentially in the past few months, Masako now refuses to accept negative perceptions about the city.

"There were no problems. I was happy with the kindness of the people of Fresno and the good football of Fresno FC," Masako recently tweeted, in response to Fresnans who expressed concerns about attending the Foxes' games downtown.

To the people who complain about ticket prices, Masako says " [Juan Pablo] Caffa's elegant kick alone is worth the ticket fee."

Word on the street is that Masako may have coined a new slogan for the Foxes with that quote— possibly adding to her legacy in Fresno.
💙 welcome back to America, @ms_akko! We're so happy to see you again ☺️ https://t.co/ZNA5jFFNiK

— Fresno FC (@FFCFoxes) August 11, 2019