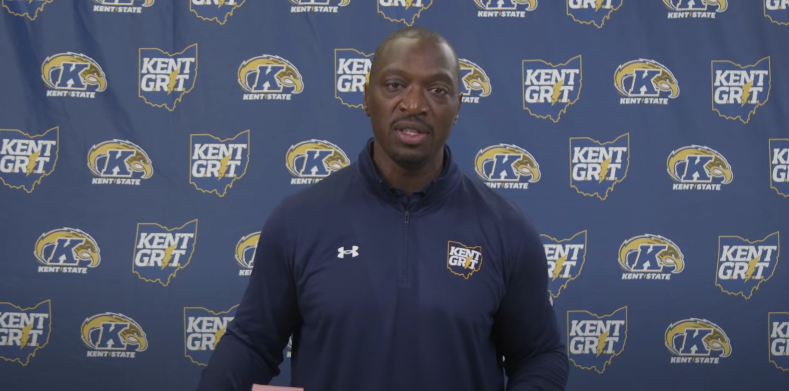 The Fresno State defense is gearing up to slow down Kent State's run-heavy offense in Saturday's matchup at Valley Children's Stadium. Looking at the numbers so far this season, it's easy to see how much Kent State favors the run game. Here are some of those stats:
Kent State ran the ball 54 times for 295 yards in last week's 38-10 win against Central Connecticut. Meanwhile, junior quarterback Michael Alaimo only completed 12/16 passes for 172 yards and a touchdown.
Sophomore running back Gavin Garcia, the featured back for Kent State, has carried the ball 57 times for 238 yards and two touchdowns in the 2023 season. However, Garcia doesn't have a single reception so far this year.
Alaimo has completed just 35/64 passes on the season with a touchdown and three interceptions.
In his press conference this week, Kent State head coach Kenni Burns said he was proud of how his offensive line opened up lanes for the running game against Central Connecticut.
"The o-line and the running backs had a really good week of practice. We challenged them . . . demanded more out of them. It paid off on Saturday. They played harder, they played harder for longer, they played nastier. That's what we have to do up front," Burns said. "It was a good performance up front. They gotta grow off of it."
Fresno State allowed only 42 rushing yards in last week's shutout victory against Arizona State. Defensive coordinator Kevin Coyle said he was pleased with how the Bulldogs' came out with with energy from the start against Arizona State.
"We started quickly and did a good job against the run. I believe they had 1.6 yards a carry. That sets up everything else when you can do a good job against the run like we did," Coyle said. "And then have opportunities to get after the quarterback, which we took advantage of . . . it was a good all-around effort the by the defense."