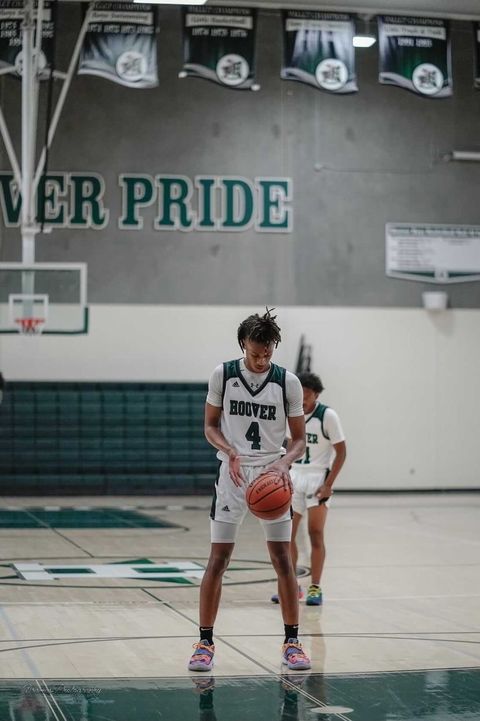 "I love being overlooked. It motivates me to do better."
AJ George provided plenty of unforgettable memories on the basketball court during his time at Hoover High, including mesmerizing plays, historic performances and clutch moments. The Long Beach State-bound hooper especially took his game to another level during his senior year in the past season, breaking school records and leading the Patriots to the semifinals of the D3 Central Section playoffs. In the following interview with Fresno Sports Mag, George reflects on his high school journey and looks forward to the next chapter.
You had so many unforgettable moments this past season, including your 49-point game. Was that one of your most favorite moments of the season? Which other moments standout to you from this past season?
Me scoring the 49 point game was definitely one of the best highlights of the season, but it just didn't happen the way I wanted to because we ended up losing by a lot, but I was happy with the way I played hard and finished out the game. Another moment that stood out to me was when we won league. The previous year we wear co- champions, but this year we won it all while going undefeated.
There was also that emotional game against Nipomo where you hit a shot at the buzzer to take it to OT before you guys lost with a controversial ending. Can you describe the emotions you felt during and after that game?
That game hit home for me. It was my last high school game and I played hard. I played through cramps throughout the game. I just wanted to leave it out all on the floor and I did, but after is when I thought to myself like my high school career is really over and it hurt bad.
Your team still advanced to the state semis after that loss against Nipomo. How did you manage to shake off that tough loss against Nipomo and stay focused on the next mission?
I just had to brush that game off and focus on the next. We couldn't sit and dwell on that loss or we wouldn't be mentally ready for our next big game, so we just had to block out the extras and get a win.
You had a chance to grow close with coach Tezale Archie in the past two years. Can you describe how coach has been able to help turn the program and also talk about your relationship with him? How has he influenced you on and off the court?
He turned the program a lot. He would be on us about academics a lot, having us have study hall before practice, after school tutoring and then the basketball part was just natural with us. He came in and got straight to work. I see the big things he did in his career by being on the hall of fame wall at Hoover and playing pro ball. It just motivates me to do better seeing that he went to Hoover and that it's possible.
Some of your supporters say you're one of the most underrated hoopers in the Valley. Are you motivated by being overlooked? Do you think this past season made people more aware of what you can do?
Yes, I love being overlooked. It motivates me to do better. In my head I'm thinking "Oh you don't think I'm good enough, I'm gonna show you." And then I prove them wrong. For sure this season made people aware of who I am and what I can do. Now they see what I can actually do.
Your coach describes you as a humble young man. What keeps you motivated and humble as you go into the next chapter?
It keeps me motivated to stay humble because I know how it feels to be at the bottom of basketball talk, so I worked my way up and now I won't take anything for granted.
In addition to coach Tezale, are there any other people you credit for keeping you motivated and disciplined?
I want to thank Coach Holmes, Coach Davis, and Coach Porter for pushing me to be better every-time I step on the floor and make sure I am always mentally locked in.
Now you're off to Long Beach State. What made you decide to attend that school?
I attended Long Beach State because I felt it was right, it felt like home. Most of the coaching staff reaching out to me on a daily basis, telling me how they would want and like me as a player on the team and how I would fit in well, overall they made it feel like it was home so I had to make that decision.