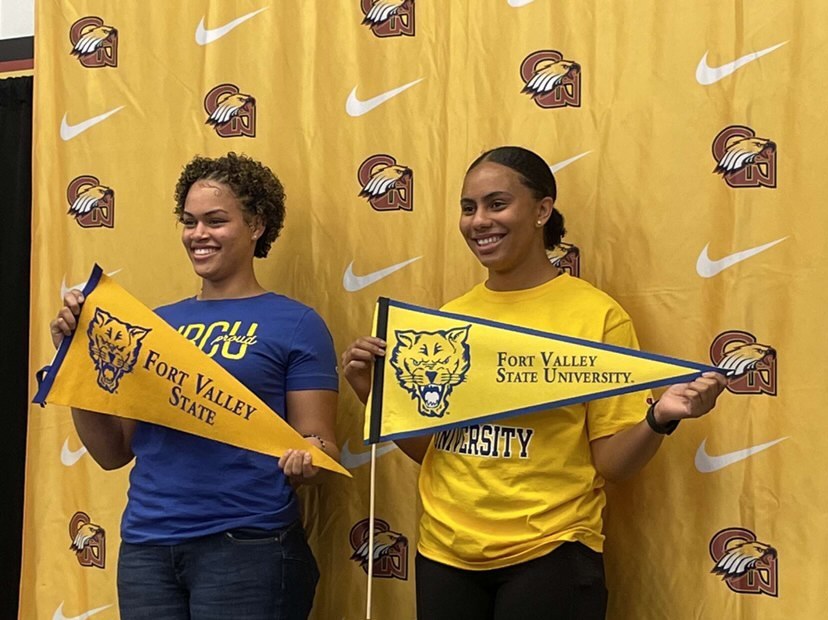 "We definitely have each other's back and we will always be there for each other."
—————
Volleyball allowed them to find each other in the seventh grade. And it brought them even closer together for the past four years at Clovis West High School. Now, Syraih Wint and Morgan Hebert are set to continue their journey at Fort Valley State University, an HBCU in Georgia.

The two friends have always dreamed of someday playing volleyball in college. But they never imagined that their journey would continue together after high school. It was in fact a complete surprise to both girls when they learned that they have each earned a scholarship to Fort Valley.

"I only found out she got a scholarship to go to Fort Valley and it just so happened that I applied and got the same exact one," Wint said. "I never expected us to be going to the same college together. That definitely didn't cross my mind."
As they once again take the court together at the next level, the California girls are excited to show off the chemistry they have built through the years.

"I think we have a little bit of an advantage than some of our teammates might have because we have experience playing together," Wint said. "We know what each other is like on the court."

Oh by the way, this dynamic duo will be sharing a dorm in college, giving them yet another opportunity to strengthen their bond.

"Syraih and I will be roommates with each other, so we can check in with each other from time to time," Hebert said. "We definitely have each other's back and we will always be there for each other. We'll get to grow our friendship in the next four years. We'll have a chance to make more memories together."
The two volleyball stars are not just looking forward to showing off their skills on the court. They're also eagerly anticipating the unique education they will find at an HBCU.

"I'm very excited to be on an HBCU campus," Wint said. "They definitely have this whole goal of Black excellence and Black success that I like."

Wint tried many sports as a child. But it's volleyball that has been her passion since the sixth grade. Along the way, the star student-athlete learned that she would have to overcome great challenges to achieve her dream of playing collegiate volleyball.

"I had to push myself. There were many things I had to do in order to get myself physically and mentally in the right headspace to play at the varsity level," she said.

At times, Wint found herself on the bench, struggling to get playing time. But the disappointment became her motivation.

"You can't sit and just wait to have playing time," she said. "You have to work for it. So my competitors, people that were doing better than me on my team — my goal was to surpass this person."

Hebert shows gratitude to Clovis West for helping her achieve her goals.

"Clovis West volleyball program was a big help to get to the level where I am at today," she said. "We had the opportunity to go to a lot of high level tournaments and compete at a fast-paced environment."

The soon-to-be Wildcat also thanks the many coaches she found along the way. That's including Larry Wrather and Jeannie Davis, one of Hebert's first coaches.

"My very first coach, coach Jeannie Davis, she was a big help to my volleyball journey," the young star said. "She thought me the fundamentals of the game at the age of 11 and she has been a big help since then."

As they take the next step in their life, the Clovis West grads plan to rely on the same principles that have carried them to this point.

"It's very important to be disciplined and to be a team player," Hebert said. "These are two important factors that are important in gametime situations."

And they now get to learn many more lessons together in a new environment.

"I'm excited to experience college with her because we haven't had a lot of one-on-one connections," Wint said. "Now there is an opportunity to do that."

"This is an awesome opportunity to be able to play with one of my best friends and to share this college experience with," Hebert added.