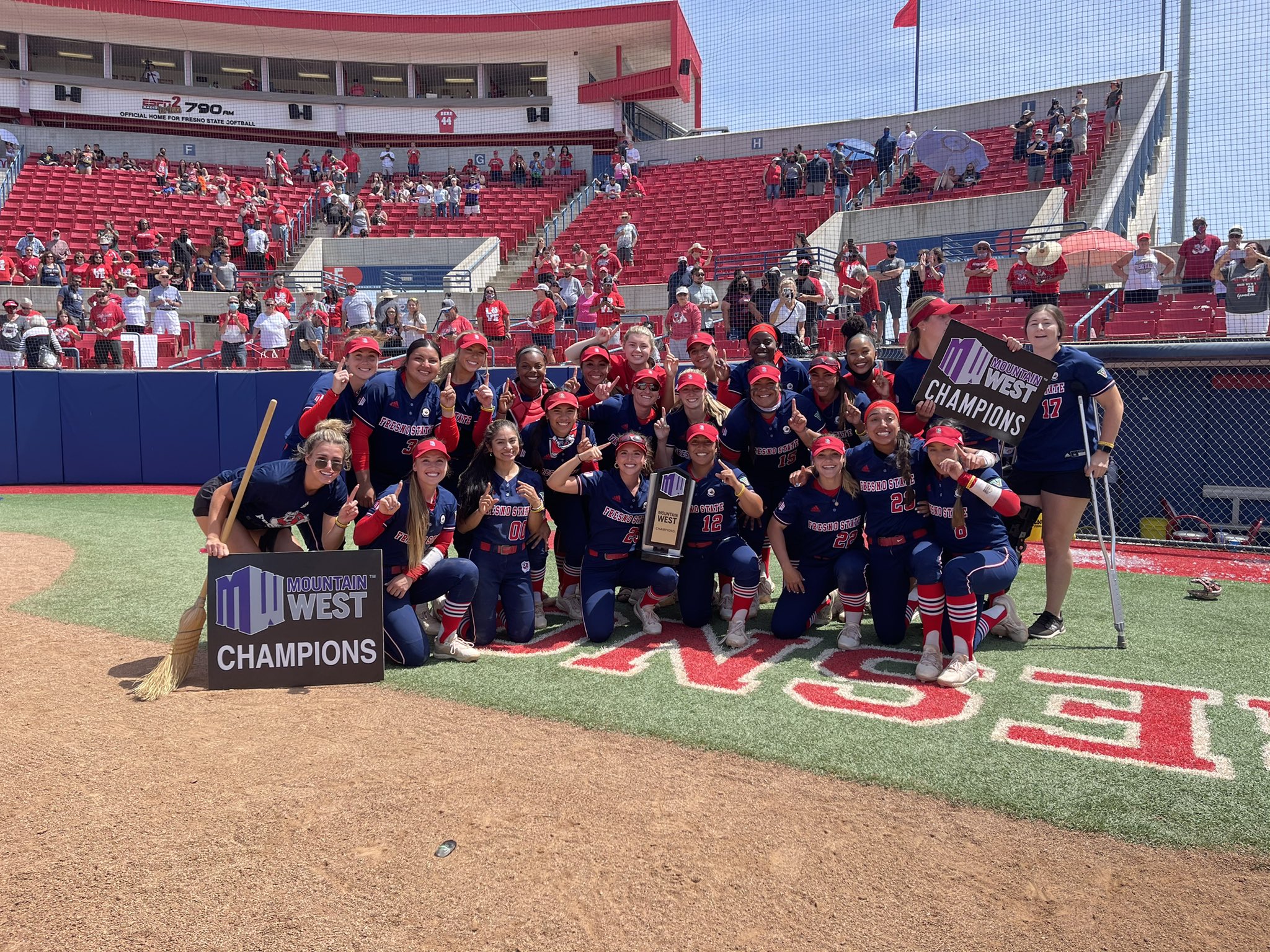 "Going from no fans in the beginning of the season, to winning a championship with a thousand members of the Red Wave in the stands was truly incredible!"
Fresno State's Kaitlyn Jennings played a major role in the Bulldogs' historic 2021 softball season, which was highlighted by a Mountain West championship. The senior outfielder, who made the last catch of the game when the Bulldogs clinched the title, earned All-Mountain West honors after completing a stellar season.
Jennings enjoyed many more memorable moments along the way.  She talked about some of those moments in the following interview with Fresno Sports Magazine.
————————–
1. There were obviously so many great moments in the season. But are there a few that stand out to you from all the great moments your team experienced this past season?
It's hard to choose, but I would say the most memorable moment was clinching the Mountain West championship at home on senior day. It was so amazing to finally be back at Margie Wright Diamond, with fans in the stands, bringing another championship to the Valley. We'd fought through quarantine, not having a fall, not having fans in the stands, and more, and to finally reach our goal with the Red Wave cheering us on was truly incredible.
2. And for you personally, what were some of the great individual accomplishments or moments that you cherish the most?
Personally, I'm really proud of the fact that I'm leaving Fresno State with my B.S. in Management and my MBA. Athletically, I have a few moments that stand out to me, such as hitting a walk-off grand slam this season, or making the last catch of the game that made us Mountain West champions. My favorite things overall were getting to compete every day alongside my closest friends and representing Fresno State on the field.
3. How difficult was it for the team to regain its rhythm after COVID forced you guys to take a long break? How did you guys overcome the challenges caused by the pandemic?
Overcoming the challenges of the pandemic was definitely tough. Over quarantine, our captains arranged accountability groups within the team to keep us motivated while we were on our own. Once we got together, it was a little easier to find our rhythm again. Not having a fall definitely set us back in some ways, but we are all incredibly proud of how we performed this season, especially given the challenges we faced.
4. You mentioned how close you are with your assistant coach Jodie Cox. Can you describe what she means to you and this team? What was it like to play for her and to grow under her leadership?
Coach Cox is really an amazing coach, and an even better person. She really knows how to get the team to rally behind her, and her knowledge of softball is truly limitless. It was humbling to have had the opportunity to learn from her to see myself grow as a player and a person as a result. She taught me so much about dealing with failure and finding ways to overcome obstacles that feel impossible at the time. She's a really player-driven coach, and you can tell how much she cares for her players every single day. As a player, when you feel that type of energy from your coach, you can't help but want to give the same energy back. I think that's a huge reason why we were so successful this year.
5. Your teammate Hailey Dolcini of course had an unbelievable year. What was it like for you to watch her perform this year? How would you describe the impact she made for the team on the field or in other ways?
Dolcini is just a competitor, and she knows how to work better than anyone I've ever known. It was amazing to watch her go out and compete this year, especially watching from center field. Her pitches had some insane movement all season long, and she was finding ways to attack batters in any and all counts. Her impact is truly immeasurable. She's such a great leader and is the one always finding ways to step up in big spots. We all really rally
6. Another one of your teammates, Vanessa Hernandez, had a viral moment when she posed with the Mountain West trophy, imitating Kobe's iconic photo. How much fun was it for you guys to watch her get so much love for that photo? Do you have any idea about how that photo came together?
Ness has been a major Kobe fan ever since she was about 10, and played basketball her whole life. Kobe is her idol, and she was really affected by his passing. When we got close to clinching the championship, she decided a great way to honor Kobe and celebrate our title would be to recreate his iconic picture. It was so awesome seeing her blow up on social media over her photo, seeing how positive everyone was reacting to it. It's a seriously cool picture. She even has t-shirts with the picture printed on it!
7. This team clearly had so much support from the community. Can you reflect on what it was like to have so many fans supporting you?
We're a team that really feeds off of our supporters, so it was incredible to have so many loyal members of the Red Wave come out and support us when we were finally allowed to have fans again. It was especially amazing when we clinched the Mountain West championship and got to celebrate with all the fans in the stands! Going from no fans in the beginning of the season, to winning a championship with a thousand members of the Red Wave in the stands was truly incredible!
8. You guys also got some shoutouts from the great players who played for the Bulldogs through the years. How big was that moment for you?
It was amazing! We have a huge emphasis on honoring those that came before us, so getting to hear supportive and insightful messages from former Bulldog greats was an incredible experience. It reinforced that Fresno State softball isn't just a college thing, it's lifelong.
9. What's next for you?
For me, I'm moving to Southern California and planning on using my MBA to work in project management in the tech industry. I plan on staying involved with softball in some form or another, be it through lessons or coaching. We'll see!