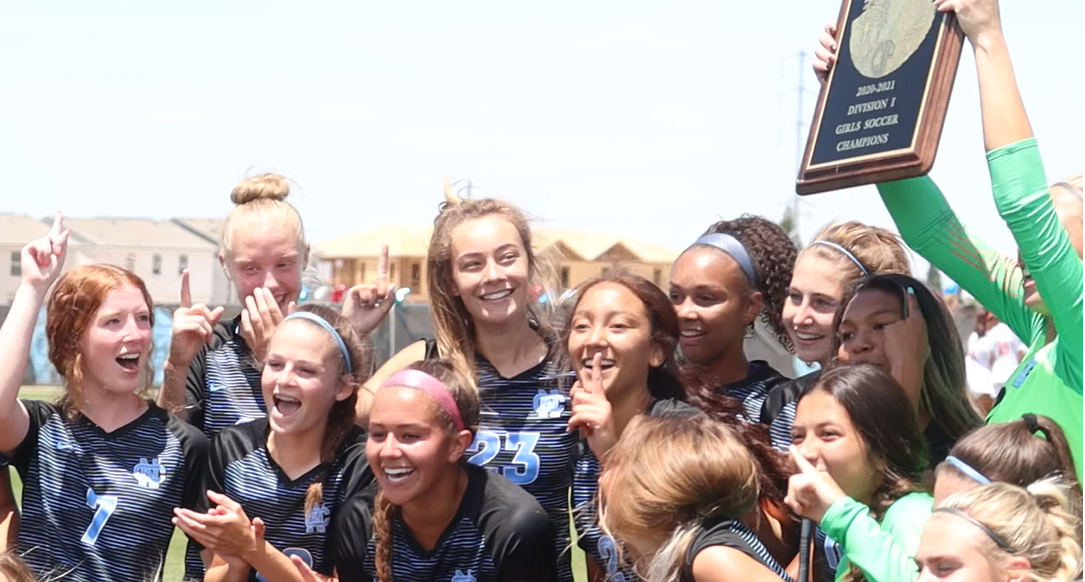 "What a great kid! I can't wait to follow her career at Alabama."
—————
Less than a week before her team's championship game, Carys Hall underwent surgery to recover from an ACL tear. But when game day arrived and Clovis North took the field without their senior soccer star, Hall remained as upbeat as ever.

Projecting her voice from the sidelines, the injured Bronco energized her teammates throughout the match. And when the final whistle blew, officially signaling Clovis North's 2-1 win against Buchanan in the D1 Central Section Championship, Hall hopped on her crutches and joined the euphoric celebration in front of the home crowd.

The senior, who had suffered one of the most devastating injuries in sports just a few weeks earlier, described the Broncos' second straight section championship as the "best moment of her career."

"It was really difficult getting injured before playoffs," she said. "But honestly, I love these girls. I support them. Even though I wasn't on the field, I knew they were gonna get the job done. I'm just really excited for everyone, for our team, for our school."
A few months ago, each one of the Broncos waited anxiously from their homes, hoping that the pandemic wouldn't wipe away their season. And when they heard that there would be a season, the team still didn't know if playoffs would be included.

Still, the girls were determined to at least win their third-straight league title if nothing else.

"We didn't know if we were going to have a season, but as soon as the news came out, we were really excited," Hall said. "We didn't even know if there was going to be a Valley championship, but we were going to play for that TRAC championship and we wanted to win that back-to-back-to-back."

When it became clear that the season would in fact include playoffs, the Broncos once again shifted their focus.

"As soon as we entered the playoffs and got the No.1 seed, we knew that this was our moment and the perfect way to finish our senior year," Hall said.

Clovis North head coach Nick Pappanduros gets overwhelmed with emotion when he talks about the nine seniors who helped the team navigate through the challenging season.

"We relied on our nine seniors this year," Pappanduros said, noting the challenge of trying to get back into sports after missing the social atmosphere for a year. "Everyday they came out here and left it all on the field. When they came out here, it was game on. Forget the pandemic, forget all this, it was about soccer."

The experienced Broncos continued to prove their resilience when they faced a young, pesky Buchanan squad in the title match. The Bears, who were down 2-0 against the defending champs, found life in the 71st minute. That's when sophomore Bailey Bracha launched a shot which traveled from the right wing and bounced off the far post before landing inside the goal.
But the two earlier goals from junior Alyssa Wheeler and senior Izzy Arballo were enough for the Broncos to get the job done. And it helps to have a goalkeeper like Sydney Hancock, who made a leaping save in the 78th minute to clinch the victory.
Pappanduros has seen his share of success at Clovis North through the years. But the latest win, he said, is the sweetest of them all. That's partly because the Broncos managed to overcome the unique challenges of the past year. And it's also because the latest victory came against their rivals, a team which has spoiled Clovis North's dreams a few times before.

Such was the case seven years ago when the Bears clinched the title with a win against a Broncos team that featured Hall's older sister, Hannah.

"The older Hall girl, she got to the Valley championship and they beat us. Now, Carys — Valley Championship her senior year, we beat them," Pappanduros said. "Anytime you get to play the team that beat you and it happens to be a rivalry, it's sweet."
Pappanduros now raves about the younger Hall, particularly admiring her ability to stay strong during one of her most difficult moments.

"She was by far the best offensive player. I feel for her, but boy — her leadership on the sideline, her motivational speeches before games, pumping everyone up — what a great kid! I can't wait to follow her career at Alabama," he said.

The University of Alabama-bound senior is just as grateful for her journey with the Broncos and the lessons she has learned from the game of soccer.

"The friendships have been amazing. Family comes first and these teammates become your family," she said. "[Soccer] helps you in life, just hard work and just getting through the years. Especially with the pandemic, just being resilient and just making sure you're staying focused. It has been a game-changer in my life and I'm so grateful to have it."
The Broncos also happen to have a Valedictorian on their team. That star student-athlete is Arizona State University-bound Nicole Fernandez.

"It takes a lot of hard work and dedication," Fernandez said as she talked about the challenge of becoming a Valedictorian and a Valley champion. "Soccer is like a fulltime job and school is also like a fulltime job as well, so it takes a lot of hard work, a lot of effort. But everyone here knows what it takes to be a champion."
Fernandez has become accustomed to spotting her family in the stands during her soccer games. At the same time, Fernandez has also felt the love of her community in the past four years.

"Everyone here supports us, not even just my family," the senior said. "The whole school here watching us, just makes it more special and really just pumps everyone up. Makes us so happy to be a Bronco."

That type of support apparently paid dividends in a season unlike any other.

"It was difficult to get the team going, get everyone pumped again after thinking we were never gonna play together again," Fernandez said. "We're so lucky that we got this moment and we got to finish it like this."

While Clovis North will look to build on its success in the coming years, the seniors are ecstatic about their next chapter.

"I'm off to Alabama," Hall said. "I leave in about a month. It's gonna be a new journey and I'm just excited to play four more years of soccer."