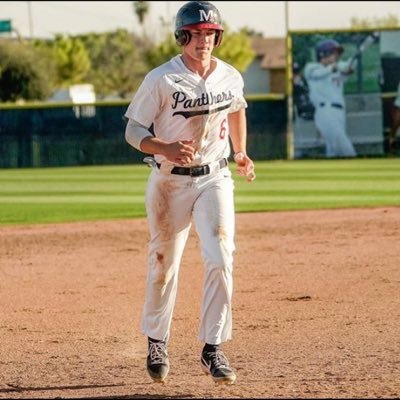 "Ever since I stepped foot on campus my goal has always been to try to make an impact as soon as possible to help my team win."
In the following interview with Fresno Sports Mag, San Joaquin Memorial's Tanner Sagouspe talks about his latest milestone, the past four years of high school, growing up with baseball, his future plans and the team's goals.
---
How does it feel to pass the 100-hit milestone?
It is definitely a cool accolade that my coaches and teammates have helped me reach. It is always nice to take a moment to cherish the positives, but all that means is that there is more work to be done to reach the next milestone. The last four years with my teammates have been a grind, and I have enjoyed every bit of it.
Did you have this vision in mind when you first came to SJM?
Not necessarily. Ever since I stepped foot on campus my goal has always been to try to make an impact as soon as possible to help my team win. Individual accomplishments have always helped me stay motivated to reach the next goal in mind, but winning and developing as a person has always come first to me.
How did the program help you get to a great level of success in the past four years?
San Joaquin Memorial has created a foundation for me to lead by example and push my teammates and classmates to become the best versions of themselves. Playing under Coach Salles and his staff has extraordinarily helped me grow on and off the field. It has been an absolute blessing to develop as a player and young man in such a great program. This game is not always about winning, but it is about the life lessons you learn along the way that you can carry for the rest of your life.
Who are some others who have helped you develop your game throughout your life?
I have been blessed to have had many coaches and teammates over the years who have helped me strive to become the best version of myself on and off the field. One man that I would mention is my little league coach, Greg Jones. Since the first day that I had met him, he kindled a passion in me for this sport that I have fallen in love with. I could not thank him and all of the other coaches enough for the lessons they have taught me over the years.
How do you feel about where you guys stand as a team and where you're heading?
As a team, I believe that we have a lot of potential to be very successful this season. We are playing pretty good team baseball, but I believe that we haven't even cracked the eggshell yet on what we could be. That will come with experience. Over the last four years, our team has always had very good chemistry, which has correlated to winning. I am very grateful for my teammates and am so proud to see how far we have come over the last couple of years.
What's next for you after high school?
Next year, I am going to Cal Poly, San Luis Obispo to play baseball. I am going to miss SJM, but cannot wait for what the future holds.
What are some long term plans you have?
The dream will always be to get drafted one day, but I have many long term goals that I would like to accomplish in life. After getting my education out of the way, I would love to work for whatever I am passionate about, whether that is baseball or some other job. I also want to start a family once I am settled with a job and just go wherever life takes me. Happiness is key.
What are some other achievements you're proud of from your baseball career?
A few achievements that I am proud of have been winning Valleys both my freshman and sophomore years. This was an outstanding team accomplishment and have been some of my most favorite memories ever. Although, most importantly, I am very proud of how far our program at Memorial has come over the years and the competitive team we have developed into. I am very grateful for the opportunities I have received and the achievements I have been able to accomplish here at SJM.
What are some things you've done off the field you're proud of?
Off the field, I have tried to give back to my community through serving at various organizations such as the Boys and Girls Club and Catholic Charities. I have collected nearly 200 hours of service over the last four years. I have also tried my best to contribute to my school community by fulfilling duties as ASB President. I am so thankful for all of the people who surround me at SJM and all that they have done to push me towards the best version of myself.