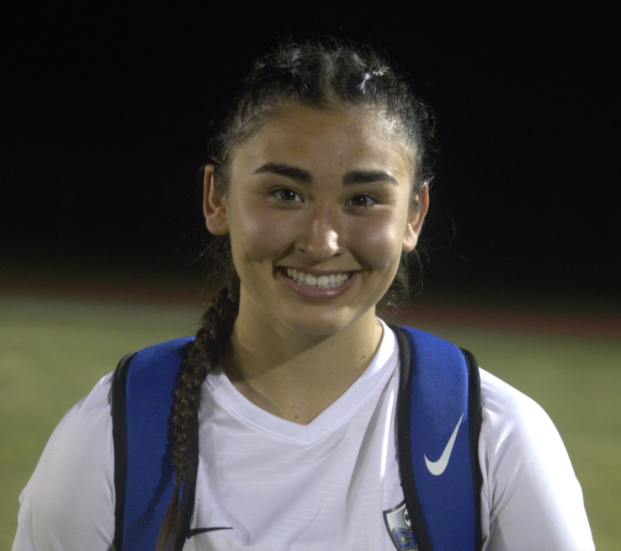 "I started very young, ever since I could walk."
Samantha Tristan is no stranger to the big stage. The senior soccer standout, who has been making big plays throughout her high school years, enjoyed one of her most memorable moments last season when she scored a brace to lift the Clovis Cougars to a state championship win.
Tristan's performance in the state championship included an unforgettable chip from the right wing which sailed over the outstretched hands of the keeper to find the back of the net. The senior scored an even more dazzling second goal when she launched a rocket from long distance to clinch the CIF Northern California Regional Championship in Division 2.
Tristan, who learned the game from her father when she barely started walking, is poised to come up with even more big-time plays when she embarks on her journey at Fresno State.
"I started very young, ever since I could walk. My dad used to play soccer," she said. "And I'm going to continue to play at Fresno State."
As she takes the next step in her career, the future Bulldog plans to rely on the lessons she already learned from the game she loves.
"I feel like soccer has taught me discipline, time management, being organized, leadership, definitely hard work," she said.
Tristan has developed her game by playing at multiple levels, including high school and club programs. Her experience in high school has especially paid dividends.
"I enjoy high school soccer. It's a little bit different than club," the senior said. "You get to play with all levels younger. That just shows teamwork and playing with people that you don't normally play with."
The Clovis Cougar star loves the freedom she gets with soccer.
"Soccer you don't have to necessarily play a certain style. They give us some drills we can possibly use for the game. But at the end of the day, it's not going to be a perfect match or a perfect play. You're just going to have to find the ball," she said.
The Cougars face a tall task as they look to top last year's championship run. But Tristan believes the team has what it takes to get the job done.
"Last season is going to be hard to beat, but we just have to go in and work hard every game," she said. "Last season we were state champions in Division 2. We did lose in the Valley finals against [Clovis North] in double overtime, so maybe win TRAC at least and do the best we can in the playoffs."