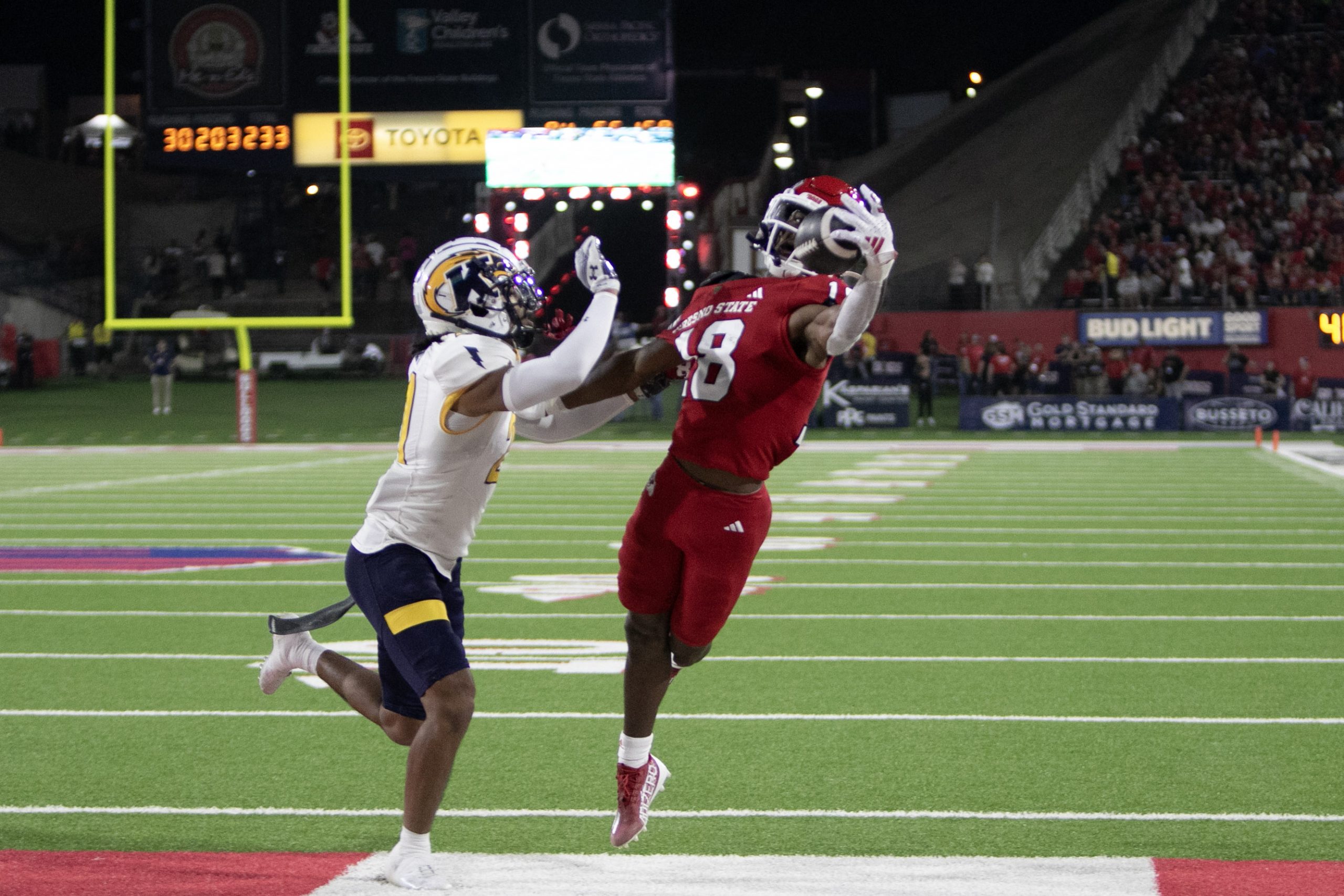 "It was too surreal. That's a moment I'll never forget."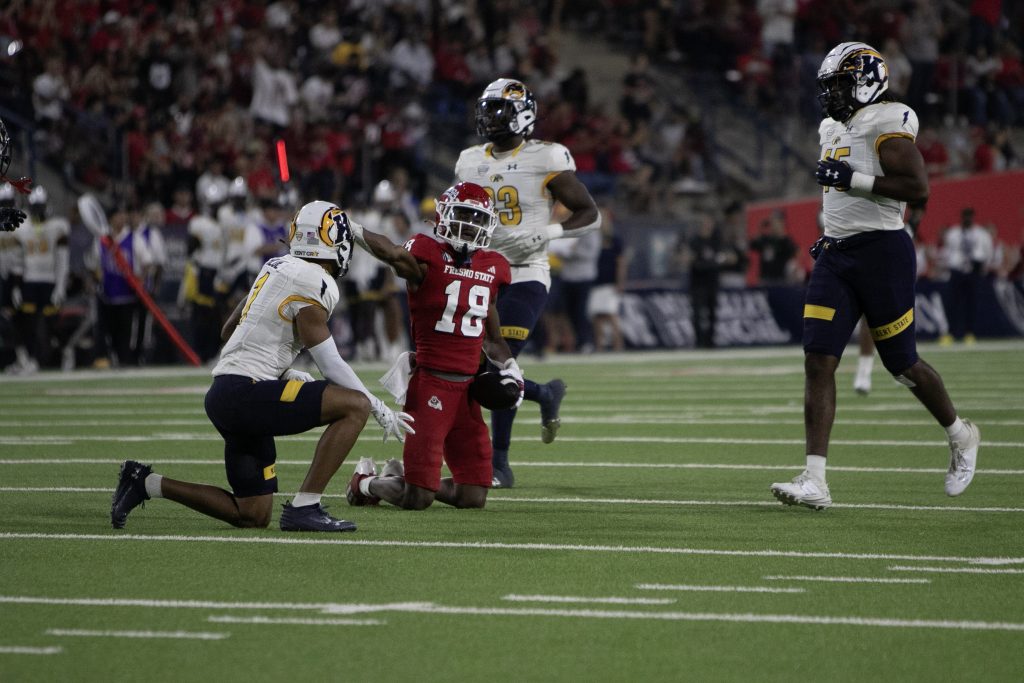 ---
Jalen Moss left everybody stunned when he made a mesmerizing one-handed catch in Fresno State's blowout win against Kent State. Just like Bulldog fans who were left speechless, Moss appeared to be equally amazed when he reflected on that epic moment.
"Surreal," Moss said as he looked back on Saturday night. "I didn't expect to come in and make the plays that I did, but I was prepared coming to practice this week. And that's the whole thing we be talking about throughout the week is preparation and coming into the game prepared and I was prepared to make the plays that I made. I had a messed up play, but our coach talked me through that. I been playing the game I was supposed to play, the right way."
A season ago, the red-shirt freshman waited for his opportunity while learning from veteran receivers such as Jalen Moreno-Cropper and Nikko Remigio. Patience and hard work is now paying off for Moss, who has caught 20 passes in four games this season for 212 yards and three touchdowns. His biggest moment so far apparently happened in a packed Valley Children's Stadium, where Bulldog fans were left with their arms up and their mouth wide open after witnessing the stunning one-handed catch.
"So originally it was a ND play, I was supposed to be on the opposite side, but me and the other receiver were on the same side, so I had to run to the opposite side," the dazzling receiver said. "And I see it's press, I know what I'm about to do. I'm thinking the ball is coming to me, but I'm not really sure. I run my route, I see the ball, I just stick my hand out there and ball finds my hand. It's a magnet at that point once I feel it in my hand, it's a secure catch. It was too surreal, that's a moment I'll never forget, I've never had that happen to me before."
Moss' coaches and teammates have been praising the young receiver since he first arrived at Fresno State from Menlo-Atherton High School. Cropper was among those who gave a testimonial a year ago, saying he can't wait to see Moss' future.
"I remember when we were freshmen out here making plays, so it's a full-circle moment," Cropper said during the 2022 fall camp. "Now, we're seniors seeing a freshman make plays. It's definitely exciting, can't wait for him to be on the field."
Moss is now proving to the rest of the country what his teammates already knew.
"It's expected, you know," the Menlo Park, CA native said. "My coach expects this from me, he was talking highly of me coming into fall camp and I just put in the work off season, summer everything and it just paid off today, week one, week two, week three and it just continues to pay off because I come in ready to work mornings and film study and everything."
Quarterback Mikey Keene, who's in his first year with the Bulldogs after transferring from the University of Central Florida, is already clicking with Moss like the two have been playing together for years.
"Seeing a young guy like Moss, just put in the work in the offseason and continuously get better in the way that he practices, you can tell he wants to be better," Keene said. "He did a phenomenal job on Saturday catching the ball, making plays after the catch, winning those one-on-one catches."
Moss has clearly learned from some of the best to play at Fresno State, as well as elite coaches who have guided him throughout his career. But he doesn't forget to give credit to his mother for teaching him the game and helping develop his worth ethic.
"I really took that on from my mom. She's a hard-worker," Moss said. "She really taught me the game of football."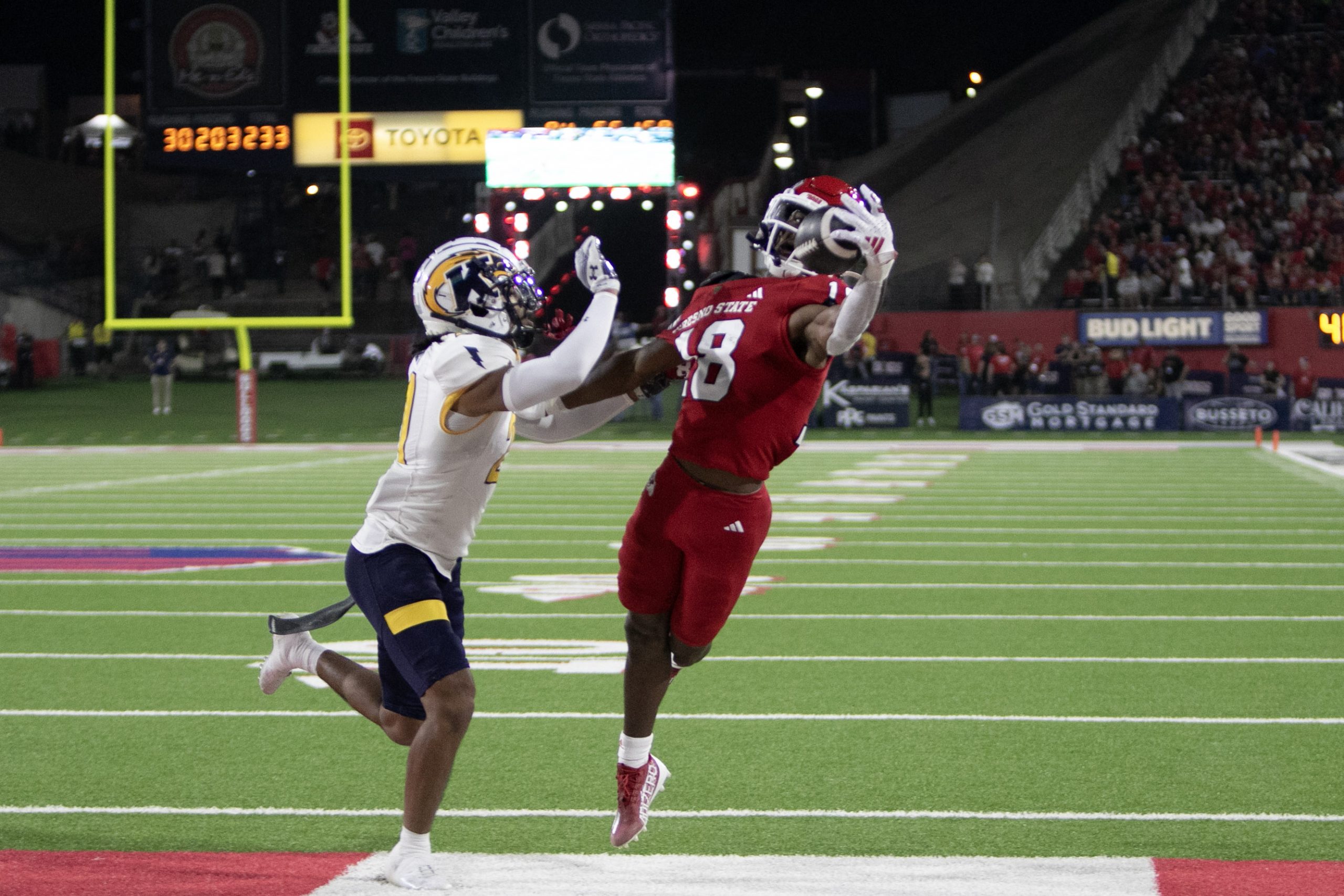 See Fresno State vs Kent State gallery here.