"My father was the heart of our family and was definitely our biggest fan. Thankfully he left a legacy before he left."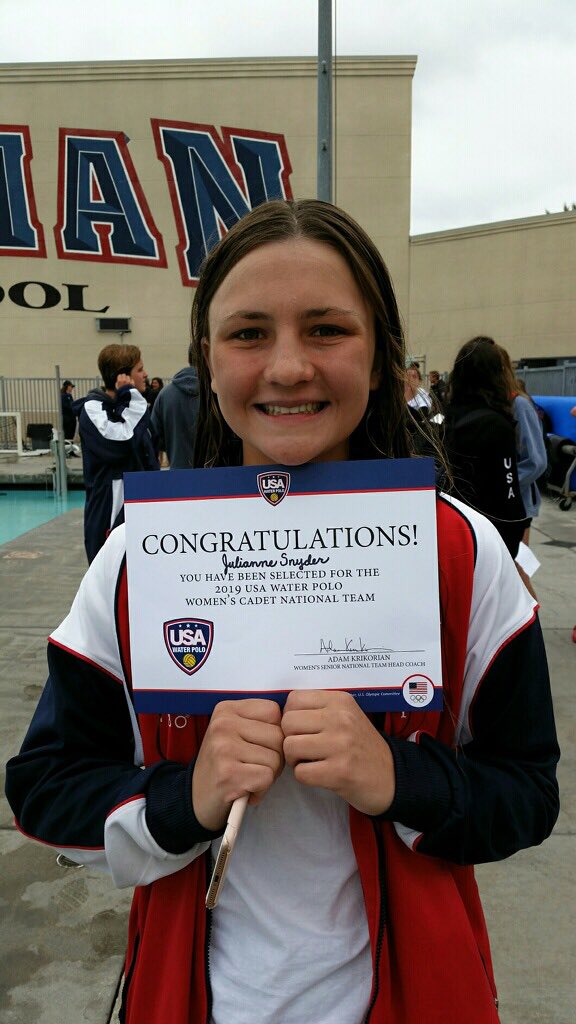 There's a priceless video that was recorded when Julianne Snyder was 5 years old. It's a footage that shows Julianne's father cheering for his 5-year-old girl at her first swim meet, telling her to try her hardest and keep her head down while swimming. In the same clip, Michael Snyder also tells his daughter that he loves her.
Julianne, who was still a little girl when Michael passed away due to a heart attack, is now holding on to the memories she made with her loved one. Sometimes she thinks back to those weekends where her father would take his three daughters to the lake on their boat. On those memorable days, the family's adventures included cliff jumping, tubing and wakeboarding.
Now, as a star student-athlete at Clovis West High School, Julianne uses the memories of her early childhood as motivation. In the classroom and in the pool, where she has emerged as a stellar water polo player, Julianne remembers what she learned from her father and strives to make him proud.
"My father wanted us to be the best version of ourselves that we could be. He always encouraged us when we needed it, but never let us slack off. Which back then was a little annoying, but I thank him every day for making me put the work in," she said.
Julianne's older sisters, Caitlyn and Sarah, have also embraced the same principals they learned from their father. With the lessons from their father guiding them, the older siblings evolved into standout water polo players at Clovis West. They then took their talents to UC Santa Barbara and once again proved themselves as elite student-athletes. While Sarah was named to the 2020 Academic All-Big West Team as a senior at UC Santa Barbara, Caitlyn joined her sister on the same list as a sophomore.
Caitlyn embodied the family's resiliency as a freshman in 2015, putting together an inspiring performance at the 29th annual Clovis West Invitational. The Clovis West standout secured four key wins for her team at the swimming competition and earned co-girls swimmer of the meet honors. That epic performance unfolded eight months after Caitlyn underwent shoulder surgery to repair a torn left labrum.
The loss of her father was also fresh on her mind as the star swimmer entered the Clovis West Invitational. But the grieving daughter became more motivated as she was thinking about Michael, who died only a year earlier when he suffered a heart attack at the end of one of Caitlyn's meets.
"Before every race when I'm on the block, I'm thinking 'Can I do this?' " Caitlyn told The Fresno Bee after her inspiring performance in 2015. "Then I think 'Dad, please help me for this race. Be with me, because it's all for you.' I swim for him."
Julianne beams as she looks back at the sweet moments she shared with her sisters as a little girl.
"Since we all shared the same passion for water polo, some nights we would crowd in one bed and re-watch their game film for hours, or until someone fell asleep," the Clovis West student-athlete said.
To this day, Julianne is still striving to learn from her siblings and emulate them in every way possible.
"My sisters and I are all pretty much the same person, you can ask anyone," she said. "Even at a young age I knew I wanted to be like them. I would watch their games, how they played, what their pre game warm-up was, and I would replicate it."
Naturally, there was some sibling rivalry involved among the sisters when they were younger. But the girls' ultimate goal has always been to uplift each other.
"Growing up, it was always a competition, no matter what we were doing. But no matter who won or lost, my sisters would always explain to me after the fact on how I can improve my skills to win next time," Julianne said.
As she paid close attention to her sisters, the youngest child learned traits that would be prove to be indispensable.
"Just by watching them I learned how to be creative in the pool and how to be a leader for my team," Julianne said. "They taught me very important skills at a very young age."
There's one lesson in particular that helps the young athlete persevere when she's trying to overcome grueling workouts.
"Every time you take a break, your opponents are getting better than you," she said, recalling the message from her siblings.
While she is happy to learn from her sisters, Julianne was never forced to imitate them.
"I was never pressured to play the same sports as my sisters growing up," she said. "In fact, my parents encouraged me to try all sports, which I did in elementary school."
But of course, water polo turned out to be her love in the end.
"I love water polo and it is my life right now. I do think it is what I am meant to do and I have a great passion for it," she said. "I know I want to play in college, and if the opportunity comes to play abroad or have a chance at the Olympics then I will take that as it comes."
Due to their age difference, the three sisters didn't get many opportunities to play together on the same water polo team. But there was one unforgettable experience that allowed the girls to share a moment in the pool.
"Before COVID when I made my second national team, the USA Youth Cadet National Team, I had the chance to play [against] both of my sisters and the UCSB team, as a 14 year old. It was very exciting to have three Snyders in the pool at once," Julianne said.
The game of water polo allowed the youngest sibling to recently travel to Greece and compete with other rising stars as a member of the USA National Youth Water Polo team. As it turned out, the teen enjoyed an unforgettable experience in this European country.
"My team did amazing in Greece especially since we have only all played together one other time," Julianne said. "We never got a chance to actually practice with each other since everyone is from different states. Throughout the whole weekend we made progress in each game. I am definitely proud of how we played."
As she reflects on her experience in Greece, Julianne still feels like it was all a dream. At one point during the competition, the American star exchanged a look of disbelief with her teammate, who was also feeling like she was living a fantasy.
"There was a moment in Greece before we were about to start our game against Germany and we cheered for the USA. Right before getting in the pool my teammate looked at me and said 'isn't it crazy that we get to say that?' It is really an honor and a feeling you can't really describe," Julianne said.
At Clovis West, the Central Valley athlete enjoyed a fast start during her freshman year. One of Julianne's favorite memories of that first year? Beating rival Clovis High on their senior night in the last league game of the season.
Then came the pandemic, which disrupted Julianne's sophomore year. But the teenager is now looking forward to the rest of her high school journey.
"Before I graduate I would like to have two Valley championships and be committed to a D1 school to continue playing water polo," the Clovis athlete said.
As she ponders the next step after high school, Julianne is willing to look at all the possibilities.
"I have just started my recruitment journey and have had the chance to talk to a handful of great schools," the junior said. "I am not sure where I will end up, but I'm keeping my options open."
Wherever she ends up, Julianne will certainly be thinking about her father.
"Even though he passed away when I was young, I wouldn't have had my childhood any other way," she said. "It just made the happy moments even better. He was my sister and I's best friend. He taught me how to be a competitor."
The standout student-athlete is apparently proud to have the responsibility of protecting her family's legacy, no matter how challenging it might be at times.
"Sometimes it does feel like I have a little bit of pressure on my shoulders, but I have learned to thrive off of it instead of backing down," she said. "I look at it as a chance to get better, and I try to always take those opportunities. I have never been focused on making a name for myself, I try to just be the best player and person I can be."
Clovis West now holds the yearly Mike Snyder Memorial Meet, a swimming competition which includes competitors ranging from 6 to 31-years-old. Michael, known around Fresno as "Big Mike," served as president of the Clovis Swim Club. He is also remembered as a football and basketball coach at Hoover High School.
"My father was the heart of our family and was definitely our biggest fan. Thankfully he left a legacy before he left, so swim families and parents always tell me stories about him which makes me feel closer to him," Julianne said.
The three siblings have clearly given their father plenty of reasons to be proud. At the same time, they have their mother, Beth Noble-Snyder, who sticks beside them through all the ups and downs. Beth, an elementary school teacher, proudly talks about her daughters wherever she goes.
"Strong, determined and kind are three words to describe my girls," Beth wrote last year in an introductory letter to her fourth-grade students.