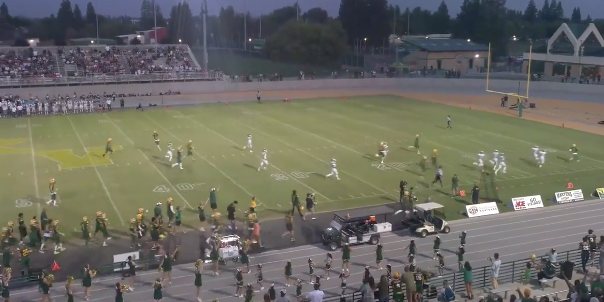 "I wouldn't have made that play without my teammates, all the credit to them."
————-
The Kingsburg community was already fired up for their undefeated football team going into Friday's matchup against Dinuba, but they took their excitement to another level after witnessing a dominating 42-14 win at home, which included two unforgettable plays from an electrifying senior.
It was Kenyan Simpson who pulled off those two mesmerizing plays against Dinuba. Simpson rocked the Kingsburg crowd when he went 93 yards on a kickoff return to score his team's first touchdown of the game. He also grabbed a pick six to give his team the lead for good in the second quarter.
The senior credited his teammates for making the huge plays possible, especially the blocking they gave him on the kick return.
"I saw great blocking by my teammates and an opportunity so I took that opportunity," he said. "I wouldn't have made that play without my teammates, all the credit to them."
On the interception, Simpson said he had a good feeling when he saw the ball coming his way.
"I was playing man and I saw a bad ball in the air and wanted to take advantage and luckily my teammates were near me to escort me to the end zone," he said.
While he is happy to have that type of performance, the senior said he still has a lot to work on.
"There are definitely still things that I want to improve because I'm a perfectionist and I want to improve my craft every day," he said.
The Vikings are now 3-0. Coach David Wilson's team earned its first victory of the season on the road against Paso Robles, 59-21. Kingsburg then won 20-15 against Sunnyside at home in its second game.
In the win against Dinuba, senior quarterback Max Warkentin threw for 207 yards and three touchdowns with a rating of 134.3. Junior receiver Naithan Reyes had a 71-yard touchdown catch against Dinuba.
"I feel like we are a good team right now, definitely not at our peak of being a great team," Simpson said. "I think our main strengths are our athleticism on the perimeter defensively and offensively. I think we need to improve on being confident as a team because if we believe we are better than the guy in front of us on Friday night, no one can stop us."