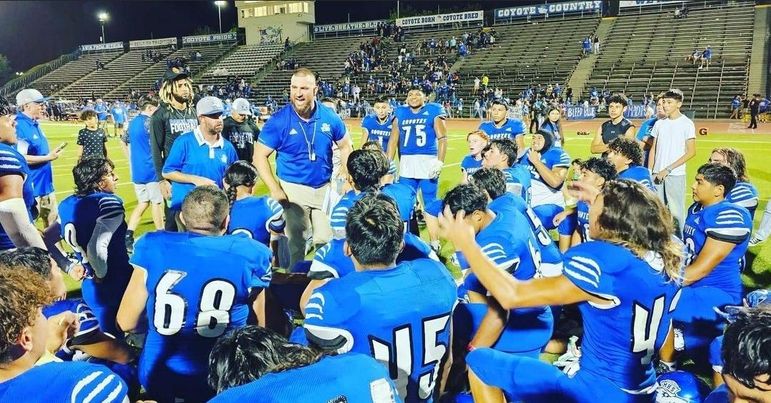 "The Blue Crew is well known for being one of the best student sections in the Valley."
————–
Madera High's 2023 football season opened with a dramatic victory at Memorial Stadium. The Coyotes rallied from a 13-point deficit against Matilda Torres High School and secured a 28-27 win when the Toros missed a last second field goal attempt. 
"To start the season off with a win against a cross town rival felt like a statement," Madera High coach Kenneth Paolinelli said. "That statement to us meant the validation of the hard work in the off-season, all the 6 a.m. grinds in summer paying off and coming to fruition."
The Madera crowd erupted with a joy, along with the players, coaches and administrators, as the last-second field goal attempt bounced off the post and stayed out. 
"All wins feel really good whether by 1 or 30. To get the win is the goal, but man, it was sure stressful," Paolinelli said.
Torres High only opened its doors three years ago. But the football program has already made big strides in a short time. In the season opener a year ago, the Toros earned a 28-25 against the Coyotes.
This time, Madera High was determined to avenge the loss.
"Winning a rivalry game is always very important and it was definitely a special one after losing this game last year," Paolinelli said. "We knew they had a very good team coming back and we have a lot of respect for those guys, but we came in with something to prove and gritted out a big win."
The South Valley town has always been known for featuring an intense rivalry between Madera High and Madera South. But it didn't take long for the Toros to introduce themselves to the mix in Madera.
"These cross town rivalry games in Madera never disappoint," Paolinelli said. "The Blue Crew is well known for being one of the best student sections in the Valley, so it makes the atmosphere really special."
Paolinelli first became familiar with the Madera atmosphere during his days as a student-athlete.
"It always feels really good to see the community of Madera come together. I remember fondly when I played in high school and it was one team one town and how loud those games would get," he said. "So it's always great to see the community show up for both sides and make the environment really special on Friday night!"