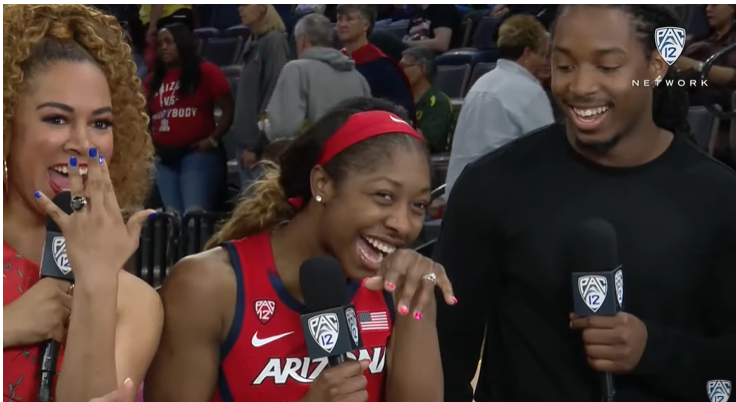 The Valley native just keeps adding to her resume at the University of Arizona.
Aari McDonald's list of accolades at the University of Arizona is longer than a CVS receipt. The former Bullard Knight was racking up awards and milestones before the coronavirus cut her junior year short.
McDonald earned the 2020 Pac-12 Defense Player of the Year Award, in addition to being recognized as an All Pac-12 selection and an All-Defensive selection. She also earned honors as an WBCA All-American and an AP Second Team All-American.

The junior averaged 20.6 points per game to lead the Pac-12 in scoring, an achievement which helped her earn the Ann Meyers Drysdale Shooting Guard of the Year award. 
"It's definitely a silver lining to the season that has left our program and many others with unfinished business," McDonald said while accepting the Ann Meyers award. "We'll come back hungrier next season, to keep pushing and take this program to places it has never been."
McDonald was a big part of the Wildcats' most memorable moments of the season, including her game-winning layup which helped knock off Stanford for the program's first ever win over a top-5 team.
There's also that unforgettable game against Texas where the junior scored a school record 44 points in a dominating win.
This Fresno native has become a household name around the country. ESPN proved that in April, naming McDonald as the second best women's college basketball for 2020-21.
Oh by the way, this basketball superstar recently got engaged to Devon Brewer, a fellow Fresno native who played football for the Wildcats. Brewer proposed after McDonald's game against Oregon in March.
"I was so shocked," McDonald said. "I was looking and was like 'What does that say?' And I saw him get on his knee and I was like 'Oh my god.' It's crazy. I should have put everything together because the last couple of months he's really been talking about it. I am just shocked because my parents, my siblings and him – even my teammates plotted against me. I'm just happy."
"I love the game. I just love to smile and have fun out here," McDonald said in a 2013 interview with KSEE24. "I have a lot to smile about, so I just show it."