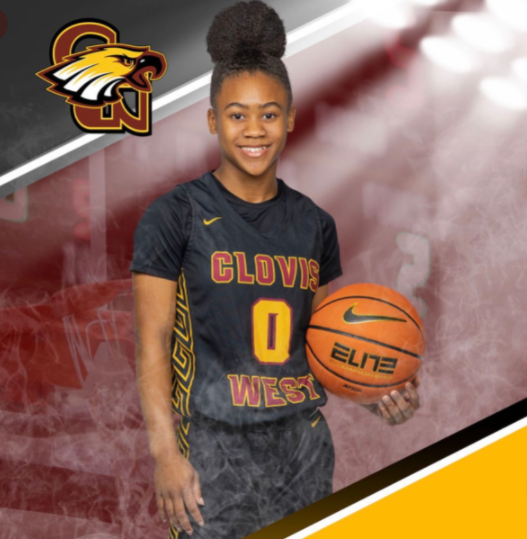 "I'm focusing on being a three level player."
After emerging as a critical piece of Clovis West's championship team during her freshman year, Athena Tomlinson is expecting to take her game to an even higher level as a sophomore. The star student-athlete spoke with Fresno Sports Mag, talking about the challenge of playing for a legendary program and about carrying more responsibility in her second year.
Here is Tomlinson's interview with FSM.
1. You obviously had a stellar freshman year. How do you take your game to an even higher level in your sophomore year?
This year I am looking to improve my shot selection. I've always been able to beat my defender and get a shot up, but focusing on taking better shots will dramatically improve my efficiency. I'm also working on getting a better control of our 221 press to be able to play more positions and be more versatile. Learning from Nikki Tom last year, I'm looking to take advantage of steal opportunities and suffocating players with intense on ball defense.
2. What are some specific areas of your game you're looking to improve?
This year I'm focusing on being a three level player. Being an efficient scorer from the three, from mid range and going to the basket. I want to become better at using the right finish for certain situations. Consistently knowing when to keep it simple, or stop for a floater, or hang in the air for another second could take my game to the next level.
3. Looks like you've been inserted into the starting lineup this year. Is that a big adjustment for you? If so, how do you handle that challenge?
Being a starter definitely means taking more responsibilities for my team. I have a responsibility to set the tone for the entire game. Losing momentum to the other team at the beginning the game could be the difference between success and failure.
4. Overall, are you expecting to carry more of a load for the team this year? If so, do you feel like you're prepared for that responsibility?
I'm definitely expecting to carry a bigger load for my team this year, especially with losing five seniors and a lot of high-level experience with them. Overall I think learning from senior leader ship last year and coach [Craig Campbell], has allowed me to become a more cerebral player. I have a much better control of the offense and it's allowed me to play more freely. I've also been looking to create more for my teammates. Being a returning contributor from last year has forced teams to put more defensive emphasis on me. This creates ample opportunities to get open shots for my teammates and open up our offense.
5. You're playing on a team that has high expectations every year. How difficult is it to meet those expectations? Do you enjoy having that kind of challenge?
Playing on a high caliber team like Clovis West is definitely a challenge. It's also the reason I came to play for Coach Campbell. Being ranked as one of the top teams in the state means that we have to focus on every detail of every minute of every game or practice. We are physically and mentally challenged to hold the high standards and traditions created by the great teams that came before us. I love the challenges brought on by playing on a high-level team; I have no doubt that I am going to be as prepared as I can be before going to the next level.
6. Are you expecting opposing teams to be aware of your game this year? Do you think you'll still be able to perform at a high level if they come with a gameplan to try to slow you down?
I'm definitely expecting teams to be aware of my game this year. I anticipate that they will be hugging up more, forcing me to my weak hand, and being physical to wear my legs out. I feel like I've been preparing for this for years in AAU games. All I've ever heard is, "Force her right! Force her right!" And it hasn't slowed me down yet. So I'm optimistic to see how our season will play out.
Fresno Sports Mag powered by your Fresno realtor Annette Dedios.