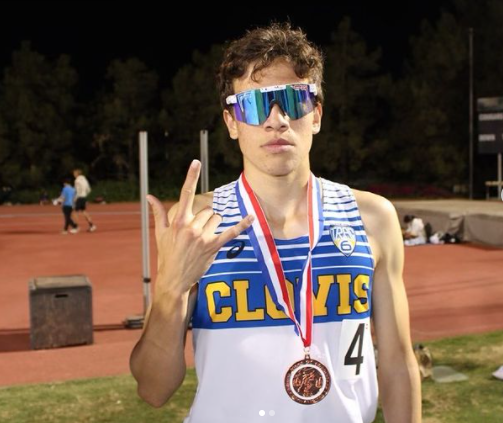 The junior holds the Under-16 national record for the 3200-meter run.
Chris Caudillo continues to set new records on the track at Clovis High. The junior smashed the 1-mile school record on March 26 when he finished with a time of 4:05.32 at the Azusa Meet of Champions. Caudillo finished third in the race, narrowly trailing Leo Young and Lex Young from Newbury Park. The standout Clovis runner broke the school record by five seconds.
A week earlier, Caudillo took first-place in the mile-run at the Arcadia Distance Challenge, missing the school record by less than a second.
"I felt alright during the race. Previously there was supposed to be a lot more runners in the race that were able to go around low 4's," Caudillo said. "But they ended up opting out so I had to do the race on my own. I was hoping to go low 4's too, but I had to wait another week to do that."
Caudillo said he has his eyes set on winning a state title in the 1600 or 3200 run. The junior also aims "to go sub 4 in the mile and 8:30s in the 3200."
"If I end up running in the state championships along with my other top teammates on the team then I believe we can win the state/valley/league championships," he said. "So I would definitely say the team standing is looking very well."
The star student-athlete said it was his father who introduced him to running at a young age. Now, Caudillo continues to develop his skill with the help of coaches such as Eloy Quintana.
Caudillo holds the Under-16 national record for the 3200-meter run. In addition to helping the Cougars earn a league title in track, Caudillo won the Valley Championship in the 3200-meter run as a sophomore. He also had another one of his proudest moments in December when he won the 5-kilometer championship race at the inaugural Nike Cross Regionals at Woodward Park.
Caudillo plans to continue running at the college level.
"I do plan on going into the college level for sure and I haven't chosen my school yet, but I have seven schools I'm starting to decide between," he said.