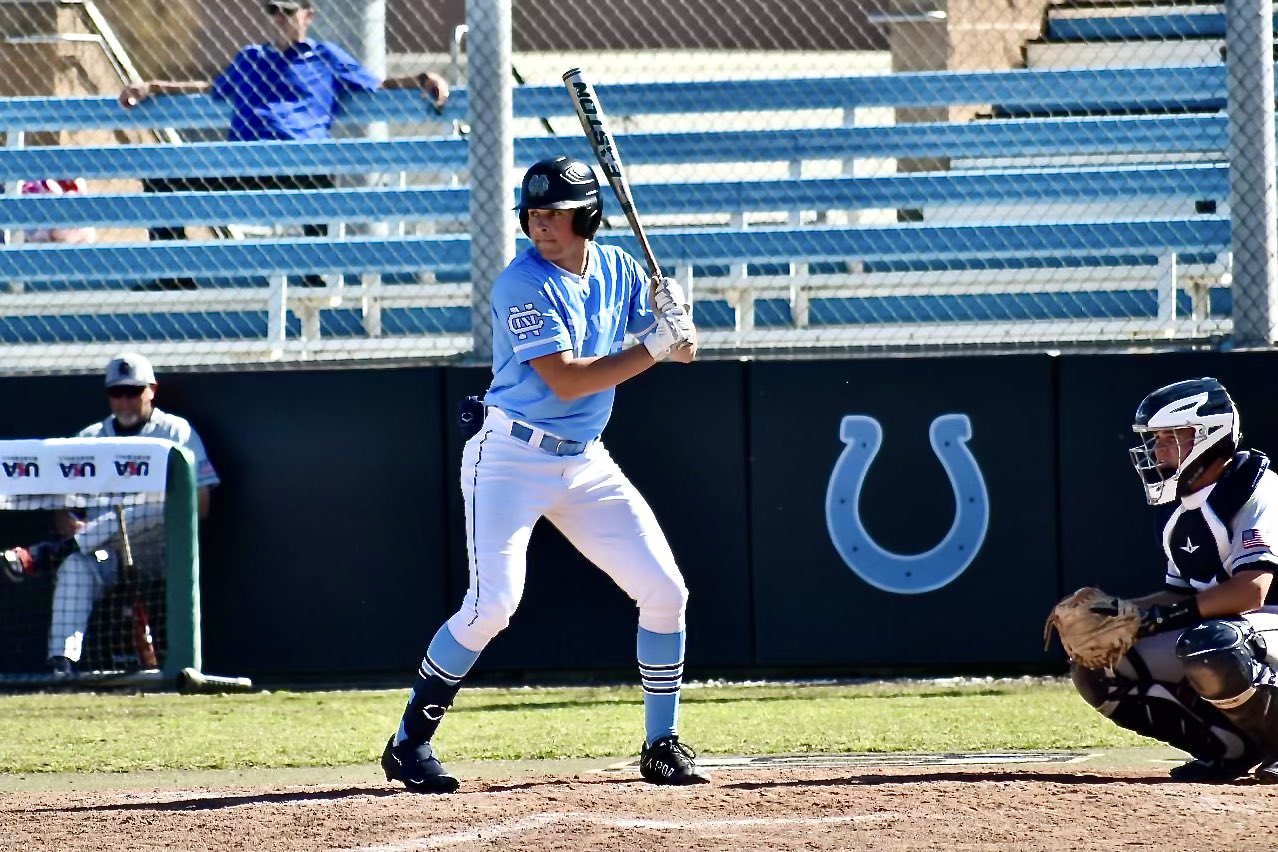 "My coaches have helped me concentrate on shortening my swing and using my legs more efficiently."
Clovis North senior Cole Fellows has gained recognition for his performance on the diamond, in the weight room and in the classroom. Fellows, who is headed to Columbia University, has already put up several strong performances this season to help the Broncos compete against some of the best teams in the Valley. The Ivy League-bound student-athlete had one of his best performances against Liberty-Bakersfield on March 12, recording four hits and 2 RBI in a game which ended with a draw after extra innings.
Fellows has totaled 18 hits on the season with 11 RBI and nine runs scored. Here is Fellows' interview with FSM:
You had a great game against Liberty-Bakersfield, hitting 4-5 with 2 home runs and 2 RBI. How does it feel to have that kind of performance?
It's a great feeling to know I have the support of my teammates and coaches behind me when I'm up there at the plate. I know regardless of failure or success we will be there to help each other to continue to improve our game. It's a very cool experience to see all the hard work we have put in show in our game play. We had a rough go at it the first time we faced Liberty-Bakersfield, but we came out with a fire in us the second time around that showed we are capable of competing with anyone.
2. You've also had several other great performances this season, as well as in past years. What's helping you find the success you're having?
Last year, I was too focused on trying to fix everything at once. A lot of the success I have been finding this year has come from concentrating my focus on one or two small adjustments at a time. My coaches have helped me concentrate on shortening my swing and using my legs more efficiently. The combination of these two adjustments has helped me hit more pitches which has in turn helped me find more success. It doesn't happen overnight and it is far from perfect, but all I can do is continue working to become more consistent.
3. How do you feel about where your Clovis North team stands and where you guys are heading?
This is the most difficult schedule Coach Prieto has pulled during his time here at Clovis North. Our team has shown that if we play our game we can compete with anyone. Coach Prieto spends a lot of time creating rigorous workout schedules for us during the off season.
4. You were named to the IronMen list for your team. Can you tell us more about that recognition? How do you earn that honor and what does it mean to you?
The IronMan competition is a test of strength in a number of these different categories. You can earn up to 10 points in each event and there are 10 events. For example, 10 points on bench press is 240 pounds, 9 points is 230, while 10 points in the 60 yard dash is 6.9 seconds, 9 points is 7.0, etc. I was the first player in Prieto's years of IronMan Competitions to earn 100/100 points. I am proud of this achievement because I have dedicated a lot of time and effort to the weight room knowing that it would help make this game just a little bit easier.
5. Looks like you're heading to Columbia University, an Ivy League school. What do you like about this prestigious school which obviously requires you to be one of the top students in academics and athletics?
The city of New York is beautiful. It is the city of opportunity and I am so grateful that I got asked to be a part of it. I know when I arrive there, I will be challenged both athletically and academically. I know that the student-athletes recruited by Coach Boretti, Tischler, and Supplee will have similar goals and aspirations as me and that we will be able to push each other towards an Ivy League Championship and a bid to the NCAA tournament. Not to mention, we will be simultaneously working towards earning a degree from one of the top academic schools in the nation. It is this balance of athletics and academics that drew me to Columbia.