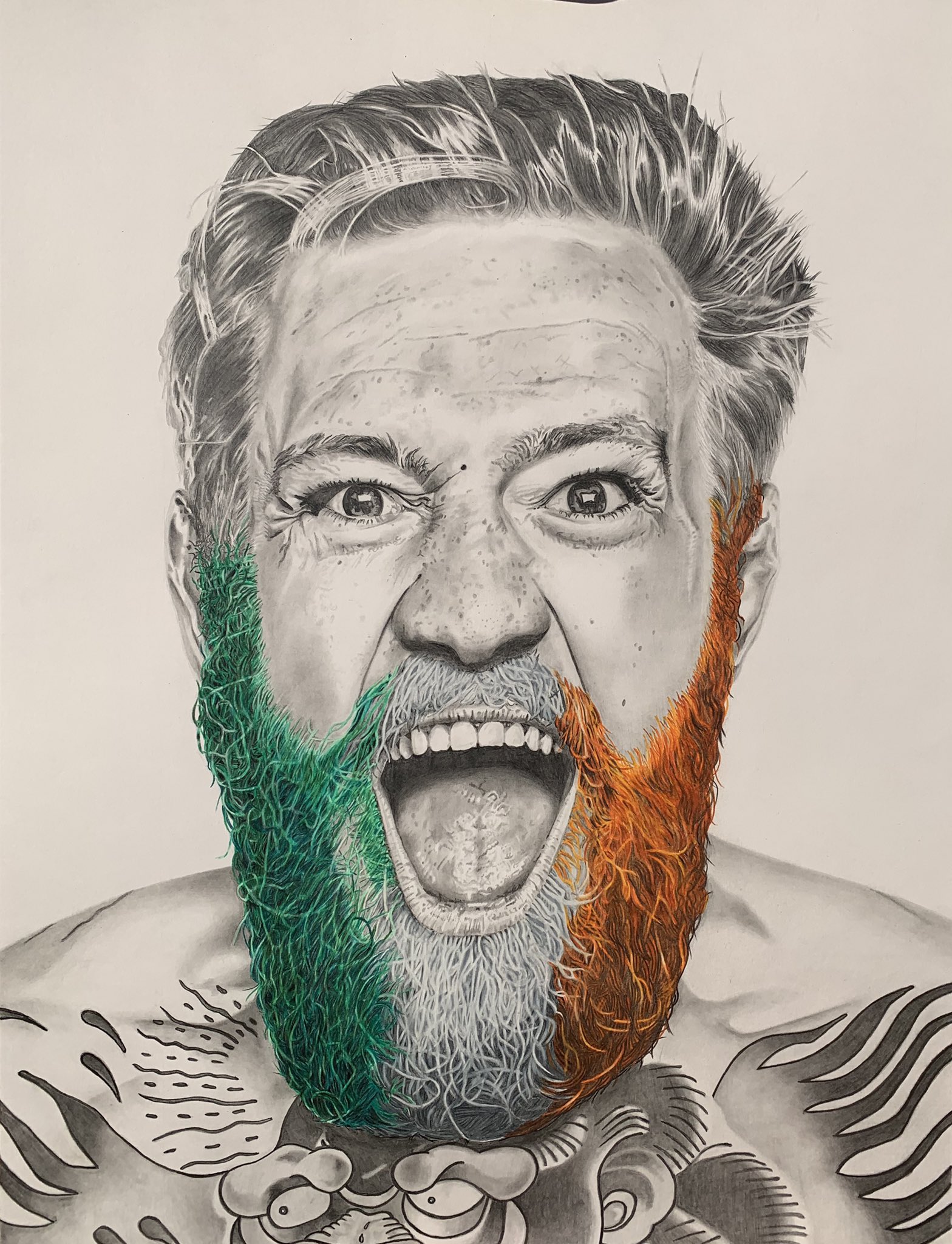 "This whole COVID thing just gave me a chance to jump into my other passion."
Craig Campbell is well-known for drawing up plays on the basketball court. But many more people are now learning about Campbell's other drawing ability. The Clovis West girls basketball head coach showed off his talent on social media, posting his elaborate drawing of UFC World Champion Conor McGregor.
"Just finished this 18" x 24" piece of @TheNotoriousMMA," the coach wrote on Twitter. "'The Pride of Ireland is an original piece. I'm the original artist. I'm hoping to sell it to him or one of his fans! Anyone interested in purchasing this original piece, please message me. Serious investors only."
While leading the Golden Eagles to eight straight section titles on the court, Campbell has also been working as an art teacher at Clovis West. The legendary Valley coach has in fact been an artist for most of his life.

"I actually went to the University of Nevada on an art scholarship," he said. "I've always done it and loved it."

While the coronavirus forced sports to take a break, Campbell decided to take advantage of the time away from the court.

"Not being able to be in the gym with our kids, I was like 'you know what, I'm gonna knock out a piece and I just started looking to do things," Campbell said. "This whole COVID thing just gave me a chance to jump into my other passion."

As a fiery coach who is well-known for hardly ever taking a seat during a game, Campbell enjoys seeing the same type of passion in other sports figures. McGregor happens to be one of those athletes that has made an impression on Campbell because of his passion.

"I like to capture a lot of passion in my work," the artist said. "Conor is very brash and has a lot of bravado. I thought it would be fun to do something that shows that level of intensity."

It's not the first time Campbell has drawn a world-famous athlete.

"I used to work Kobe Bryant and Michael Jordan's camps," the Clovis West coach said. "A lot of times people would take jerseys or balls to get signed and I would do art pieces to get signed. It's a passion of mine. I just need time to squeeze more pieces in."

Through the years, Campbell has been taking his pieces to his art classes and showing people that he's more than just a basketball guru.

"I usually bring in my artwork and show parents that I'm not some dumb, jock coach they put in art," the teacher said. "I actually do, do this and know how to do it."

In the Campbell household, there is at least one other person who may have a similar type of passion for art.

"My 8-year-old is very into it," Campbell said. "She has shown a lot of potential in it."

This architect of a powerhouse team will now wait and see if he can get the attention of McGregor.

"I know he loves things about him," Campbell said. "I'm hopeful that he will see it and potentially purchase it."
With the help he's getting from his family and many of his supporters, the artist might just be able to accomplish his goal.