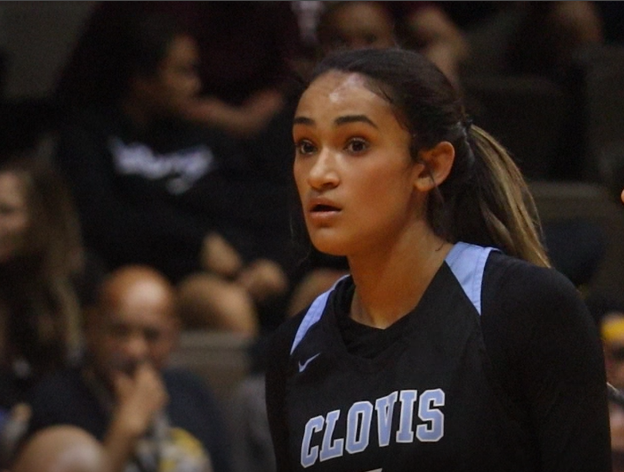 Hours before facing Clovis West in the Valley Championship game, Clovis North basketball standout Savannah Tucker received a special message from NBA legend Kevin Garnett.

"Know THAT YOU BUILT FOR THIS," Garnett told the senior in an Instagram message ."All the practicing, all the work you put in. ALL OFF THAT FOR GAMES LIKE TONIGHT. BREATHE N KEEP CALM N DO WHAT U DO. BUT BE AGGRESSIVE. Playoffs are about who wants it more."

Despite a 60-49 loss against powerhouse Clovis West, Tucker did exactly as Garnett advised. The senior stayed aggressive all night and scored 22 points to help her team close the gap after they were down by 20 points.
"After getting the message coming into the Valley game, It made me feel unstoppable," Tucker said. "He reminded me that all the extra hours and hard work shows on the big stages like Selland and he wasn't wrong. I strive to have the go-get-it mentality going every game like he did."
From my favorite player…always keeps my head straight☘️@KevinGarnett5KG pic.twitter.com/d0KJrn5oxS

— Savannah Tucker (@savannah_5tuck) February 29, 2020
The two hoopers first started talking when Tucker reached out on social media earlier this year.

"Kevin Garnett has always been my basketball role model," Tucker said. "I reached out to him first earlier this year just asking some advice with the game. He responded and ever since he has always asked me to keep him updated and so that's what I did."

Although she was nervous at first, the CSU Long Beach commit soon became comfortable in her conversations with the NBA All-Star.

"The first couple times I would freak out and be in shock that I actually was in contact with him," she said. "Since then I've kept him in the loop with the big games and all, so it was for sure exciting and inspired me extremely."

Garnett established his reputation in the NBA as one of the most tenacious, most vocal players in the league. Tucker sees similar characteristics in her game.

"I believe that him and I both have that fire in our eyes when we are out on the court," the Clovis North student-athlete said. "To play as if you were the best player on the court at all times. To have the confidence and play as if no one deserves to be on the same floor as you. He had that fire that I see in myself…that go get it mentality."

As she heads to Long Beach, Tucker still plans on seeking advice from the soon-to-be Hall of Famer.
"I keep him updated with all my basketball games and achievements," she said. "I look forward to keeping him updated when I head out to Long Beach. He will always be a huge inspiration and he is just one of a kind. My favorite player of all time!"
https://twitter.com/savannah_5tuck/status/1236482170979373057