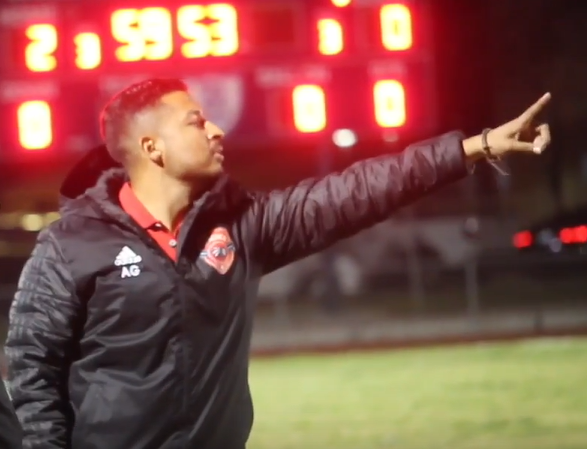 By Alex Gutierrez, Sanger Boys Soccer Head Coach
" The first two years had its bumps in the road, but we never lost focus."
On March 7th, 2020, in front of 2,000 supporters, the Sanger High Boys Soccer team hosted and won its first CIF Northern Regional State Championship game in a 4-0 victory over Redwood High School from Marin County.
Not only was this the team's first state championship, but this was also Sanger High School's first time hosting a state final and its first team in all sports to win the competition.

This success came just one year after boys soccer reached its first Valley Championship game in its history, but came away unsuccessful in a penalty kick shootout loss to Tulare Western.
Yet, the silver lining to come out of the defeat was that over 600 Sanger supporters traveled to Tulare to support a team that had little to no previous success in soccer.
After that loss, inspired by the town's support, we as coaches and athletes made a promise, that we would return to the Valley Championship. But this time, we told ourselves, we would be hosting the game and playing the 2019/2020 season for our town. Thus, our motto, "For The Town", was bom.

But here's the thing about dedicating our entire season to the town, everything would become magnified. Every victory would feel amazing, every defeat would hurt that much more, and what's worse, if we were unable to get back to the Valley Championship, or win it, our season would feel like a failure. But this team is special, the players are special and the coaches were ready for the challenge

The result? We would go on to win everything. On top of winning our first State Championship, the team also won its first ever Valley Championship in a 4-1 victory over Dinuba High School at Tom Flores Stadium.
The team won its first league championship in 39 years, finishing first in the County Metro Athletic Conference.
In December, we would win the Clovis Showcase, one of the premiere soccer tournaments in California, and we would finish the season with a 24-3-5 overall record.
While we can look back and feel proud of our successes, we understand the journey getting to this point was never easy. For myself and the coaching staff, this project started three years ago when I was hired. The idea was to unify the sport from the ground up, get the town excited, set big goals, and focus on developing the athletes on this team to be good men and to work hard for all that we would achieve.
The first two years had its bumps in the road, but we never lost focus and we never lost faith in our beliefs. Even during this season there were many moments that tested our faith: injuries to key players late in the season, suspensions, issues off the field, there were so many instances where it felt like we could not catch a break.

But what I could not see at the time was that those setbacks were preparing us for the biggest moments in our season. After each injury, a new player would step up, after losing captains new leaders would rally the team, after losing heartbreaking games the team would come together and fight to win the next game.

To exemplify this, there was a point during conference play where we'd fallen to third place and just one more loss in our season would mean we'd lose out on becoming league champions, or possibly losing out on becoming Valley champions.
Instead, the team would finish the season on an 11-game unbeaten streak to close out the CMAC as champions and to go on and become first time Valley and State champions.

The absolute best part of this journey is that we feel we have changed the culture of soccer in Sanger. The community rallied behind this team and supported us at every key moment in the season.
1700 came out to Tom Flores Stadium to see us redeem ourselves and win the Valley Championship that escaped us the previous season.
1.000 cheered us back from being down in penalty kicks in our State Quarterfinal game at home against Central Valley.
300 drove three hours to Walnut Creek, many who carpooled in large passenger vans, to support us in our State Semifinal game against the #2 seed Las Lomas High school.
And over 2,000 showed up on a Saturday afternoon to witness the schools first State Championship game.

The season has been nothing short of amazing, and as I sit back and reflect, what I can say I am most proud of is knowing that the players and coaches on this team gave absolutely everything to make this town proud.
The young men on this team deserve all they have achieved, they deserve to be called champions, and they deserve to have their names etched in the history books.

This season started with one goal in mind: Do it "For The Town".

Respectively and Gratefully,

Alex Gutierrez Varsity Head Coach