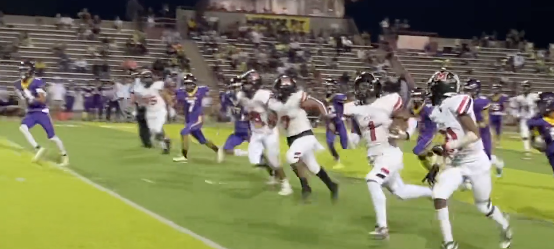 "We need everyone to stay locked in and to get better and better."
———
McLane's football team has pulled off three-straight wins after losing the first game of the season 26-9 against Porterville. Junior Da'zir Newhouse has been a big part of the winning streak. Newhouse has been lifting his team and dazzling the crowd with big plays in all phases of the game. One of his highlight plays happened in a 49-13 win against the Immanuel Eagles when he returned an interception 70 yards for six!
"By far my favorite play is the pick 6 prior game before Fresno high," Newhouse said. "The game was packed and everyone was hype and seen all my teammates really lock in."
The junior also pulled off an electrifying punt return in a 54-7 win against Fresno High. He finished with a total of three touchdowns in that game, including two rushing touchdowns.
"I feel great about my performance so far!" Newhouse said. "But also want to be humble and give a thanks to god, had a great off season working with my coaches to just get better and better. And I would say what's helping me is my support system, have some great coaches and all my teammates has been brought in."
Although the Highlanders dropped the first game against Porterville, they took away key lessons from that game.
"Porterville is a great program, but we just wasn't ready in my opinion," Newhouse said. "It was a off night for us. But these last two games has been great because we got over it, had a bye week and got back focused! And our key going forward with this two-winning streak momentum is just knowing we all we got and that we need everyone to stay locked in and to get better and better."