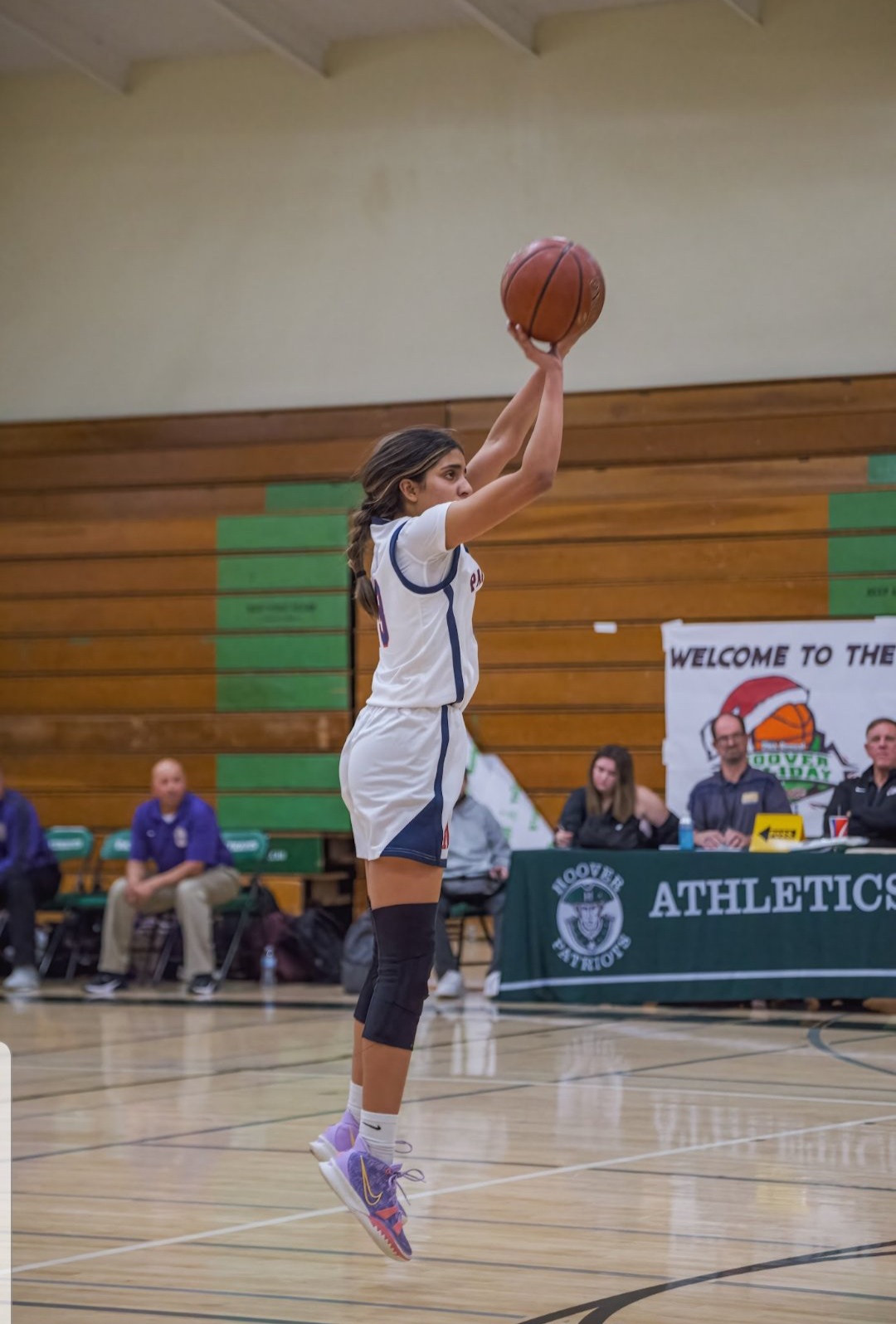 "Being a freshman for me isn't considered a disadvantage."
Saiya Sidhu set high expectations for herself going into her freshman year. So far, the San Joaquin Memorial hooper is living up to those expectations.
Sidhu scored 33 points in a game against Kingsburg earlier in December. The freshman made six 3-pointers in that game. She also scored 23 points against Madera South, shooting 10 for 14 from the field. Sidhu added 11 rebounds to complete a double-double against Madera South.
In a 68-44 win against Santiago High School (Corona, CA) on Dec. 17, the rising star finished the with 20 points.
Sidhu is especially proud of her performance against against DeSoto High School(Texas), the No. 2-ranked team in the nation according to MaxPreps. Facing DeSoto on Dec. 28 in the West Coast Jamboree, which is regarded to be one of the biggest high school basketball tournaments in the country, Sidhu scored 16 points to go along with four assists and two rebounds.
"Although this isn't my highest scoring game, it shows that I can compete with top teams and players," she said. "It shows being a freshman for me isn't considered a 'disadvantage.' I don't like using my age as an excuse because I know I can play on the court with upperclassman."
While adjusting to high school life brings some challenges, Sidhu already has an understanding of what it takes to find success on and off the court at this stage.
"The biggest challenge I have noticed as I adjusted to high school basketball is managing my time and body," she said. "Balancing school and basketball is always hard, and high school is big change with a completely new schedule."
The Panthers have several other freshmen as well who are learning and growing together.
"As young as we are, we have talented players that are willing to compete at the highest level," Sidhu said.
It also helps to have a veteran such as Meadow Roland, the junior who is emerging as one of the top players in the state.
"Meadow is an amazing player and I love being on the same team as her," Sidhu said. "We have learned how to work together and come together as two completely different players. As a junior, she has been in these difficult games and situations, so she helps teach me the ropes and reminds me to stay calm, it's just basketball, we do this everyday."
Sidhu is also grateful to have her twin brother, Sajjin, another freshman who is looking to succeed on and off the court.
"I trust my brother's opinion on and off the court, so he helps me see the little things I miss to take my game to the next level," Sidhu said. "He is my right hand man, so if I have a question or need someone to watch film with, I can always ask him."
The Panthers made a change in the middle of the season when head coach Jackie White stepped down. Assistant coach Verenique Warren has now stepped in as the interim head coach for the remainder of the season.
"My team, in a whole, has gone through a lot this season, so we are going to continue doing what we do best, which is basketball," Sidhu said. "Coach V has played at a high level, so I know she has what it takes to guide this team and give us the support we need. Overall, I am very proud of my team, for we have become closer on and off the court and I consider them my sisters. We all have very bright futures and seasons ahead of us."
Fresno Sports Mag Powered By Your Fresno Realtor Annette Dedios!