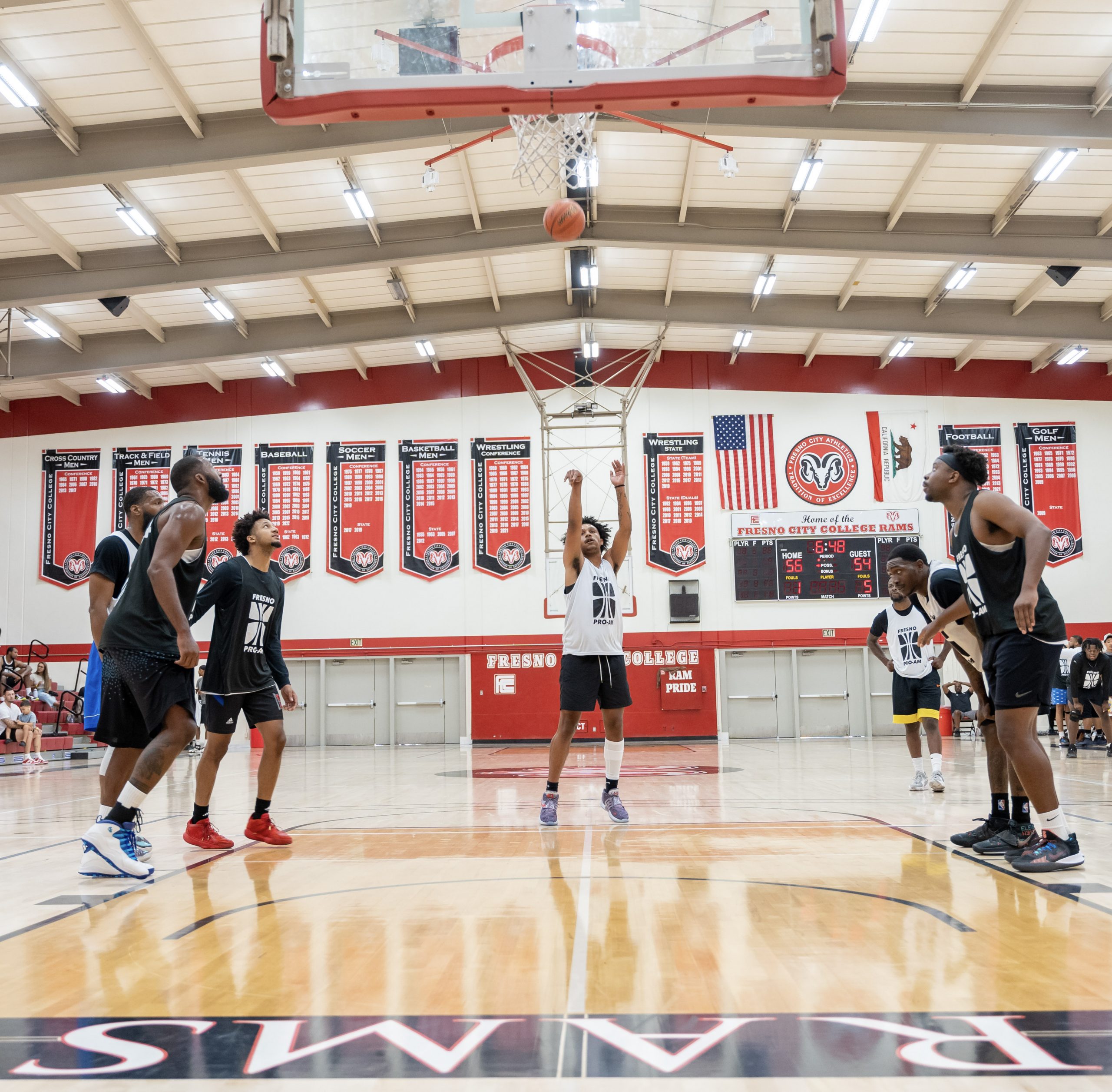 "Already hearing that professional guys from the NBA actually wanna come out here."
—————-
Fresno pro-am commissioner Alton Williams is beaming with pride as he reflects on the first season of the basketball league he launched in the Central Valley.
"It's incredible to see how hundreds of people came together for six consecutive weekends to share moments that will last a lifetime," the commissioner says.
It was only a year ago when Williams drew up his plan on a clipboard. The Fresno native then started putting his plan into action, bringing together a few hoopers to take part in some open runs at a Clovis recreational center.
"The natural progression from there was to start a league," Williams said.
When the summer came around, the commissioner received permission to use the basketball gym at Fresno City College.
"We partnered with Fresno City College. Shoutout to coach (Rob Haynes). They've been real receptive of the idea of us hosting a league here. We appreciate them," Williams said.
The pro-am league became a fixture at FCC during the summer weekends, featuring local hoopers, as well as some players who traveled from other parts of California to participate.
As the weeks went by, fans also became increasingly interested in the new league. What started off as a tournament played in front of a few family and friends, later gained more attention from hoop fans who just wanted to enjoy some good basketball during the summer days.
While the fans tune into the action on the court, Williams and his team work feverishly to make sure everything operates smoothly — including ticket sells, scoreboard operation, stat keeping, rules and regulations, as well as music.
Williams takes his seat at the scorer's table while players of various levels show off their competitive spirit. A few of the rising stars on the court are fresh out of high school. But some others have played professionally or at the college level. Then are those players who just hoop almost daily, traveling to various pro-am leagues and tournaments.
"They're coming from all parts of California," Williams said. "The demand is super high. We're already hearing from guys that wanna come and play for season 2. Already hearing that professional guys from the NBA actually wanna come out here and play as well."
The first season featured six teams and more than 80 players. But it was The Generals who stood on top as champions in the end. The championship team included Sunnyside High School basketball coach Brian Duckworth II, as well as former Houston Rockets center Greg Smith.
Various other hoopers from in and out of the Central Valley also made up the winning club. They were: TJ Viney, Phil Randles, Austin Armstead, Aaric Armstead, Tayshawun Bradford, Ricky Hagan, Kevin Foster, Alex Blair and Roc Johnson jr.
In addition to an electric championship battle, the final day of season 1 on July 23 featured plenty of other games with unforgettable moments. Obadiah Curtis delivered one of those moments when he hit a game-winner at the buzzer.
"I put in a lot of hours. When the time come, I know what it was. I just gotta do it," Curtis said.
Earlier on the final day of season 1, it was Rakim "Rocky" Brown who delivered a buzzer-beater.
"I didn't want to go to overtime. I just wanted to get it done, take the last shot…held the ball and just drove and finished the game. Step back. That's all you gotta do," Brown said.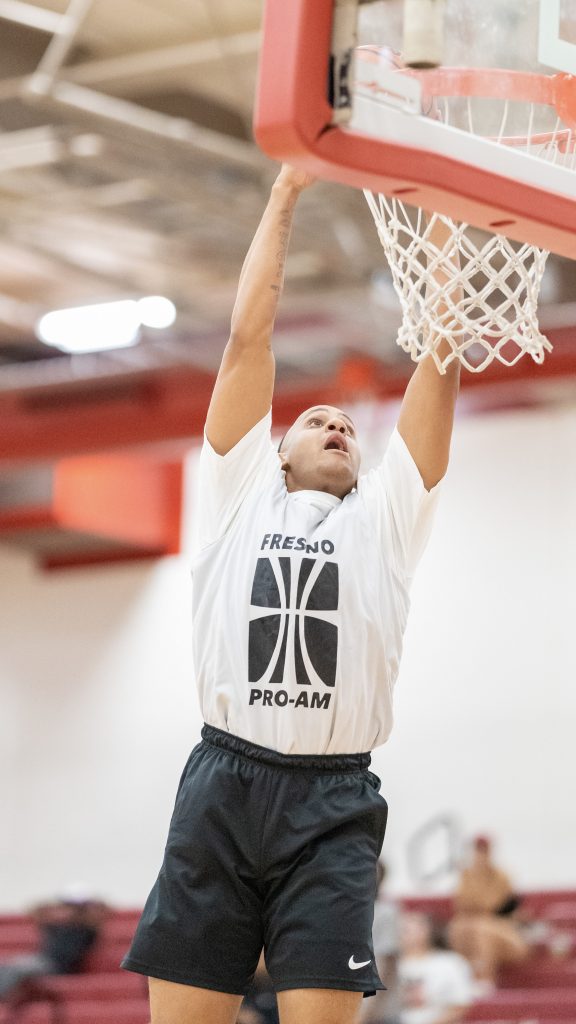 As pro-am culture grows around the country, with the Drew League and other popular tournaments attracting more and more NBA players, along with rising stars, Fresno hoopers believe they too can keep up with growing trend.
"I'm a good friend of Alton's. We went to school together, played on the same basketball team. To see him do this, it's beautiful. It's a great atmosphere. I love it," Brown said. "I always wondered why Fresno never had a pro-am. But my man Alton put it on and it has been nothing but great. It's a lot of good basketball being played here and we're all just having fun."
"It's gonna get way better," said Kevin Gilbert, who coached the Beast Or Sheep team in the Fresno Pro-Am League. "A lot of talented guys that don't get exposure, they're gonna get it now. The more we keep doing it, the more people will come out. The Central Valley is great. We have L.A., San Francisco. We're right in the middle, so we're great."
"It's positivity for the city of Fresno," Curtis added. "We don't get a lot of situations like this."
Jose Cuello, a New York native and a freshman at College Of The Sequoias, is also hyped for the future of the Fresno Pro-Am League after taking part in season 1. Cuello wants to let the nation know that the Central Valley league will soon take off.
"I swear, I swear," the COS freshman said.
With the pro-am bringing together players at various levels, the younger players relished the opportunity to go up against the more experienced hoopers.
"It was a great experience playing against all the college guys," said Tyus Parrish-Tillman, the Clovis West High School standout who just completed his senior year. "It helps me get stronger mentally."
The hoopers are also looking forward to seeing the improvements that will come to the league in the future.
"It's definitely good, but I feel like it needs to be more professional in a way, like more pro rules, more pro-oriented," said Cam'Ron Wilson, the former West Hills-Lemoore student-athlete who's heading to Florida Memorial University in Miami. "But it's good for the first time for sure."
Williams is listening to the feedbacks and vowing to take the league to the next level.
"We've built a strong foundation and the feedback we're getting from players, basketball fans and city officials are inspiring us to turn things up a notch for Season 2," the commissioner said. "And we will. Starting with one name: JG4. Stay tuned."
FRESNO SPORTS MAG POWERED BY YOUR FRESNO REALTOR ANNETTE DEDIOS!