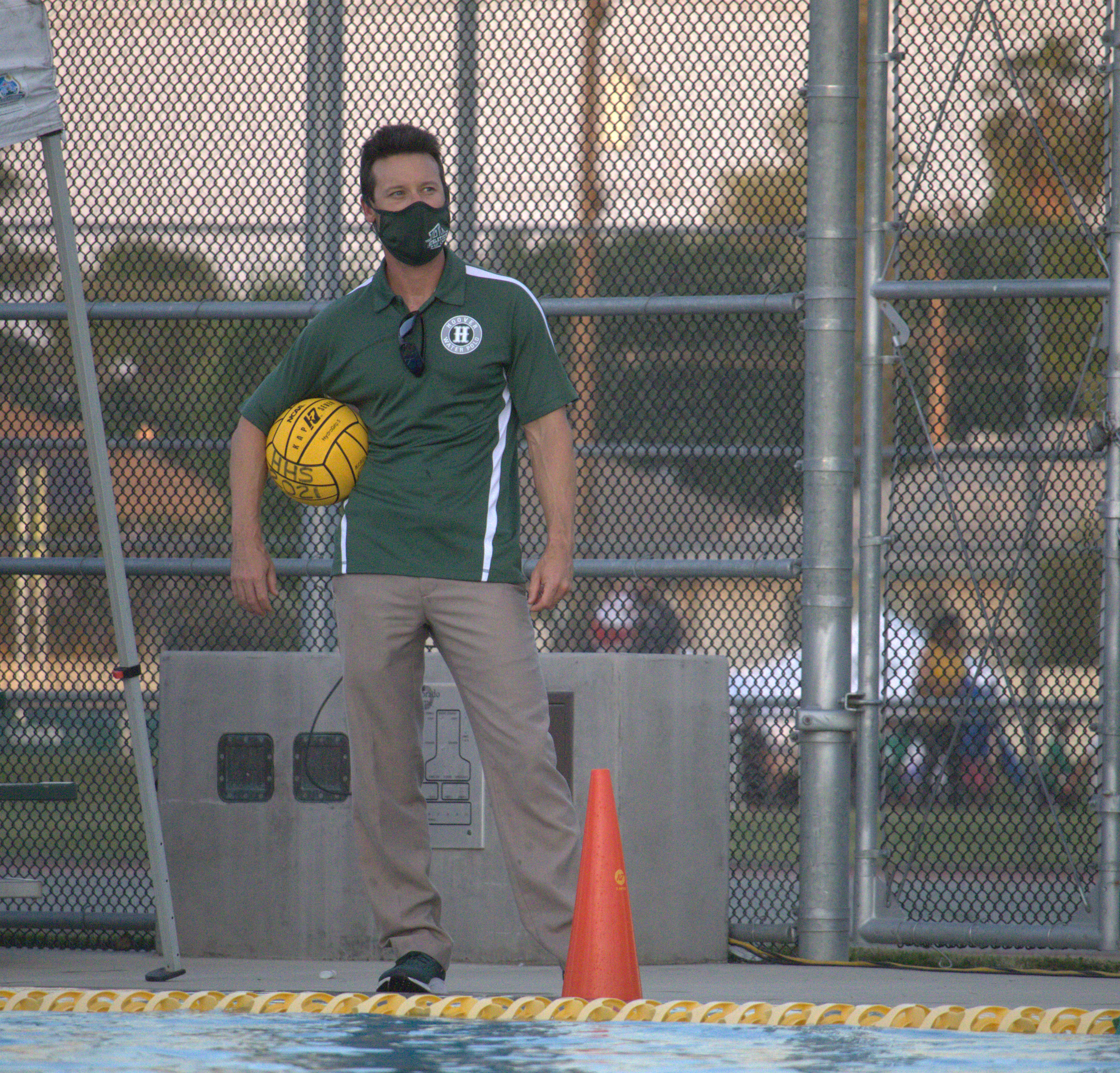 "I wish these guys nothing but the best, continued success moving forward."
---
After a stellar 15-year run as the leader of Hoover's aquatics program, Kyle Bunch is moving on to the next chapter of his life. But the coach added one more accolade before saying goodbye: a league title for the boy's water polo team.

As he had done throughout his 15 years with the Patriots, the Fresno educator and coach set a high standard for his team at the start of the season. And the boys delivered.
"We pride ourselves in competing for the league title on a yearly basis," Bunch said. "I expected us to be there."

Along the way, the Patriots also pulled out some surprising victories.

"Some of our non-conference victories this year have exceeded my expectations," Bunch said. "For example, beating Bullard in the Battle of Barstow was a big win for us. We haven't beat those guys in a few years. That was a huge win for the boys and for the program as a whole."
The season was especially gratifying for the five seniors who grew under the tutelage of the well-respected leader during the past four years.

"With this group — like others that I have had that have been successful — this group has put in the time and effort," Bunch said. "They stayed diligent even through COVID, even when we were shutdown and had to comeback. When we could come out here, they were here. You can see it's paying off by the tremendous season they're having."

Among his many accolades in the past decade and a half, Bunch was named the 2018 North Yosemite League Coach of the Year. But he credits his success to the dozens of student-athletes who have given relentless dedication to the program through the years.

"It's a testament to the boys investing the time and the energy," he said. "You can't be successful in this sport if you don't have five to seven boys that are really committed to the program. If you have that, that puts you in a position to be successful. It doesn't guarantee it. But it puts you in a position to be successful. The repetitive good years that we've had where we're winning league titles in swim and league titles in water polo, it's because I have had a reliable core group of boys throughout those years."
As he now transitions to Reedley High School, where he will continue to coach and teach Math, Bunch is making the difficult decision of leaving the home where he built his reputation as a standout student-athlete and beloved coach.

"Although this is my alma mater and I'm a Pate through and through, I was presented with an opportunity that I just couldn't turned down," he said. "But I wish these guys nothing but the best, continued success moving forward. I hope the Hoover Pates are always strong."

After serving the Patriots for 15 years, Bunch became the longest tenured coach in the history of Hoover High's aquatics program.

"It has been extremely special, being my alma mater, being that I played here," he said about the journey. "It's always going to be near and dear to my heart. This year, I have officially coached more years than any other coach here in the program. I'm officially the longest tenured coach for boys water polo. I get to leave knowing that I have coached a heck a lot of games here."
That's a total of 396 games, including 212 wins, to be exact. The only Patriot who has coached more water polo games at Hoover is Terry Giffen, who served the program from the early 80s to the mid 90s.
Bunch collected 12 league titles between swim and water polo during his tenure. But he takes even more pride in knowing that he "gave it everything he had" and "knowing the tremendous young men" he helped to develop. He also find gratification in knowing that the alumni that came before him are proud of what they saw.
"Just thankful and blessed to have been able to carry the torch of the program for the span of time that I have," he said. "The legacy of boys aquatics at Hoover was/is important to me and honoring those that came before us was something I tried to keep in mind and instill in our players. I can hang my hat on that."
Bunch's former teammates and players are now reflecting on the memories they shared with the Hoover legend.
"He was a great teammate and I'm so glad to see what he did with the aquatics program at our alma mater," one Patriot wrote on social media.
Others called him "the real MVP" and a "coach you wanted to compete for."
As it turned out, Bunch also made an impression for more than just his knowledge of the game.
"The impact coach Bunch had is incredible, when I throw on some 80s rock music, dress in Chino pants with my Hoover polo, coaching my kids, it's inspired from him," one of his former players wrote. "I got to enjoy four years of water polo playing for him."
Bunch admits that he was kind of a dictator when it comes to music.
"I play a lot of classic rock and generally don't give them a choice in the selection, so they've become quite accustomed to good classic rock," he said.
Still, his athletes and colleagues keep singing his praises.
"The end of an era," the Hoover aquatics program said in a farewell statement. "From student-athlete to head coach, the impact this man had, not only on the aquatics program or on this campus, but on hundreds of people's lives is immeasurable. Thank you Bunch for everything. Hoover won't be the same without you."