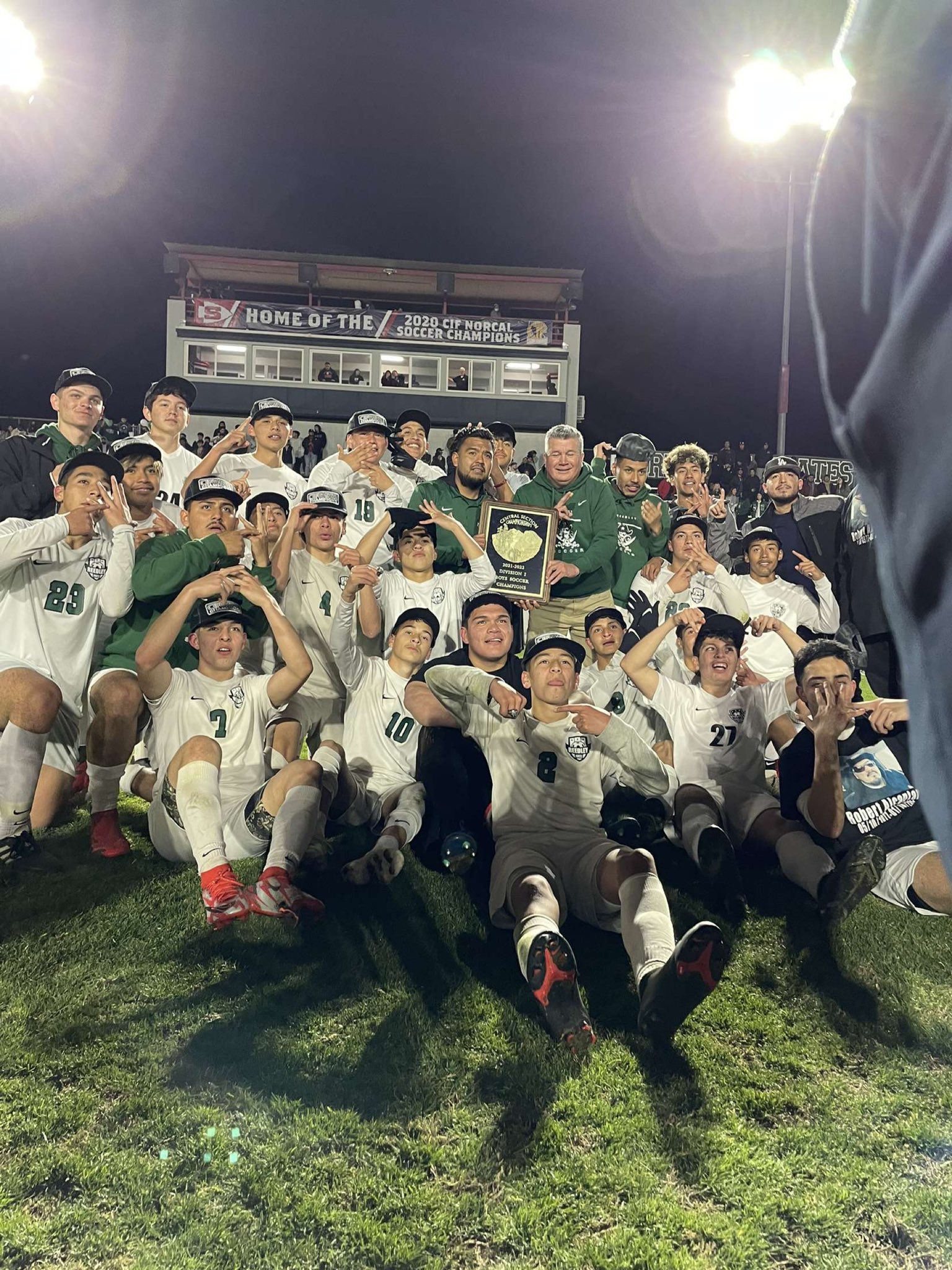 "Every game I played, I left it on the field for him."
Just a few weeks ago, senior Levy Alcántar refused to take a penalty kick when his team needed him to. Unable to control his nerves at the time, Alcántar allowed his teammate to take the shot.
But it was a different story in Friday's CIF Central Section Division I championship game against Sanger. When the Pirates earned a penalty kick about halfway through the second half, Alcántar didn't shy away from the moment. Instead, he calmly stepped up to the spot and delivered the goal that would give the Pirates a 1-0 win against the Apaches.
"Right when that whistle blew, I knew I was going to take it," the senior said. "Couple weeks back, I refused to take it. Now I learned my lesson. I stepped up, got the job done. I just took my time."
While celebrating on the field after the final whistle, Alcántar wore a t-shirt which featured an image of his father, who passed away a year ago after a heart attack.
"Every game I played, I left it on the field for him," the Reedley student-athlete said.
Senior Gustavo Ledesma was one of the happiest players on the field when Alcántar delivered in the big moment.
"I know he wanted this moment," Ledesma said. "His dad passed away sadly one year ago. His dad was definitely with him. That's my best friend right there since kindergarten. I'm very proud for him, I'm very proud for all of us."
The No.8-ranked Pirates were very-well aware of what they were facing on Friday. They knew it would take everything they have to take down rival Sanger, the No.2-ranked team, in front of a raucous crowd at Tom Flores Stadium. But the Pirates, who took down top-seeded Central High and fourth-seeded Clovis North before advancing to the championship, were never short of confidence.
"We always have a game plan, we have great coaches, we have great support," Ledesma said. "It's like what Kobe Bryant said: 'I'm not nervous because we're always prepared.'"
Fresno Sports Mag Powered By Your Fresno Realtor Annette Dedios!