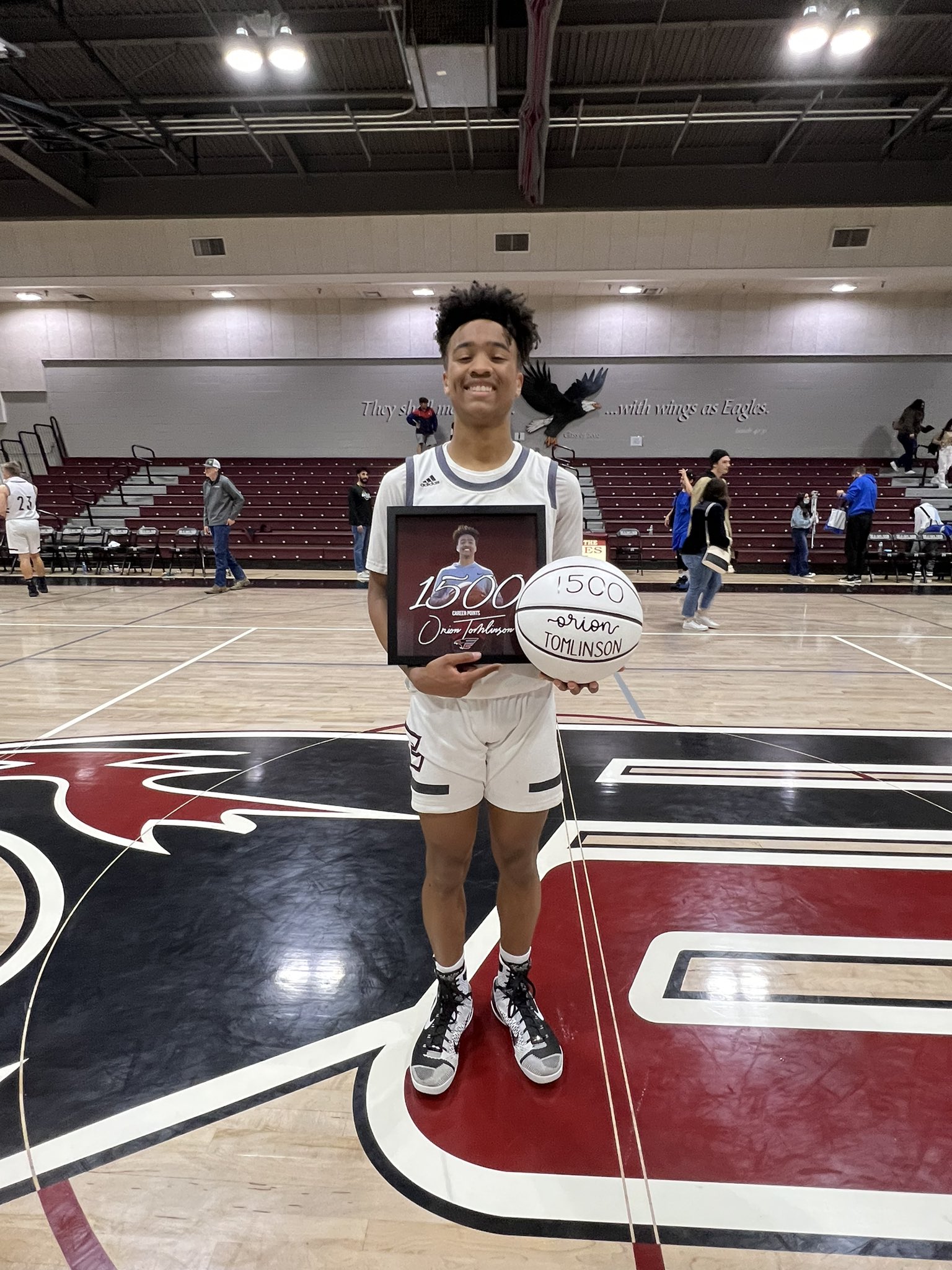 "I had a commitment to Fresno Christian and I feel like that commitment paid off."
Orion Tomlinson has a lot to be proud of as he reflects on his journey as a student-athlete at Fresno Christian. The senior point guard, who just wrapped up his final season with the Eagles, leaves the basketball program after setting several school records. Tomlinson, the program's all-time leading scorer, also set a single-game scoring record in the past season, scoring 46 points. The hooper has also been praised for the maturity he has shown on and off the court.
Here is FSM's interview with Fresno Christian's standout student-athlete.
1. What was your first impression of the basketball team when you first joined the team at Fresno Christian and what do you think about that impression now that you look back on it?

When I first joined the team the first thing I noticed was the chemistry. Since there is such a small amount of people at the school in general their team felt like a brotherhood. Looking back at it I'm glad I chose the school and I'm happy that my coach was able to help me realize my visions of being the basketball player that I've become. A lot of the kids play multiple sports, which was a little different than what I was used to.
2. Have you surprised yourself with all the records you've broken at the school or did you always believe that you would earn all those achievements?
Well, I try to stay humble. But I always felt that I had the ability to go out there and do great things. I just had to do it. That's why I stuck it out, I wanted to stay at FC and change the culture and have an impact. A lot of people thought that I should go to a different school, but I had a commitment to Fresno Christian and I feel like that commitment paid off.
3. In what ways do you think you grew in the past four years?
I think they way I grew was more of a point guard/facilitator. I felt that coming into school I was more of a shooting guard and could score. But as my game matured, I became more of a scoring point guard, who could also run the offense and lead the team.
98 points in 3 games this week. Passed 1500 points, 400 reb & 300 assists. #careerweek @CalHiSports @SBLiveSports @SBLiveCA @HaroldAbend @RonMFlores @PAGMETER @FresnoBeeSports @agalaviz_TheBee @gabecamarillo_ @1430ESPN @paulmeadors @PodOffTheBench @PrepHoopsNorCal @SBemisOnline pic.twitter.com/Gg748HjdDL

— Basketball 24/7 (@247basket_ball) January 29, 2022
4. What do you think were the main challenges you faced during your high school journey and how did you overcome those challenges?
My main challenge during my high school journey was being underweight, undersized and being doubted by a lot of people. I remember making an all-star game and having another kid laugh that I got to play in it. I overcame it by going to the gym and gradually getting stronger and of course growing a few inches here and there. Just tried to prove to everyone that you can accomplish anything with work.
5. What are your favorite memories from your time on or off the court at FC?
My favorite memories on the court would probably be winning valleys my sophomore year and breaking school records my senior year. My biggest moment off the court is just being able to say I'm a great ball player on the court and a great scholar maintaining a 3.7 GPA throughout high school. Also, was really cool seeing the school and my teammates cheer for me when I was able to break two school records
6. What kind of impact do you think you made for the basketball program and for the school?
I think I changed the basketball mindset for the program. I feel like I brought a different kind of work ethic that Fresno Christian normally doesn't see. I am glad that it influenced people around me like my teammates, who would say "Wow Orion works out a lot, I need to step up my game." In these past four years we only lost one league game, something like 29-1 and that's performing on a high level as a team over the last four years.
7. Who do you credit for the success you've had during high school?
I credit my two parents who gave me the work ethic to put in more time than anybody else on the court. I also credit my best friend Camden for being my right hand guy on the AAU side of things.
New school single game scoring record for @OrionTomlinson Tomlinson with 46pts!!
Congrats Orion@PAGMETER @PodOffTheBench @gabecamarillo_ @paulmeadors @CalHiSports @MaxPreps @BriABC30 @FresnoSportsMag @FresnoBeeSports pic.twitter.com/8koWp5jhih

— Jon Penberthy (@penberthy_jon) February 9, 2022
8. What's next for you?
I have a few offers that I am considering. I'm hoping to hear from a few more schools and then make my decision. I initially was going to commit on early signing day, but wanted to get through the season first.
9. What will be the lessons you take from high school as you go into the next chapter?
The lesson I will take from high school is to be the hardest worker you can be. I feel that I should have the work ethic to outwork everybody around me. My second lesson would be to always over study for tests and spend the time to be prepared academically. When the ball finally stops bouncing, my education is what really matters.
I will miss it but I feel like I left it all out there. 🙏🏾 @CalHiSports @SBLiveCA @PrepHoopsNorCal @PAGMETER @FresnoBeeSports @SBemisOnline @paulmeadors @PodOffTheBench @agalaviz_TheBee https://t.co/n0a34wXC9g

— OrionTomlinson (@OrionTomlinson) February 24, 2022
I've coach vs @OrionTomlinson for 4 straight years (missed 1 last year) and he carries himself with tremendous class. It was truly a pleasure to compete with you and your team. Good luck the rest of the way and where ever your basketball future takes you! Good finds good people!

— Jason McFarlin (@coachjmac91) February 4, 2022