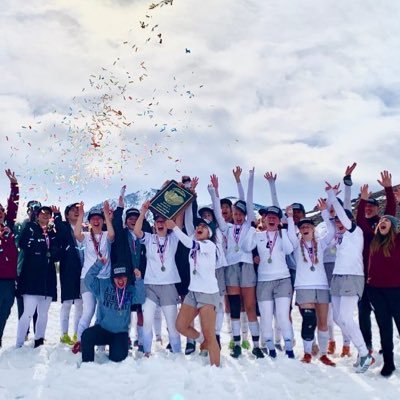 Fresno Christian Eagles captured their second section title in four years.
It's not everyday that a team has to travel to a school more than 400 miles away and play at an elevation of 8,000 feet to compete for a championship. But that's exactly what happened to the Fresno Christian girls soccer team during the playoffs.
After advancing to the D5 Central Section championship game, the team left Fresno on a Friday morning and made the long trip to Mammoth Lake to face Mammoth High School. Before they got to their destination, however, the Eagles had to spend the night at a hotel in the town of Bishop.
The next morning, the team resumed its trip and arrived at Mammoth High School — just in time for their noon-time match on Feb. 26.
Playing in the snowy mountains, the Fresno team faced a formidable opponent. Still, the Eagles stayed focused — even when they had to play two overtimes as the game remained tied at 0-0. It would take a penalty shootout to decide the winner. And it would be junior Kirra Obwald who delivered the final kick to clinch a championship for the Eagles — their second in four years.
A championship win under unusual circumstances of course deserves an unusual celebration. So the Eagles marked their epic moment with a snowball fight at Mammoth. According to the girls, "it was fun to finally have a chance to throw something" at their head coach, Matt Markarian.
It was apparently a weekend that will be remembered for the Eagles' glorious victory. But the team is also puzzled by the unique challenges they had to face during their trip.
"It was impossible to get hotel rooms there," Markarian said. "And once we got there we were informed that there were two porta potties for everybody there to share. No locker rooms, bench, no water. It was basically like a camping trip."
The altitude made life more difficult for the girls.
"It definitely did take a toll on our legs and our lungs," Kirra Obwald said. "The coaches brought canned oxygen for us. We played so many overtimes. Every two minutes, we had to drink water and get oxygen."
Sophomore Miracle Neal, who drove back to Fresno with her parents after the game, said the team had fun, but the whole trip was exhausting.
"I drove back with my parents. That was also tiring, especially after playing two hours of soccer," she said.
So how does a high school soccer team manage to stay focused on the game after a 400-mile trip?
"Our team had worked so hard towards this," sophomore Jenna Obwald said. "I think as a team we really wanted it, so you can tell during the game everyone fought and we just knew mentally what we had to do. And we ended up coming out with the win."
The Eagles vividly remember the bitter 4-0 loss they tasted in last year's championship game against Arvin. This time, however, it was a much different feeling.
"They went to work in the offseason. Most of them came to our camp ready to go," Markarian said. "As coaches, we were pretty sure at the beginning of the season that we have a special group. We weren't sure if we're old enough to get over the hump this year, but we knew talent-wise that we have a group — with the work they put in the offseason — that was good enough to get what we got."
While the Eagles overcame the challenges they faced, the team hopes for better accommodations in the future.
"Not everybody has luxurious facilities, but there should be some minimum bars set," Markarian said. "I don't know if it's unreasonable to ask for a room to change our clothes in and to go to the bathroom."
As for the program's future, it appears to be as bright as ever.
"The soccer culture here is very strong," Markarian said. "We're competing at a level that's much bigger than our size. We hope to make it back-to-back next year, Lord willing and being healthy and getting a few breaks. We hope to be right back where we are right now."