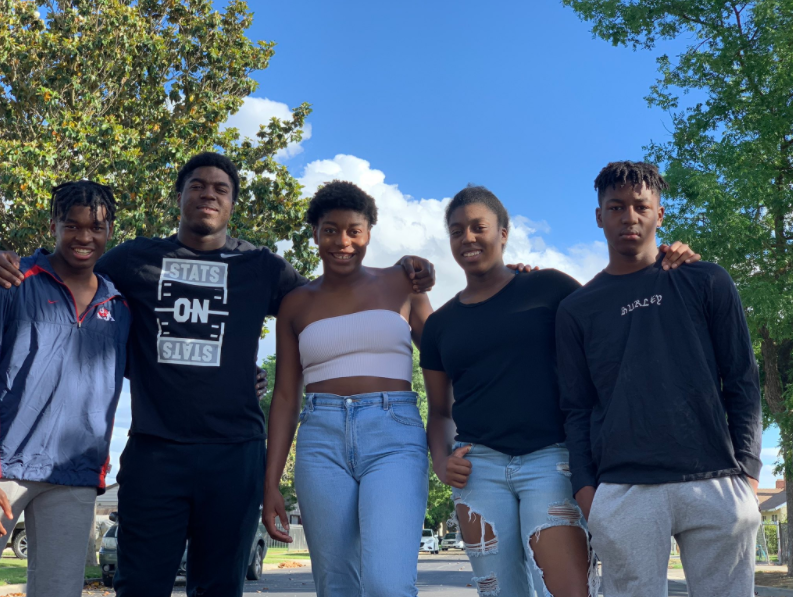 "At Clovis West, I learned the value of family. To have someone you can talk to and trust and really be yourself around."
As the old cliché goes, "it takes a village to raise a child." But in the case of the Sanders family, five siblings who share a passion for sports, the village is Clovis West High School.
This institution, which boasts one of the most celebrated athletic programs in the Valley, has played a key role in helping the siblings grow as student-athletes and as model citizens.

Two of the siblings, Aari and and Bre'yanna Sanders, have already moved on to the next phases of their lives after their time as student-athletes at Clovis West. The middle child, Marcel Jr., is a senior who feels well-prepared for the next chapter of his life after attending the school. Markel and Marshel, the two youngest who are now playing sports at Clovis West, are already proving their maturity early in their high school years.
While the three boys are now playing multiple sports at the school, Aari and Bre focused on basketball when they attended Clovis West. During their four years with the program, the sisters grew under the tutelage of Craig Campbell and Mark Howard, two legendary basketball coaches.

"They are two people that really encouraged me and made me not be comfortable with the position I was in. They made me want to be better every day I got in the gym with them," Bre said about her former coaches. "I learned that a winner is someone that is going to do whatever it takes to get the outcome that they want. I think Campbell did a great job at coaching us, getting us ready mentally for that next level competition."

Bre, who just finished her senior season at Arizona State, chose to attend that particular university because it presented the familiar vibe she enjoyed in high school.

"I chose ASU because of the family culture that I grew up with at my high school," she said. "I saw that when I came on a visit and I really appreciated how genuine everyone was." 
When she arrived at ASU, Bre was already well-versed in the meaning of hard work, which was clearly a point of emphasis at her high school. It was the same for Aari when she took her talents to Fresno City College.

"It was so hard," Aari said about Campbell's program. "Three hour practices, high level competition all the time, leaving a game on Friday night at 10 p.m., only to be back in the gym nine hours later for Saturday practice, the mental toughness that was required." 
But the family atmosphere at Clovis West was also pivotal in contributing to the girls' growth and the program's success.

"There were my teammates who never failed to make me smile," Aari said. "At Clovis West, I learned the value of family. To have someone you can talk to and trust and really be yourself around. The basketball program was and still is like a second family to me."
It's a similar experience for Marcel, who has played basketball and football at Clovis West.

"It's never about yourself at Clovis West," the senior said. "It's about the team."

Marcel, now heading to San Jose State on a full ride football scholarship, is looking forward to working with former Clovis West student-athlete Patrick Markarian, who serves as a football graduate assistant at the university. 
"Not only does his little brother go to Clovis West, but he also used to go to Clovis West. He treated me like family from the start," Marcel said. "Throughout the whole [recruiting] process, they treated me like family. I just love that."
The two-sport athlete said he will always remember the Friday night lights and the dozens of basketball games he enjoyed at Clovis West. But it's also the moments outside of sports that matter.
"It's the simple times, like lunch with friends. Those were the best," the defensive end said.
Markel, a sophomore who also plays football and basketball, is looking forward to making many more memories at the school just as his siblings did.
"I enjoy playing at West because of my teammates and the bonds that we all share on and off the court or field," the young student-athlete said.

As he moves forward with his high school journey, the sophomore will have an opportunity to share the memories with his younger brother Marshel, who is a freshman.

"I get to have a chance to play with my brother for the first time on the football field and we have a good chance of going to states my senior year for basketball," Marshel said.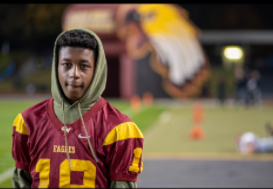 Although the five siblings have gained a vast amount of wisdom from Clovis West, their foundation began at home.That's where they attentively listened to their parents, Tamara and Marcel Sanders Sr., learning about values such as perseverance, discipline and gratitude.

"My parents have been real successful in raising us because they have high expectations for all of us," Markel said.

"I learned a lot from watching and listening to my parents. Just really wanting to grow and to be like them, was something I inspired to be, they're strong and hard working people," Bre adds. "There would be days they wouldn't even have the money or time to take us to practice, but they always found a way, and that was my inspiration."

Sanders Sr., who was a standout athlete during his high school years, introduced his children to sports.

"He was an all-star athlete when he was in high school, playing basketball, football, and baseball. So he passed those down to us," Aari said.

Bre initially hated basketball.

"I loved baseball growing up, I was good at it and I wanted to be the best," she said.

As she grew older, however, Bre leaned towards basketball.
It was a similar story for Aari, who first gravitated to soccer.

"I wanted to be a soccer player," she said. "That was one of my dreams because it looked so fun. But my parents sent me to the Clovis West Hoop Dreams camp instead when I was in kindergarten, and the rest is history. I never even got to play soccer."
The former soccer enthusiast remembers crying when she was forced to play basketball.
"I used to cry when I had to go, but that was also because of my social anxiety," she said. "I didn't really talk to anyone there and just did the drills. So I was never enjoying myself."
But Aari found her passion for basketball when she started playing in AAU with Maddie Campbell, the daughter of Craig.
"She was one of the first friends I made through the sport, and is still one of my best friends," Aari said. "But along with that, AAU was a lot more competitive than lil hoopsters and the camps. We were learning plays and really learning the game, more than just the fundamentals. I fell in love with the atmosphere of a tournament. I also fell in love with winning. It was a great feeling." 
Maddie and Aari, along with Bre, shared an unforgettable moment in 2017.
"Winning the state championship game in 2017 was a feeling like no other. Seeing all the hard work we put into that season finally payoff, it was really emotional," Aari said. "I was especially happy for my sister and the seniors that year. They really deserved that win to cap off their high school careers. That team will always hold a special place in my heart."
"That team was special because we were so selfless and really just cared about winning," Bre added. "I loved playing with [Aari] and having that title to share with her forever."
While the championship was sweet, the girls have even more appreciation for the moments they experienced with their teammates along the way.
"We genuinely had fun around each other and considered each other as friends rather than just teammates," Aari said.
The team's bond was especially solidified during a retreat at the beginning of the season.
"No phones or electronics. Just us in a cabin up in Shaver Lake. We did this one activity where we had to go around and say something about everybody on the team, including our manager who might as well have had a jersey because of how much stuff she did for us," Aari said. "At first it was awkward and everyone was laughing, but by the end, we were still laughing of course because that was just our personalities. But we all had tears in our eyes as well. It was a memory I'll never forget." 
Parents who have a child in sports of course understand the amount of dedication it takes for the family to attend games, to cover the expenses and to fulfill the other requirements that are expected. But the challenge is even greater for a family with five student-athletes. 
"Growing up in a house full of athletes was hectic," Aari said. "Everyone always had somewhere to be, whether it was practice, a game, a tournament. Our schedules were always full."
And in a house full of athletes, there's always competition brewing.
"We were extremely competitive, especially when we were younger," Aari said. "Our little pick up games we'd have on our outside hoop at home would almost always end with someone crying. Most of the time that person would either be me or Marshel, who was probably the most competitive out of all of us." 
"I'm really competitive with my brothers, especially with Marshel," Markel said. "For example, if me and Marshel would be lifting, we would try to out work each other."
Naturally, disagreements are also part of the family dynamic.

"The two youngest just don't like to listen to what I have to say," Aari said. "After I've seen one of their games, I'll usually try to give them a tip on what to do in a certain situation or something I noticed them doing that isn't a desirable trait in a student-athlete, but it usually just goes in one ear and out the other, so I leave that to my parents."
Bre believes that her siblings have at least learned a few lessons from watching her success.
"They watched me a lot, especially my brothers," she said. "And they learned from my victories and my successes. I think that is what motivated them to want to be better than me, and get further in their sport than I was at points in our careers."

Marshel has a slightly different perspective.

"I've watched them my whole life, but I really don't copy my game from any of them," he said. "I like to just do me. But I learn from their mistakes in life so I can prevent me and my friends from doing the same."

As the youngest, the freshman finds himself at a disadvantage in the house.

"My parents think I'm too young to do a lot of things and my siblings like to pick on me," Marshel said.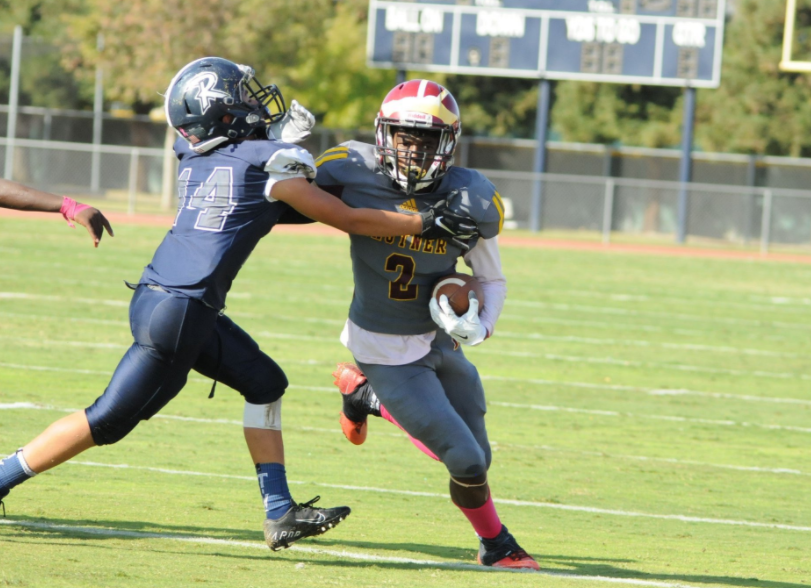 Aari is now putting her effort towards helping young student-athletes at Clovis West.

"Being back at Clovis West as a coach, my goal is to put as much back into this program as I got out of it," she said. "I'm trying to teach them what I learned over the many years I played in the program. I really like Campbell's style of coaching, so I'm trying to shadow what I see him do and his philosophies and stuff like that. Don't tell him I said that though. He'll call me a copycat."
this school/program is forever gonna hold a special place in my heart❤️🤞🏼 https://t.co/W6UtgZRK77

— Mads ✨ (@mads__campbell) December 24, 2019
Like her former coach, Aari has also acquired a taste for painting. That's why she attended Academy of Art on a basketball scholarship in the past year.
"I'd say the long term goal is to be an art teacher and/or a head basketball coach," she said. "Again, I hope Campbell doesn't see this. I can already hear him." 
[Read more about Campbell's art skills . . .]
Bre has also considered coaching as part of her future. But she says the main goal is to be happy no matter what and make a difference.
"I want to help make an impact on someone," she said. "So a long term goal is making sure that I'm still staying pure and honest with myself during that process."
Marcel said he will pursue his dream of making it to the NFL while making sure he gets his degree. He adds that his ultimate goal is to make his family happy, providing for them in the future.

While Marshel aims to play professional basketball and football, Markel says he will eventually decide to focus on either sport.

"If sports doesn't work out for me, I would probably try to be a coach or commentator for basketball," the sophomore said. 

Fresno Sports Mag is published by your local journalist, Tomas Kassahun. It's made by possible with the support of my incredible wife, Annette Dedios, who guides me with her business expertise and allows me to sacrifice some time from our family to dedicate my efforts towards this project.
Annette is also ready to help you buy your next home in the Valley. Find her on Facebook. Whether it's real estate or sports reporting, we're here to show that we care about our community.