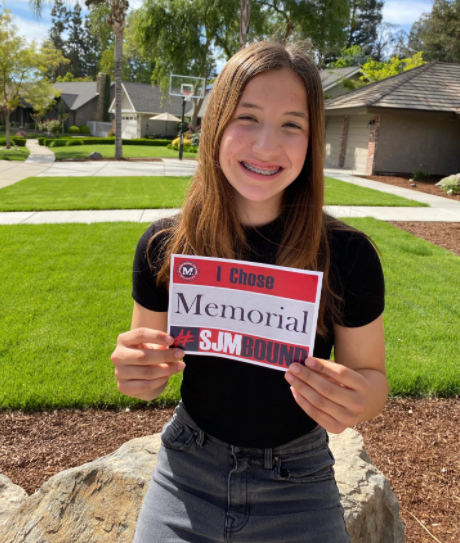 "Coach Jackie is a legend and I'm confident she will take us to the next level."
Sienna Evans is a 13-year-old eighth-grader who plays basketball for the Fresno Lady Heat while also attending Our Lady of Mercy School in Merced.
Evans picked up the game from her father, who she describes as her "first coach."
In the years since then, the young hooper has worked with many more influential coaches.
"My former Coach Tyler from Gaucho Elite (Merced), my Fresno Lady Heat coaches: Coach Sykes, Coach Porter and Coach Jordan; coach Omar from Elite IQ ( Stockton) — all of them have made a positive impact in helping me with learning the game of basketball," she said.
Evans' basketball journey has also produced dozens of unforgettable memories.
"My favorite memories are traveling with my teammates to play in various tournaments throughout the state and country," she said. "I remember my first year with Lady Heat and our 6th grade team played up in the 8th division at the Adidas Gauntlet. We played against girls who were over 6 feet tall, this was definitely an eye opener."
This 13-year-old has been just as impressive off the court, serving as
a member of her school's academic decathlon team and as Student Council President. Last fall, the star student-athlete completed her first college class and earned transferable college credit. Her next academic goal is to take Sociology in the summer through Merced College.
Most recently, Evans received the Sr. Kathleen Drilling Community Service Scholarship. The teen's dedication to her community is part of what she learned from basketball.
"I've learned that everything involves teamwork and this is a life skill that will benefit me in the future," she said.
The young hooper has already gained a reputation as a ferocious defender with excellent ball handling and passing skills. And she's now adding her blocking ability to her arsenal.
"I've been getting better on blocking shots. But my strongest [skill] is being an unselfish player and getting my teammates involved," the teen said.
The future appears to be even brighter for the rising star, who will be attending San Joaquin Memorial in the fall.
"I've heard that SJM is a great school to receive the best Catholic education possible," she said. "I'm excited to learn more about my faith and take an active role in service projects."
Evans will be growing under the leadership of Memorial head coach
Jackie White in her next chapter.
"Coach Jackie is a legend and I'm confident she will take us to the next level. I believe the girls there now have laid a foundation for the future and I'm excited to become a part of the Panthers family," she said. "I've been looking forward to playing high school basketball for a few years and I can't wait to start my high school career with Memorial."

At Memorial, the in-coming freshman will join two of her best friends, Saiya
Sidhu and Alexis Swillis.
"I've been playing with Alexis and Saiya since the 6th grade and have become very close over the years," Evans said. "We have a lot of trust and faith in each other on and off the court. It will be great playing on the same high school team with them. We have built a lot of chemistry the past few years and I believe this will help us have a successful four years at SJM."
After high school, Evans' goal is to attend Columbia University.
"I want to continue the legacy of my great grandfather who graduated from Columbia University & Columbia Law School," she said. "I'm interested in attending Law or Medical School after college."