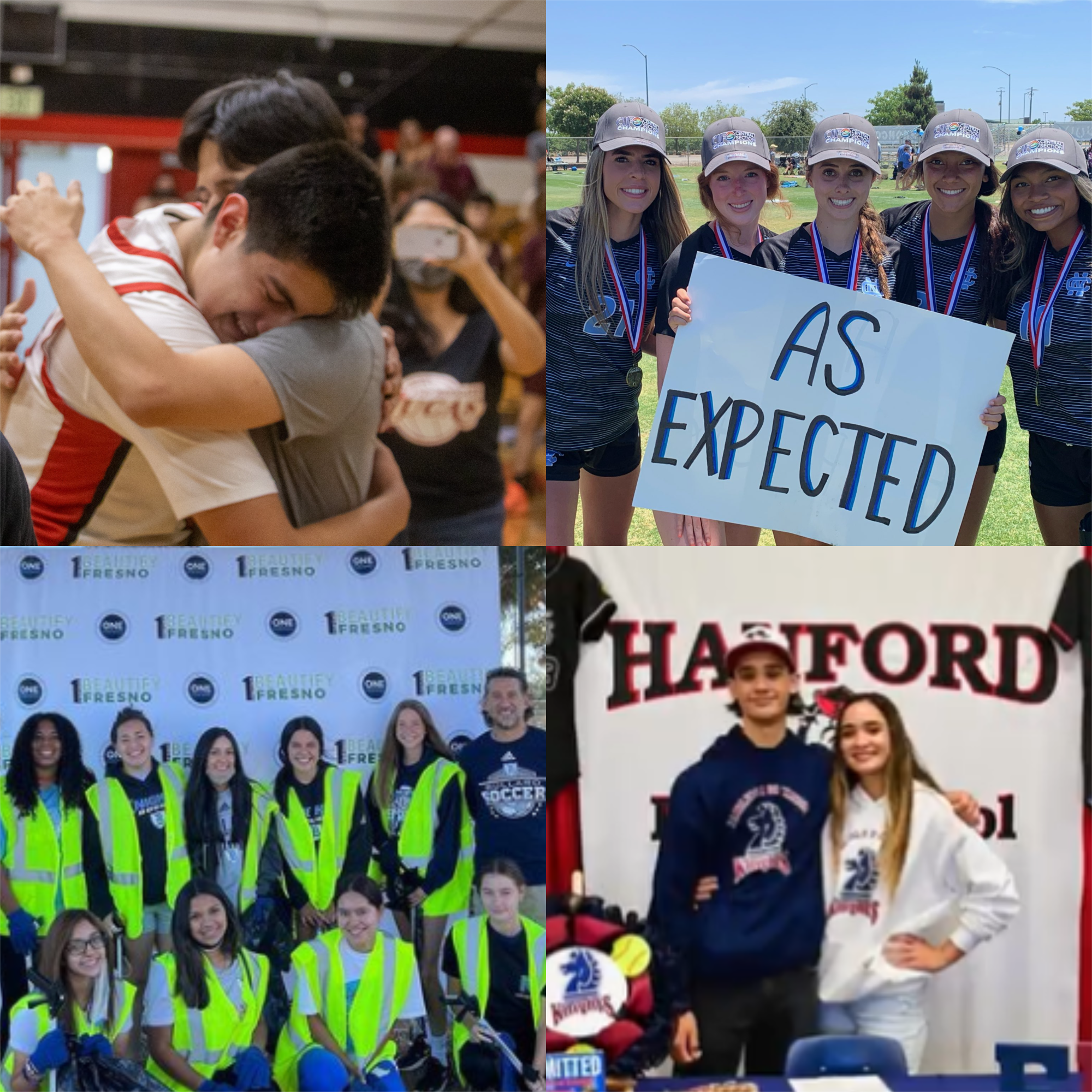 FSM recognizes some of the most inspirational performances, teams, coaches and athletes from the past year.
Here we are just a few days away from the end of 2021. That of course means we have to give out some recognition before we say hello to the new year. So here at FSM, we have come up with some unique categories to reward some of our Central Valley sports teams and athletes.
Congrats to all the winners. Here they are . . .
FSM Clutch Performance Award
Fowler Boys soccer program
The Redcats clinched the Central Section D5 title when Carlos Hidalgo scored the game-winner in the golden goal period of Fowler's epic championship match against Mendota.
Just as the game appeared to be heading to penalty kicks, Hidalgo paused for a moment, fixed his eyes on the goal and smashed the ball over the leaping keeper, delivering the final blow to Mendota's hopes. The home crowd fell silent while Fowler supporters rushed the field to embrace the Redcats.
Jesse Camarena, the first-year head coach who delivered on his promise, was doused with the celebratory shower as Fowler brought the D5 title in boys soccer to the school for the first time since 2002 .
"We knew we were gonna get here," Hidalgo said. "Our coach believed in us. I believed in the whole team and it happened."
FSM Community Leadership Award
Bullard girls soccer team
Bullard's girls soccer team dedicated dozens of hours to community service in the past year. One of the Knights' acts of service was seen in April when the team worked with Beautify Fresno to plant trees.
Most recently, the Knights spent some time working with the Poverello House during the holiday season.
The Knights were also active in fighting for pivotal causes in society, including awareness and understanding of autism. During Autism Awareness Month, the Knights raised funds for organizations who support families affected by the challenge. They also made a video in which they shared some personal stories about how autism has affected people in their own family.
Additionally, the Knights have continually expressed their support for inclusivity in sports, particularly when it comes to making sure girls get a fair opportunity.
FSM Outstanding Athletic Program Award
Fowler High School
Shortly after the Fowler boys soccer team made history, bringing the D5 title in boys soccer to the school for the first time since 2002, the boy's basketball program also pulled off an incredible achievement. Fowler's basketball team, which had suffered a heartbreak in the section championship game a season ago, held off Sierra in the D5 match to win 59-55. It was the school's first section title since 1916.
Fowler's softball team finished 26-1, won a section title and earned its first ever Division 3 SoCal Regional Championship.
Maya Garcia and Parker Dominguez brought more glory to Fowler when they earned medals in the D2 Swim Section Finals.
The school continued to find success during the fall season when several boys and girls cross country runners earned medals. Gabby Gutierrez emerged as one of Fowler's several elite runners when she became the West Sequoia League Girls Champion. Fowler's Cuahtemoc Alvarez also finished as the Boys WSL JV Champion. Lourdes Campos came up as another JV champion for the Redcats' cross country team.
The football team added to Fowler's historic year, finishing as undefeated WSL champs. Fowler's girls tennis team enjoyed a season in which multiple players qualified for the area tournament.
FSM Inspiring Team Award
Clovis North girls soccer team
Less than a week after Carys Hall underwent surgery to recover from an ACL tear, the Clovis North girls soccer team took the field without their star and earned a 2-1 win against Buchanan in the D1 Central Section Championship. Projecting her voice from the sidelines, Hall energized her teammates throughout the match. And when the final whistle blew, officially signaling Clovis North's 2-1 win, Hall hopped on her crutches and joined the euphoric celebration in front of the home crowd.
The senior, who had suffered one of the most devastating injuries in sports just a few weeks earlier, described the Broncos' second straight section championship as the "best moment of her career."
"It was really difficult getting injured before playoffs," she said. "But honestly, I love these girls. I support them. Even though I wasn't on the field, I knew they were gonna get the job done. I'm just really excited for everyone, for our team, for our school."
FSM Inspiring Student-Athlete Award
Ayden Stone, Xander Stone
Ayden and Xander Stone are a pair of siblings who relentlessly dedicate themselves to their sport and their academics. These two Hanford High School student-athletes, who have great passion for softball and baseball, rarely take a day off. Their dedication can be seen in the daily videos they post on social media. The videos, not only prove the siblings' unwavering work ethic, but also provide valuable information to other young athletes who need to learn about efficient workout routines.
The siblings are just as dedicated in the classroom, where they continue to produce straight A's.
FSM Character Award
Jayden Davis
Bullard's football standout, Jayden Davis, is one of those athletes who plays with the kind of passion that radiates throughout the entire team. At the same time, Davis remains humble. The senior, who will soon suit up for the Fresno State Bulldogs, remained focused during the past season and led the Knights to a section championship.
Davis also shows off his vibrant personality during interviews with the media. The young man has proven himself to be a well-spoken student-athlete and a person who shows gratitude to reporters who are documenting his journey.
FSM Superfan Award
Danny Fernandez
Danny Fernandez just watched his daughter, Nicole Fernandez, graduate from Clovis North, where she established herself as an outstanding student and soccer player. But Danny isn't only a fan of his daughter or the Clovis North soccer program. He is a fan of all Central Valley sports.
The Valley superfan can be seen at multiple games throughout the year, whether it's high school or college sports. He can also be seen often on social media, chatting with other sports fans or sharing some valuable info and clips to assist local media members.
FSM Excellence In Professionalism Award
San Joaquin Memorial Athletic Program, Buchanan Girls Soccer Team
San Joaquin Memorial's Athletic program has built a reputation for providing an enjoyable experience to fans and media. Many of the school's sports programs make themselves available to media regularly. They also keep their stats and other information updated on social media and other websites, making it much easier for reporters to cover the teams. Whether it's after wins or bitter losses, Memorial's coaches are often willing to speak with reporters. Additionally, Memorial has shown that it prides itself in providing a safe environment for fans to enjoy sporting events.
Similar statements can be said about the Buchanan High girls soccer team. The program regularly provides updates on the team's latest news, along with professional graphics, images and clips. Just like the teams at San Joaquin Memorial, Buchanan's girls soccer program is producing professional young athletes who conduct themselves with class when interacting with media and community members.
FSM Elite Performance Award
Cole Anderson, A.J. George
Cole Anderson broke the Clovis West High School single-game scoring record in April when he dropped 51 points, making 13-of-17 three-point shots, including 9-for-9 in the third quarter, as Clovis West beat Graces Memorial 100-51.
Hoover's basketball standout, A.J. George, had his own historical performance this year when he set the school record with 49 points.
"Me scoring the 49 point game was definitely one of the best highlights of the season, but it just didn't happen the way I wanted to because we ended up losing by a lot, but I was happy with the way I played hard and finished out the game," George said.
Tom Laub, who held the previous record with 47 points, honored George at a later game.
FSM Outstanding Leader Of Student-Athletes Award
Tezale Archie, Craig Campbell
Tezale Archie and Craig Campbell have proven themselves to be two coaches who care about more than just wins and losses. Campbell, who built the Clovis West girls basketball team into a perennial powerhouse in the state, always refers to his popular phrase: "tradition doesn't graduate."
The legendary coach is not only talking about a tradition of championships, but also a tradition of helping young people grow into outstanding citizens.
Former Clovis West basketball star Bre'yanna Sanders said Campbell made her "want to be better every day she got in the gym."
"I learned that a winner is someone that is going to do whatever it takes to get the outcome that they want. I think Campbell did a great job at coaching us, getting us ready mentally for that next level competition," Sanders told FSM earlier this year.
Archie set a new standard at Hoover after taking over the boys basketball program in 2019. In a short time, Archie saw improvements on the court and in the grades of his student-athletes.
"He turned the program a lot," A.J. George said about his coach. "He would be on us about academics a lot, having us have study hall before practice, after school tutoring and then the basketball part was just natural with us. He came in and got straight to work. I see the big things he did in his career by being on the hall of fame wall at Hoover and playing pro ball. It just motivates me to do better seeing that he went to Hoover and that it's possible."
---
We look forward to another memorable year in the Central Valley! See you in 2022!
FSM powered by your Fresno realtor Annette Dedios.